PeTrack Review
Advertiser Disclosure
This website features affiliate links. For purchases made via these links, we earn commissions that allow us to keep producing helpful content. To find out more
click here
.
Close
Important update: PeTrack GPS pet tracker is currently out of stock. Furthermore, the i-Server app compatible with PeTrack is no longer available. Customer support is unresponsive at the moment, but our team is actively working on obtaining information on when the device will become available again and whether the manufacturer is aware of the issues with the recommended application. If you are interested in purchasing PeTrack, be sure to check back for fresh updates.
PeTrack GPS pet tracker is a product of ElectroFlip, a Nevada-based company that has been providing innovative technological solutions to everyone from individuals and small businesses to the government and military since 2006.
PeTrack is designed with durability and reliability in mind. It further boasts high accuracy and great battery life and employs clever solutions like motion detection and uBlox GPS technology supplemented by GSM technology. Keep reading this PeTrack review and discover whether this pet tracker is worth your time and money.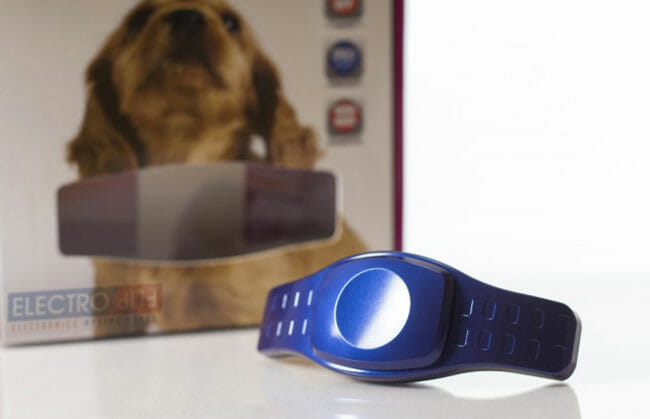 How PeTrack Works
PeTrack is a GPS pet tracker that relies on advanced uBlox GPS and GSM technologies. It consists of a tracking unit attached to your pet's collar. It provides highly accurate GPS readings by accessing 50 satellite channels on a worldwide network and uses GSM technology to help you locate your pet if GPS connectivity is disabled.
It can communicate with your smartphone in 2 ways. You can opt for a free smartphone app, with compatible apps including i-Server and TBPT. The apps allow you to access the full set of features available, so you can set up geofences, engage the live tracking mode, and view your pet's historical route. Alternatively, you can track your pet without the use of an app by calling the tracker via phone to obtain location information made available in an automatically sent SMS.
PeTrack does not come with a SIM card included. You need to purchase a standard size unlocked prepaid GSM SIM card from a service provider of your choice. Furthermore, in order for the device to work, you need to make sure the PIN code is not active and there is money on the card.
PeTrack Design
PeTrack tracking unit features a somewhat unusual contoured design resembling a watch. It can be easily slipped onto virtually any collar by twisting and locking the device with the use of the provided buckle.
The device is designed to be both light and comfortable. The only color available is blue. The tracker measures 105 mm in height by 37 mm in width by 30 mm in depth. It weighs just 35 grams, that is, 1.23 ounces. While the manufacturer does not provide information on the recommended pet size, the device is small and light enough to be worn by cats and small dogs, provided that they weight about 8 pounds or more.
PeTrack Technical Specifications
When testing the device for the purpose of this PeTrack review, we were not particularly impressed by the quality at first. However, after closer inspection, we discovered that the tracker is more durable and better designed than it appeared at first glance. Let us take a look at the most important technical characteristics of PeTrack.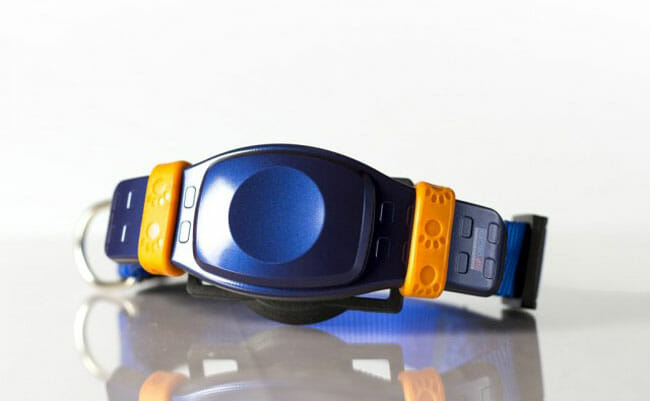 Durable
PeTrack is made of high-quality polycarbonate materials and features rubber seals, so it can withstand rough play and stay functional even if it suffers some bumps or your pet decides to play in the mud.
Waterproof
The manufacturer promises that the device is waterproof. However, no concrete information is provided regarding the device's IP rating and the manufacturer only states that it can handle splashes.
Battery
PeTrack comes with a rechargeable lithium-ion battery. If GPS tracking is enabled, the battery can last for 7 days on a single charge. In the standby mode, without active tracking, the battery can last up to a month.
Communication Range
PeTrack does not have a limited communication range. It can work over any distance, as long as it is within cellular coverage and able to establish a connection with GPS satellites.
Accuracy
In terms of accuracy, PeTrack does particularly well. With slight variances depending on conditions, the device is normally accurate within 10 feet.
App Compatibility
The TBPT app is compatible with Android 2.3.3 and up while the i-Server app is compatible with the latest versions of Android and iOS.
PeTrack App
Like we mentioned previously in this PeTrack review, PeTrack allows you to choose between 2 compatible free apps – i-Server or TBPT. Both applications feature slightly outdated designs, but this does not significantly affect their usability.
No matter which application you opt for, you can track your pet's location with the use of a map, receive notifications, and view your pet's past locations. Furthermore, both apps allow you to track multiple pets at once. However, geofencing is only available with the TBPT app.
PeTrack Features
We cannot say that we are particularly impressed by PeTrack's feature set, given that it basically only offers location tracking and location history, with the availability of geofencing depending on the app you use. It does not monitor your pet's activity nor provide any extra features. Sticking to the basics is not necessarily bad, but apart from motion detection, we do not see anything in particular that would make this pet tracker unique. That being said, let us explore its basic features in greater detail.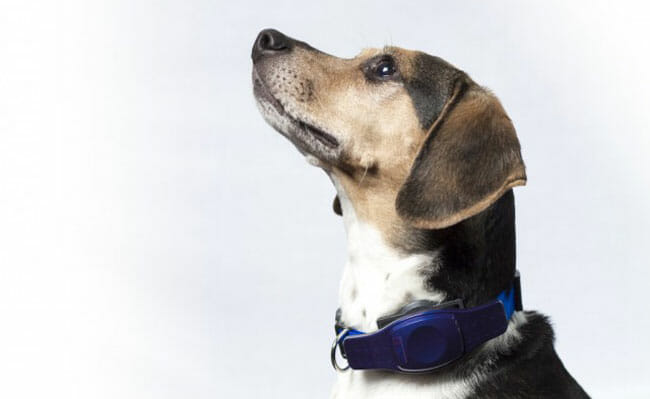 Live Location Tracking
In the live tracking mode, PeTrack provides highly accurate, up-to-the-minute location information. It allows you to follow your pet using a handy map, with his or her location updated within seconds.
Motion Detector
PeTrack comes with a built-in gyro that detects your pet's movement. If your pet is moving, active tracking is enabled. If your pet remains still for more than 3 minutes, active tracking is disabled and the tracker goes into the standby mode. This allows it to conserve battery, which is the main reason for its long battery life.
Historical Route
In order to help you better understand your pet's habits and help you anticipate your pal's future behavior, PeTrack provides location history, allowing you to view the locations your pet has visited in the past.
Geofencing
If you opt for the TBPT app, you can make use of geofencing, that is, set up safe zones for your pet. PeTrack allows you to custom-define a perimeter for your four-legged friend and receive a notification as soon as your pet crosses the boundaries you have set.
Low Battery Alerts
Apart from safe zone alerts, PeTrack also provides low battery alerts, letting you know when it is time to recharge the device's battery.
PeTrack Coverage
PeTrack does not have inherent limitations in terms of coverage. Since it uses a prepaid SIM card that you need to purchase yourself, the coverage depends on the service provider you choose. For example, if you follow the manufacturer's advice and opt for T-Mobile, the device will work within T-Mobile cellular network coverage. Of course, you can choose any other provider, as long as it allows you to obtain a standard size unlocked prepaid GSM SIM card.
How Much Does PeTrack Cost?
PeTrack GPS pet tracker costs $114.49. While it does not come with monthly fees, it is important to note that you do not only pay for the device; you also pay for the required SIM card and the associated monthly costs. Thus, while PeTrack may be considered as a fee-free tracker, it is not that different from any cellular GPS tracker that comes with a service plan, except for the fact that it requires you to obtain the SIM card yourself. One way or another, the monthly costs are still there.
PeTrack comes with a 60-day money-back guarantee and a 1-year limited manufacturer's warranty.
PeTrack Pros & Cons
Knowing the biggest strenghts and weaknesses of PeTrack can help you decide if it is the right pet tracker for your furry friend. Here is a quick overview of its pros and cons.
Pros
Small, lightweight, and waterproof tracker
Accurate within 10 feet
Impressive battery life
Motion detector
Location history
Geofences
60-day money-back guarantee
1-year limited warranty
Cons
Outdated apps
Not feature-rich
Does not monitor activity
Bottom Line
Concluding this PeTrack review, we have to be honest and say that we have mixed feelings about this pet tracker. On one hand, it is highly accurate, durable, lightweight, and waterproof. It comes with a built-in gyro that detects your pet's movement, which is a particularly clever solution for battery saving. It provides location history and allows you to set up safe zones. In the active tracking mode, it refreshes location information within seconds.
On the other hand, its feature set is rather limited and we are far from impressed with the available apps. It seems that the manufacturer mostly focused on durability, accuracy, and battery saving and did not waste efforts on coming up with attractive additional features.
Still, we are willing to look past these shortcomings and conclude that PeTrack indeed represents a valuable tool that can help you keep your pet safe, which is the primary purpose of a pet tracker. It is fast, precise, and reliable, so if you are looking for a no-frills pet tracking solution, PeTrack may be just the right choice.