Tractive GPS Pet Tracker Review
Advertiser Disclosure
This website features affiliate links. For purchases made via these links, we earn commissions that allow us to keep producing helpful content. To find out more
click here
.
Close
Tractive GPS pet tracker is the brainchild of Tractive, an Austria-based company that specializes in pet wearables and pet-related apps. It is a part of a larger family of products including Tractive Motion, an activity-only tracker that monitors pets' daily activity, and Tractive GPS XL, a slightly modified version of Tractive GPS designed for larger animals, such as cows, horses, sheep, and even large dogs. In this Tractive GPS review, we will focus on Tractive GPS tracker for cats and dogs and introduce you to its key features, highlighting its accuracy, reliability, usability, and affordability.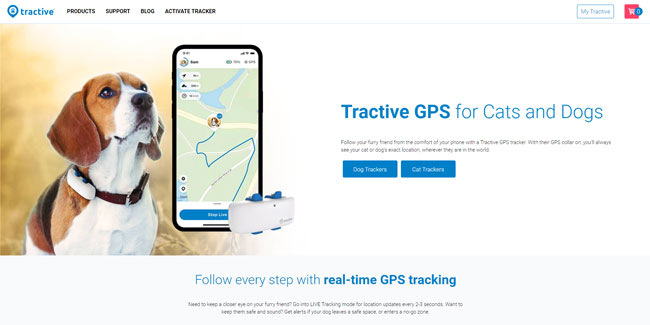 How Tractive GPS Works
Tractive GPS is a GPS pet tracker that comes in the form of a tracker unit that communicates location information to the Tractive GPS app, which you can access on any device. The tracker allows you to define a safe zone within which your pet can freely move and it sends an instant notification when your pet steps outside the defined range. Once you receive the notification, you can start tracking your pet via the Tractive GPS app in the live tracking mode – you receive your pet's location information in real time, with data refreshed almost immediately. If the live tracking mode is not on, the location update frequency depends on your pet's level of activity and information is not updated in real time. When tracking your pet, you follow a map provided in the app. You can view both your pet's current position and his or her previous locations. Due to Tractive GPS' high accuracy and update speed, you should be able to locate your pet in no time.
The tracker uses cellular GPS and works both in the US and abroad. In the US, it operates on 4 cellular networks, including AT&T Mobility, Viaero Wireless, CinBell, and T-Mobile. The tracker is equipped with its own SIM card and it does not matter which mobile service provider you have for your mobile device.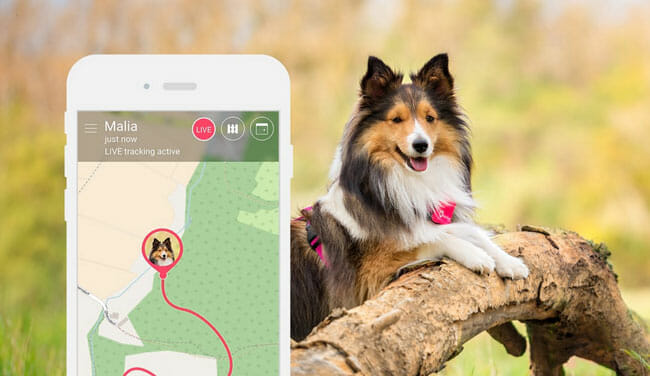 Tractive GPS Design
Tractive GPS comes in 3 equally attractive versions. All versions of Tractive GPS come in the form of a rounded cuboid measuring 2 inches in height by 1.6 inches in width by 0.6 inches in depth. A single device weighs just 1.23 oz. or 35 grams. The device fits most collars and is attached with collar clips provided in the Tractive GPS package. The 3 versions of Tractive GPS only differ in terms of color and pattern. You can opt for the white version with a blue Tractive logo, the Hunters Edition with a black-on-olive camouflage pattern, and the pink version with a white logo embellished with crystals from Swarovski. The device is small, lightweight, and unobtrusive, so your pet should have no trouble getting used to it. However, it is important to note that the recommended pet size for Tractive GPS is 9.9 pounds and above. If your pet weighs more than 44 pounds, you should opt for Tractive GPS XL, which possesses the same key features as Tractive GPS but is somewhat larger (3.1 x 1.9 x 1.1 inches), heavier (5 oz.), and has a longer battery life (up to 6 weeks).
Tractive GPS Technical Specifications
In this section of our Tractive GPS review, we will explore the most important technical features of the device, including its durability, battery life, and GPS accuracy and range.
Shockproof
Tractive GPS is highly durable and resistant to impact. The manufacturer claims that it is virtually indestructible – upon inspecting its clever design and testing it ourselves, we can say that this seems like a valid claim.
Waterproof
The device is rated IPX7, which means that it is not only resistant to water, but that it can withstand immersion of up to 3 feet (1 meter) for up to 30 minutes.
Battery
Tractive GPS comes with a rechargeable battery. The average battery life is 2 to 5 days with normal use but decreases significantly when live tracking is on. Still, you can expect it to last for about 8 hours in the live tracking mode.
Communication Range
Tractive GPS can work over any distance. It has a built-in GPS antenna and uses GPS satellites to calculate its GPS position. Its communication range is only limited by the possibility to establish communication with GPS satellites.
GPS Precision
According to the US SPS Performance Standard, the average accuracy of tracking devices like Tractive GPS is 25 feet (7.8 meters), with a confidence level of 95%. However, accuracy may vary depending on how many GPS satellites the device can detect. It needs to establish the distances to no less than 4 satellites; the more satellites it detects, the greater the accuracy.
LED Light
The device comes equipped with a LED light, making it easier for you to track your pet after dusk. The light can also communicate important information about the network and GPS status of the tracker. If you press the power button for one second, the light blinks 2 times, telling you whether the network and GPS are available (both lights green), whether the network is unavailable but GPS is available (the first light red, the second green), whether the network is available but GPS is not (the first light green, the second red), and whether both the network and GPS are unavailable (both lights red). If one of the lights is red, turn your device off and on and go outside and try to establish a connection with both GPS and the network in order to enjoy a normal tracking experience.
Buzzer Function
Tractive GPS contains a built-in speaker that can be remotely activated using the Tractive GPS app. Upon activation, the device emits buzzer-like sound, which is supposed to allow you to find the device more easily if it is lost. However, due to legal restrictions, the buzzer function has been disabled for US users.
App Compatibility
Unlike many other pet trackers, Tractive GPS provides both a smartphone app and a web app. The smartphone app works on Android and iOS phones and requires Android 4.1 and up and iOS 9.3 or later. The web app works on any device with access to the Internet and you can access it by logging in at my.tractive.com.
Tractive GPS App
Tractive GPS smartphone app and web app are your main tools for tracking your pet. Within the apps, you can view your pet's constantly updated location information, interactive tracking map, location history, and the device's battery status. You can further define and modify virtual fences, remotely activate the buzzer if available in your country, view your tracker's status, and share your pet's location with your friends. Tractive GPS apps allow you to track an unlimited number of pets, with tracking information for all pets available at a tap.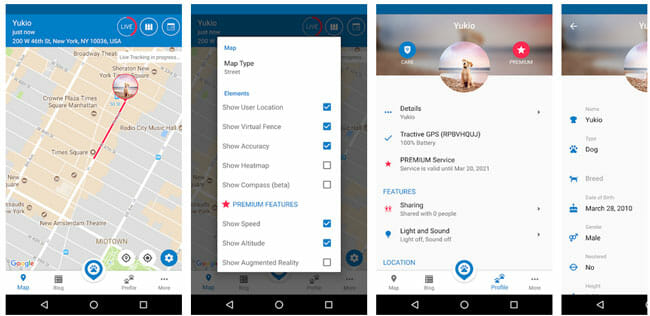 Tractive GPS Features
Perhaps the greatest downside of Tractive GPS is that it does not allow for activity monitoring. It only allows you to keep track of your pet's location. Thus, in this section, we will explore its most prominent location tracking features.
Real-Time Tracking
Also known as the live tracking mode, real-time tracking with Tractive GPS allows you to discover your pet's current location, with location information updated every 2 to 3 seconds. With information refreshed so quickly and instant alerts when your pet leaves the safe zone, you can be sure that your pet can never wander off too far.
Interactive Map
Tractive GPS tracking map is fully interactive and displays the locations of all your pets wearing the Tractive GPS tracker. It allows you to switch between multiple views, including a regular map, a hybrid map, and satellite image views. You can further make use of the handy compass that guides you in the direction your pet is headed.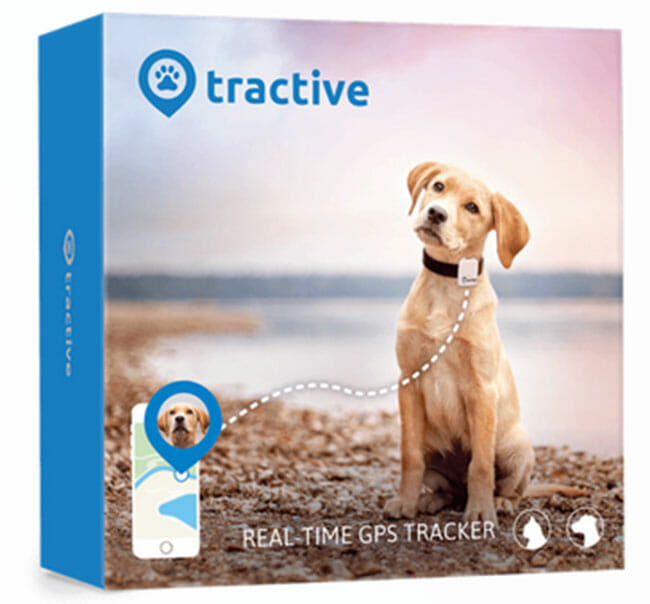 Speed
Only available to Premium subscribers, the speed feature allows you to see how fast your pet is moving. The speed information is only displayed and updated in the live tracking mode, allowing you to learn about your pet's behavior while you are tracking.
Altitude
Just like the speed feature, the altitude feature is only available to Premium subscribers. It allows you to discover the current altitude of the device relative to the sea level.
Augmented Reality
To make it easier to track your pet, Tractive GPS also allows you to track in the augmented reality view. You can switch to the augmented reality mode by clicking or tapping the globe icon marked 3D and get the real-world overlay of the distance between you and your pet.
Location History
Location History feature allows you to see position history of your pet. You can set the start and end dates yourself and precisely define the timeframe using the handy slider. Location history is displayed in the form of a linear path on the map.
Virtual Fence
Virtual Fence is also known as the safe zone. This is the area where you know your pet can freely roam and you can easily customize it in accordance with the situation. You can place the safe zone anywhere on the globe and custom-define its size, with the minimum radius being 50 meters or 164 feet.
Battery Status
When live tracking, it is important to know how much time you have before the device's battery dies. With the battery status feature, you can always view the current battery level of the tracker, so you can know if you need to hurry up if the battery is low.
Sharing
Highly useful when you need some extra help locating your dog, the Tracker Sharing feature allows you to share your pet's location with your friends. Your friends only need to have a Tractive GPS account. If desired, you can limit the sharing period to just 24 hours.
Tractive GPS Coverage
Tractive GPS works in over 150 countries around the world, including the US, Canada, Australia, the UK, and many others. However, although it has an impressive coverage, it is important to note that in order to be able to track your pet, you need Internet access on your device and the tracker needs to establish a connection with the network and GPS, so the device may not work in the most remote areas.
How Much Does Tractive GPS Cost?
The price of Tractive GPS tracking device depends on the version you choose. The standard white and the crystal-embellished pink trackers cost $79.99 per tracker.
The Hunters Edition and Tractive GPS XL cost $99.99 per device. In the package, you receive a GPS tracker, a charge, collar clips, and a user manual. Tractive GPS and Tractive GPS XL come with a 12-month warranty and qualify for Tractive CARE, which guarantees that your device will be replaced if lost, damaged or stolen during the service period.
As far as the service plans go, you can choose between the Basic and the Premium packages.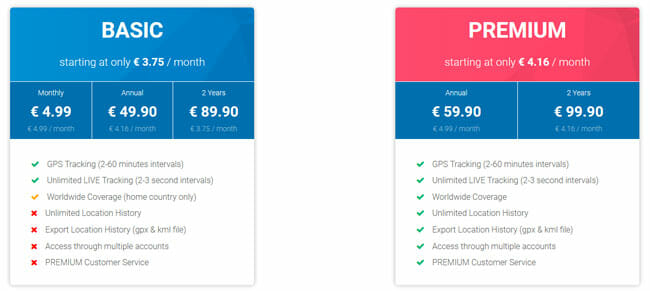 The Basic package does not come with worldwide coverage (you can only use it in your home country), does not allow sharing, and does not include Premium features like Altitude and Speed, Premium customer support, unlimited location history, and location history exporting. It costs €4.99 (around $5.76) per month with the monthly subscription, €4.16 (around $4.80) per month with the yearly subscription, and €3.75 (around $4.33) per month with the 2-year subscription.
If you opt for the Premium subscription, you get all the benefits Tractive GPS offers, but you cannot opt for the monthly subscription. You pay €4.99 (around $5.76) per month with the yearly subscription and €4.16 (around $4.80) per month with the 2-year subscription. If you wish, you can also purchase accessories such as a fashionable dog collar, LED collar, reflective collar, signal vest, extra clips, USB chargers, and more. You can even get the Tractive MOTION pet activity tracker for just $36.99. Tractive MOTION is small and lightweight (just 0.25 oz.) and boasts battery life of over 1 week, so you can easily use it alongside Tractive GPS. Tractive MOTION comes with no monthly fees, you only pay for the device. All deliveries over $29.99 come with free shipping.
Tractive GPS Pros & Cons
Knowing the biggest strenghts and weaknesses of Tractive GPS can help you decide if it is the right pet tracker for your furry friend. Here is a quick overview of its pros and cons.
Pros
Works in over 150 world countries
Unlimited communication range
Live tracking mode
Fully customizable safe zones Interactive map in multiple views
Abundance of useful tracking features
Waterproof and shockproof
Attractive design 12-month guarantee
Free replacement during the service period
Cons
Does not track activity
Safe zone has a minimum range of 164 feet
Not suitable for pets that weigh less than 9.9 pounds
Bottom Line
Tractive GPS is a fast, reliable, and precise GPS pet tracker with worldwide coverage that offers a wealth of useful tracking features and provides instant notifications when your pet steps outside the safe zone. Its live tracking mode allows you to receive location updates every 2 to 3 seconds, switch between different map views, and even view your pet's current speed and altitude. It allows you to customize safe zones and share your pet's location with your friends for easier tracking. Its main flaw is that it does not track your pet's activity, but the company does offer an independent activity tracker that is small, lightweight, and affordable, so you can easily use both devices at once and enjoy their combined benefits.