Whistle Review
Advertiser Disclosure
This website features affiliate links. For purchases made via these links, we earn commissions that allow us to keep producing helpful content. To find out more
click here
.
Close
Whistle 3 is a 2-in-1 device that functions both as a GPS pet tracker and a pet activity monitor. It relies on GPS, WiFi, and cellular technologies and offers a virtually unlimited connection range and nationwide coverage. It is exclusively available in the US.
The device is the latest product of Whistle Labs, a San Francisco-based company founded in 2012 that specializes in smart pet technology. It is superior to its predecessors in terms of both connectivity and suitability for pets of different sizes and it is advertised as the most advanced pet tracker on the market. In this Whistle review, we will explore the key features, design, cost, and reliability of this pet tracker and determine whether it lives up to its quite impressive reputation.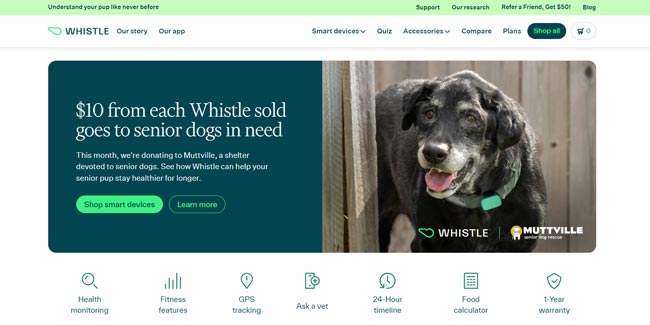 How Whistle Works
Whistle is a GPS tracking device for dogs and cats that consists of a tracking unit attached to the pet's collar or harness. It uses GPS technology for active tracking and cellular technology for transferring location information from the tracking unit to the pet guardian's smartphone. It further employs WiFi to establish safe zones and Bluetooth to aid the establishment of a connection between the tracking unit and the pet guardian's smartphone.
Getting started, you need to download and install the Whistle smartphone app and bring the tracking unit and your smartphone within the range of your home WiFi network. With Bluetooth enabled, the tracking unit is paired with your smartphone and a safe zone is automatically created, with the boundaries corresponding to your WiFi network's range. The safe zone within your home WiFi network's range is the primary safe zone. You can create additional custom safe zones at any time.
Whistle does not actively monitor your pet's location while he or she is within the range of your WiFi since your pet is considered to be safe in that area. Once your pet leaves the safe zone, you get a notification within minutes, so you can start actively tracking your pet via GPS, using the Whistle app.
Whistle is equipped with its own SIM card and exclusively operates on AT&T cellular network. However, you do not have to use AT&T as a service provider for your phone. As long as you have cellular data and reception on your phone and the tracking unit is within AT&T cellular coverage, the phone can communicate with the tracking unit, regardless of the service provider.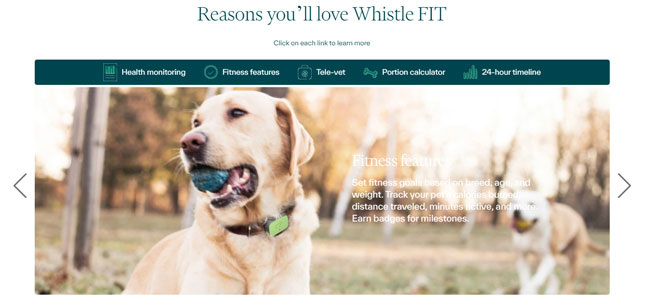 Whistle Design
Whistle tracking unit comes in 1 size and 3 versions: gray, green, and blue. The unit comes in the form of a rounded cuboid. It measures 1.82 inches in height by 1.45 inches in width by 0.61 inches in depth. It weighs just 0.92 ounces (1.25 ounces with the attachment piece), which makes it one of the lightest tracking units on the pet tracker market.
The device is attached to the pet's collar or harness with the use of an attachment strap made of strong rubber. It can be easily attached and removed by pushing the side pin and rotating the piece by 90 degrees. The attachment system is designed to facilitate removal on the part of the pet guardian while making it virtually impossible for the pet to accidentally detach the device.
Whistle can fit any collar or harness up to 1 inch wide. It can be worn by both dogs and cats. The recommended pet size is 8 pounds and above.
Whistle Technical Specifications
As mentioned previously in this Whistle review, Whistle is the latest GPS pet tracker designed by Whistle Labs. According to the manufacturer, it boasts greater accuracy than the previous versions while also being more lightweight. However, with greater lightness normally comes a shorter battery life.
In this section, we will explore the main technical aspects of Whistle and see how well this new and improved pet tracker does in terms of water and impact resistance, battery life, communication range, accuracy, and other important technical characteristics.
Shockproof
The device is resistant to impact. It boasts IP67 rating for shock and dirt resistance and can thus endure rough play and a variety of unfavorable conditions, which makes it suitable for pets that enjoy virtually all forms and levels of activity.
Waterproof
Whistle is resistant to water. It boasts an IP67 waterproof rating, which guarantees that the device can withstand submersion in water of up to 3 feet for 30 minutes without suffering any damage.
Battery
The device comes with a rechargeable battery that can last up to 7 days on a single charge with minimum use and good WiFi and cellular coverage. With limited WiFi and cellular coverage, the battery normally lasts for 2-3 days. It takes 2 hours to fully recharge the battery.
Communication Range
Whistle does not have a limited communication range. It can work over any distance within AT&T and WiFi coverage.
Accuracy
Whistle boasts an excellent average accuracy of about 10 to 15 feet. However, the accuracy greatly depends on the conditions, primarily WiFi and cellular coverage, with limited coverage resulting in diminished precision.
Light
The tracking unit is equipped with a LED light that allows you to monitor the device's battery status when charging. The light also allows for easier searching at night, as the light continuously blinks when the pet leaves the safe zone.
App Compatibility
Whistle smartphone app works on both Android and iOS phones. It is compatible with iOS 10.0 or later and Android 5.0 and above.
Whistle App
Whistle smartphone app is available free of charge for both Android and iOS smartphones. It is cleverly organized and allows you to easily adjust settings, view your pet's current and past locations, gain insight into your pet's activity history, and receive notifications.
When you first start using the app, you get to create a profile for your pet, including information on your pet's breed (mixed breeds supported), age, and weight. You can use the app to track multiple pets, but you need to get a new device and subscription for each of the pets wearing Whistle.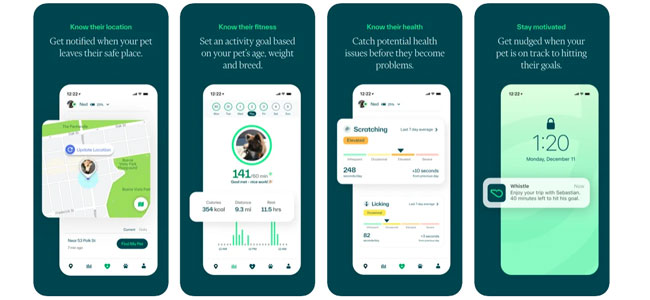 Within the app, you can track your pet's location on a Google map, view 24-hour location history and 24-hour activity data including rest and active time, activity intensity, and distance walked, define activity goals, add and remove safe zones, and share your pet's information with other users.
By default, the app provides safe zone, battery, and activity notifications, but you can adjust the settings to disable notifications you do not wish to receive. Reducing the number of notifications can help extend battery life.
Whistle Features
Being both a GPS pet tracker and a pet activity monitor, Whistle is a feature-rich device whose feature set includes more than just basic location tracking tools. In this section of our Whistle review, we will quickly describe all the key location and activity tracking features offered by Whistle.
GPS Location Tracking
The device uses GPS technology to track your pet's location when outside the safe zone. The initial notification normally arrives within 2-3 minutes, although it may take up to 6 minutes for the notification to arrive.
The notification includes distance information as well as the nearest street address, allowing for easier tracking. Location information is updated every 60 seconds, which enables you to successfully locate your pet before he or she wanders off too far.
WiFi and Bluetooth
Whistle uses your home WiFi network instead of a base station and it can use multiple WiFi networks to set up safe zones. Furthermore, it is Bluetooth-enabled in order to allow for communication between the tracking unit and the pet guardian's smartphone during the initial setup process. Keep in mind that WiFi and Bluetooth technologies are not used for tracking.
Multiple Safe Zones
Whistle offers excellent safe zone options, allowing you to define multiple safe zones and custom-define both the radius and the shape of the zone. You can enter the address for each safe zone, move the zone around on the map and drag its borders to perfectly fit the shape of the safe area. There are no major limitations to the size of the safe zones and they can be as small as 40 feet. However, it is important to keep in mind that if the zone is smaller than the reach of your WiFi, you may have to deal with false alerts.
Trips
The Trips feature allows you to view all the locations your pet visited during the day. In essence, it is a 24-hour location history that is deleted every day. Although a useful feature, it has one major downside. The data is deleted forever after 24 hours and there is no way to save the data for future use.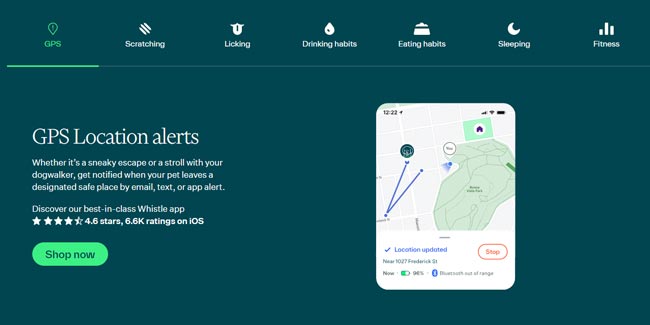 Notifications
Whistle offers notifications in the form of texts, emails, and push notifications. The tracker does not only notify you when your pet leaves the safe zone but also provides additional alerts, such as low battery alerts and activity notifications.
Activity & Rest Monitoring
The device uses a 3-axis accelerometer to identify your pet's activity up to 50 times per second. It employs a handy 24-hour graph to provide information on the number of active minutes and hours, the amount of time spent resting, the distance traveled, as well as the number of calories burned. It further discriminates between different levels of activity, letting you know whether your pet has engaged in moderate or intense activity.
Custom Activity Goals
With Whistle, you can define custom daily activity goals for your pet. The goals can be fully customized and changed at any time or based on Whistle's recommendations provided in accordance with the pet's breed, weight, and age.
Google Maps
Unlike the previous version of Whistle Lab's GPS pet tracker, Whistle uses Google Maps to provide a map view of your pet's location. Considering the regularity of updates and reliability of Google Maps, this can be considered as a great advantage.
Multiple Caretakers
Whistle allows you to invite your friends and family to keep track of your pet's location and activity at no extra cost. Your friends and family members simply need to accept the invitation and install the app to gain full access to all activity and location tracking features available in the app. You can add or remove contacts at any time.
Whistle Coverage
Being dependent on AT&T cellular network, Whistle GPS pet tracker can only be bought and used in the United States. Although AT&T has an impressive coverage, it does not cover every part of the country. Thus, the device can work in the majority of the US, but it may not be of use in the most remote areas with spotty or non-existent cellular coverage.
How Much Does Whistle Cost?
The standard price of Whistle GPS Go Explore pet tracker is $149.95. However, the manufacturer frequently offers discounts, often allowing you to get the device for $99.95. In the package, you get 1 tracking unit, 1 USB charging cable, 1 collar attachment, and 1 quickstart guide. The device comes with free 2-day shipping. You also have the option of buying just Whistle Fit, focused on your pets health, and this will cost you $79.95. Finally, you could choose the best option avaliable, Whistle Switch for $199.95. This device includes both the health and GPS features with special focus on precision tracking.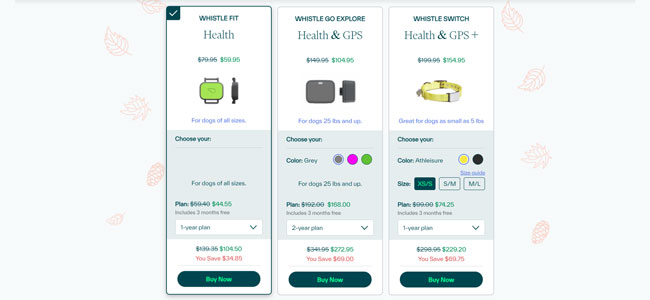 In terms of the service plans, you get to choose between the monthly, yearly, and 2-year subscriptions. The yearly subscription is charged annually and costs $8 per month. The 2-year subscription is charged biannually and costs $8 per month.
Whistle GPS pet tracker comes with a 90-day money-back guarantee.
Whistle Pros & Cons
Knowing the biggest strenghts and weaknesses of Whistle can help you decide if it is the right pet tracker for your furry friend. Here is a quick overview of its pros and cons.
Pros
Accurate GPS tracking solution
Small and light tracking unit
Waterproof and shockproof
Multiple WiFi safe zones
Useful activity tracking features
Location history
Virtually unlimited communication range
Works anywhere within AT&T cellular coverage
Good battery life
Reasonable price
90-day money-back guarantee
Cons
Only works in the US
Monthly subscription comes with a 12-month commitment
Safe zone notifications slightly delayed
Lacks some of the extra features available with the previous version of the tracker
Location history deleted forever after 24 hours
Bottom Line
Concluding this Whistle review, we can say that this GPS pet tracker certainly has a lot to offer both in terms of location tracking and activity monitoring. It works anywhere within AT&T network, throughout the US, with no major limitations in terms of communication range. It is highly accurate, updates location information every 60 seconds, uses Google Maps for tracking your pet's location, and allows you to create multiple custom safe zones for your pet. Furthermore, it provides rest and activity monitoring as well as customizable daily activity goals.
However, there certainly is room for improvement when it comes to notifications, which may take up to 6 minutes to arrive. Furthermore, the device does not offer some of the neat features its predecessor offered, including medication reminders and meal logs. Finally, we do not like the fact that location history vanishes forever after just 24 hours, which prevents you from viewing your pet's past walks at a later time.
Thus, we can say that Whistle is an attention-worthy pet tracker that is a few tweaks away from being indispensable. Still, even with the abovementioned shortcomings, it is one of the finest and most popular pet trackers currently available.