Fi Tracker Review
Advanced Pet Tracker With A Battery Life Of Up To 3 Months

Advertiser Disclosure
This website features affiliate links. For purchases made via these links, we earn commissions that allow us to keep producing helpful content. To find out more
click here
.
Close
Fi is a company that practically reinvented the dog collar by infusing it with numerous modern technologies and focusing primarily on equipping it with enough features to allow all dog owners to locate their pets and prevent them from joining more than 100 million dogs that go missing every year.
The project was started in 2017 by Johnathan Bensamoun and Loren Kirkby and quickly raised 10 million dollars from investors like Lerer Hippeau, Freestyle VC, and RRE Ventures. The company is currently headquartered in Brooklyn and invites everybody to stop by for a free Fi tennis ball.
Keep reading this honest Fi tracker review to learn more about the collar and its capabilities and see if it works for your pets.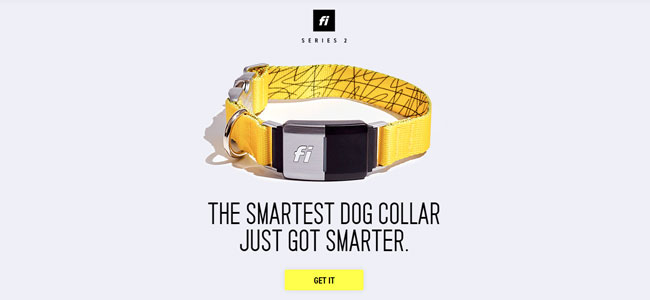 How Fi Tracker Works
Fi tracker comes with a GPS module that tracks your dog 24/7 on the new LTE-M network, which allows you to be aware of his or her movement even when taken out by dog walkers and/or caretakers. Fi tracker is famous for its incredible battery life so you can basically put it on and forget about it for months.
It also allows you to create safe zones and receive notifications when your dog exits the perimeter. Since the collar works perfectly fine in all US states, you will receive instant escape notifications anywhere in the country. You can create as many safe zones as you want, which makes traveling with your pet much safer and easier.
Apart from tracking your dog, Fi tracker can help you keep your pet active and healthy by hitting his or her daily, weekly, and monthly step goal, comparing the score with other dogs, and monitoring activity levels when you are not there.
One of the most prominent features offered by Fi pet tracker is the Lost Dog Mode that switches to live location tracking to help you find your pet as quickly as possible. The Lost Dog Mode also activates the red pulsing LED light on the collar, which makes it easier to spot your pet in low visibility conditions or at night. Once your collar enters the Lost Dog Mode, Fi HQ will immediately be notified and the company's 24/7 lost dog helpline will be at your disposal.
Fi Tracker Design
The Fi collar features a durable and sturdy design with the tracking module being held in place by a tough nylon band. Note that you should not rely solely on Fi tracker as a link to your dog's leash even though it is able to handle even the most adventurous of pets. The collar is waterproof and can even withstand salt water. Furthermore, it is chew-proof so there should not be any problems in multi-pet households.
The band comes in yellow and gray, but note that the yellow version does not have an XL size. When it comes to Fi sizing, here is your definitive guide:
S – Neck <13"

 

M – 13.5" – 16.5"

 

L – 16″ – 22.5"

 

XL – 22″ – 34.5"

 
You should be able to fit two fingers between the collar and your dog's neck for optimal comfort. In other words, the collar should feel snug but not too tight.


If the band gets damaged at any given point, you can replace it by simply unlocking the end links and separating it from the module. If the end links get damaged, you can contact the company's customer support team at support@tryfi.com Monday to Friday 10 AM – 5 PM EST.
The Fi collar features an LED indicator light. Understanding different modes will help you use the product to its full potential:
Solid blue – Fully charged;

 

Pulsing blue – Charging;

 

Pulsing red – "Lost Dog" Mode;

 

Pulsing green – Activated, restarting, reset, the firmware has recently been updated.

 
Fi Tracker Technical Specification
This part of our Fi tracker review will focus on the collar's technical characteristics and implemented technologies.
LTE-M Network
LTE-M is a low-power cellular network specifically designed for IoT devices. It provides dog owners with ultra-long battery life and extended cellular range.
Connectivity
Apart from using GPS and Wi-Fi, the collar can also utilize low-power Bluetooth connection to communicate with other devices like Fitbits, Airpods, and others.
Battery (Lithium-ion – 520mAh)
As we already mentioned in this Fi tracker review, battery life is one of the most impressive features of this collar. Depending on your usage, you can go up to 3 months without recharging the battery. The battery will last up to 2 months if your dog is constantly outside of your home (Wi-Fi & GPS/cellular mixed mode), up to 3 weeks if you are using GPS without Wi-Fi, and up to 2 days in the Lost Dog Mode (with 1-minute refresh).
Chew-Proof
The Fi collar is extremely resistant to damage caused by outside influences so if you own multiple pets, they will not be able to chew through each other's collars. Furthermore, your dog will not be able to damage the module or the band no matter how adventurous he or she is.
Waterproof
Unlike many other tracking collars that are only water-resistant, Fi tracker is completely waterproof and can even withstand salt water without any damage or diminished performance. Its waterproof rating is IP-68, which means you can immerse it in up to 1.5m of water without any negative consequences.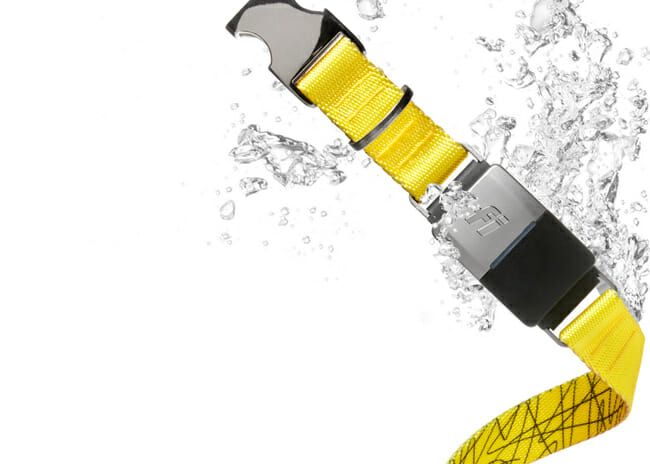 Localization
The LTE-M network gives you 20-30% more coverage than your regular 3G/LTE networks. This means Fi will be able to track your pet in areas where 3G trackers simply do not work. Fi covers every state in the US
Fi Tracker App
The Fi app will show you your dog's location in the primary view the moment you open the app. You can scroll the area by swiping across the map or zoom in/out by pinching and pulling your fingers together or apart. This is especially useful while setting up safe zones.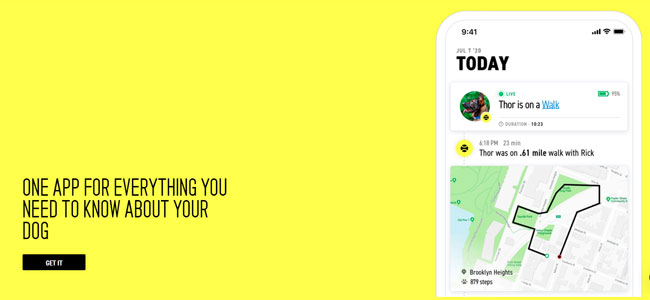 The app is easy to use, with the first initial representing your current location and the photo of your dog representing where he or she is located. If you are together, the two icons will attach to each other. The app features the "Locator" and "Lost" buttons that point out your current location/where your dog was last recorded and activate the Lost Dog Mode, respectively.
The bottom of the screen is reserved for your dog's activity and you can always swipe to view past activities. For more in-depth info, simply tap the steps count and toggle between Day, Week, and Month to track your pet's progress.
Recently they've added another cool feature Sleep Tracking. It enables you to monitor your dog's sleep from anywhere anytime. However, that's not all it does as you can also their time spent napping & sleeping, nighttime interruptions, and overall restfulness. Any change in sleep patterns is an early indicator that your furry friend needs to visit the vet.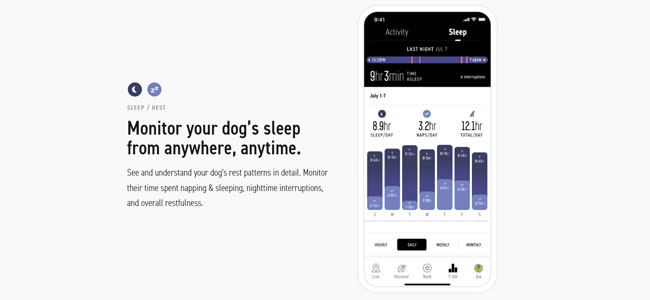 The most important thing about Sleep Tracking is that enables you to be proactive with your dog's health issues and catch them early-on. This will increase their chances of recovery significantly and give you a piece of mind knowing that you're doing everything you can to keep your dog as healthy as he can be.
Finally, the app allows you to access Fi's live chat support during the team's regular business hours.
Fi Tracker Features
Let us now go over some of the most prominent features provided by the Fi tracker and see what sets it apart from other pet tracking devices.
LTE-M Network
Using LTE-M instead or regular 3G/LTE networks enables Fi tracker to provide you with extended range and track your dog's activity in areas where traditional pet trackers simply do not work.
Durable Design
The Fi collar comes with a tough nylon band that is completely dog-proof and easy to replace. The main module is also chew-proof and built to withstand even the unruliest of pets.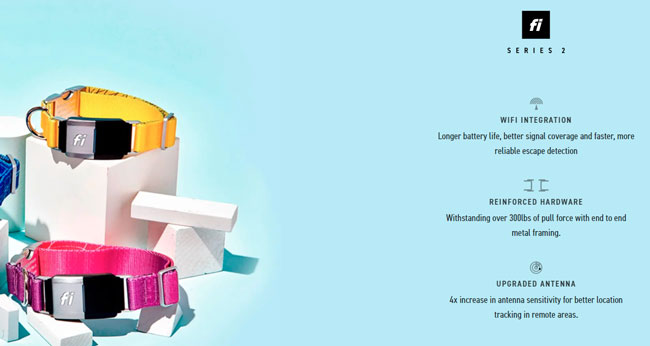 User-Friendly Mobile App
Fi tracker comes with its own app that is very easy to use thanks to its intuitive menus and general lack of unnecessary clutter.
Long-Lasting Battery
Thanks to its low-power network and Bluetooth connectivity, Fi tracker can last up to 3 months, depending on usage.
Geo-Fencing
Fi tracker allows you to set up unlimited safe zones across the US, so you will always receive instant notifications the moment your pet leaves the perimeter.
Sleep Tracking
This new feature enables you to track your sleeping habits and more from your phone. This means you can monitor time spent napping & sleeping, nighttime interruptions, and overall restfulness from anywhere in the world.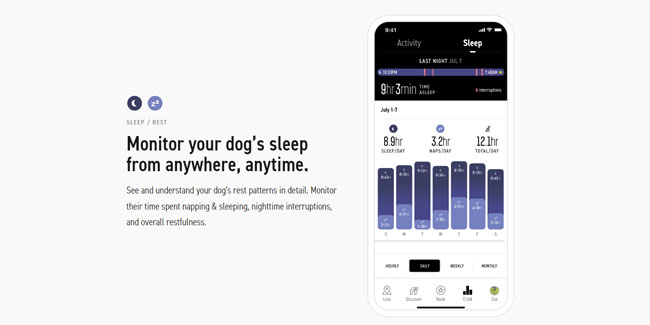 Global Coverage
The Fi collar works in all the states and even covers some rural areas where regular 3G/LTE trackers cannot establish a viable connection.
Fi Coverage
As we already mentioned in this Fi tracker review, the unit works in any state in the US and can even track your dog in some of the rural areas that leave 3G/LTE trackers powerless and useless. However, you still need Internet access in order to view the readings on your Fi app.
How Much Does Fi Tracker Cost?
Fi tracker costs $149 and includes: 
Fi module

 

Fi collar band (additional bands cost $29)

 

Fi base

 

USB charging cable

 

Fi USB power adapter

 
We also want to add that the price can sometimes be significantly lower, especially if you have the right coupon codes. You can save up to $70 on your Fi Tracker with some of them bringing the price of the device to just $79. Be sure to check our coupon section to find all the latest Fi Tracker coupon codes and discounts.
After purchasing the Fi tracker, you can also opt for one of the available subscription plans:
1 year – $99

 

2 years – $186

 

3 years – $248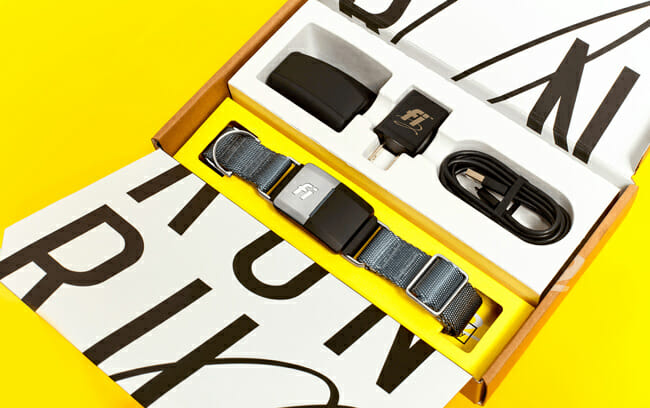 We should note that the collar is basically useless without a subscription since it will stop tracking your dog's location the moment he or she leaves the Wi-Fi range of the home base. In other words, if you want to unlock GPS tracking, going with one of the subscription plans is a must. The Lost Dog Mode and live agent support are also only available to premium customers.
Once you purchase your Fi collar, you have a 30-day trial period during which you can return it for a full refund. The collar also comes with a full 1-year warranty.
Fi Pros & Cons
Knowing the biggest strenghts and weaknesses of Fi tracker pet tracker can help you decide if it is the right pet tracker for your furry friend. Here is a quick overview of its pros and cons.
Pros
LTE-M network

 

Durable chew-proof design

 

IP-68 waterproof

 

Bluetooth and Wi-Fi connectivity

 

GPS tracking

 

Sleep Tracking

Geo-fencing

 

Global coverage

 

Battery life up to 3 months

 

Budget-friendly 

 

30-day money-back guarantee

 

1-year warranty

 
Cons
Requires a subscription

 

No 1-month subscription option

 
Bottom Line
Fi tracker is a modern pet tracker primarily designed to find lost dogs and monitor their location, activity, and health on a regular basis. It allows you to set up safe zones and receive instant notifications when your pet leaves the predefined perimeter. The home base enables it to utilize Wi-Fi instead of GPS while your dog is in range in order to save battery. Speaking of battery, Fi tracker has one of the most impressive batteries on the market that can last for up to 3 months, depending on usage.
On the other hand, the collar is pretty much useless if you do not purchase one of the available subscription plans. Furthermore, the shortest plan includes a 1-year subscription so you do not have the option of going month-to-month and opting out if you so choose.
Bottom line, Fi tracker is an excellent pet tracker that will monitor your dog's location and activity pretty much anywhere in the US with the only downside being that you have to purchase a subscription.