How To Choose The Right Pet Tracker For Your Cat
Picking the right cat tracker for your feline friend can be rather easy if you know what to look for. To help you make the best possible choice, we have designed this quick beginner-friendly guide that takes the guesswork out of cat tracker shopping. Here are the key characteristics that you should focus on when choosing the perfect tracking companion for your cat.
Size & Weight
The right cat tracker allows your friend to freely walk, run, jump, and play. If the tracker is too large or too heavy, it may cause discomfort or be bothersome to wear. Before exploring the other characteristics of the cat tracker you are interested in, be sure to check its size and weight to make sure it can fit your cat's collar or harness. Further, you should check the recommended pet size, if provided. The recommended pet size is normally expressed in pounds, allowing you to discover whether the tracker in question is a good fit for your cat's size and weight.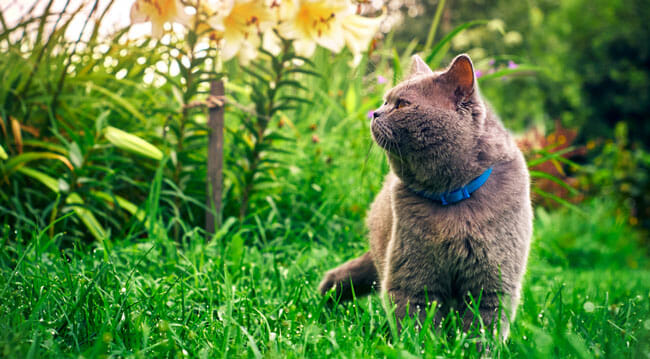 The general rule is that trackers weighing about 1 ounce are suitable for cats weighing 8 pounds or more. Smaller cats can wear trackers that weigh more than 1 ounce if the tracker is attached to a harness instead of a collar, so there is no neck discomfort. The width of the tracker is of great importance as well, as it should not be greater than the width of your cat's neck and collar/harness.
Water-Resistant
A good cat tracker should remain functional even in wet conditions. It should be resistant to rain and light splashes, but it may happen that the tracker gets partially or fully submerged in water if your kitty gets thirsty or the collar slips and the tracker ends up in a puddle. Thus, you should always choose a cat tracker that is water-resistant, so you can be sure that it will work regardless of the conditions.
Impact-Resistant
Regardless of whether your cat is a daredevil or prefers resting and napping, it is important for the cat tracker to be resistant to impact, so it does not get easily damaged. If the device is not impact-resistant, it may suffer from malfunctions even in case of a mild impact, which severely diminishes its functionality and usefulness.
Battery Life
The best cat trackers usually come with rechargeable batteries designed to last for several days with normal use and at least 6 hours in live tracking mode. If the battery cannot last for more than 1-2 hours during active search, the device may fail you when you need it the most and prevent you from successfully locating your cat. Thus, be sure to choose a cat tracker that has a long battery life, so you do not have to worry about the battery dying mid-search.
Night Light
Locating your cat at night can be particularly difficult, which is why the best cat trackers come equipped with a night light, which can usually be remotely activated via the dedicated app. If your cat decides to go for a stroll after dusk, the night light can help you easily spot your friend even in pitch dark.
Coverage
Due to the limitations of the technologies they use, cat trackers normally have limited coverage. They may work in some areas of one country or in multiple countries around the world. Some of the best cat trackers that do not rely on cellular networks can work anywhere on the planet. If you enjoy traveling with your cat or live in an area with spotty cellular coverage, it is important to check exactly where the cat tracker in question can work, so you can know it can be of use whether you are at home, visiting friends or planning a trip to a country halfway across the globe.
Communication Range
Some cat trackers can only work if your cat is nearby while others keep tracking your cat's location even if your friend is miles away. Since a cat tracker becomes virtually useless if your cat is out of range, it is crucial to pick a cat tracker that can work over great distances, so you can successfully locate your cat even if you could not begin your search immediately.
Indoor & Outdoor Tracking
If your cat is hiding in an enclosed space, GPS tracking is not of particular use, as it can only provide your cat's last known location in the open. That is why the best cat trackers use other technologies such as WiFi and Bluetooth to allow for indoor tracking. Only a cat tracker that can work both indoors and outdoors guarantees that you can find your cat, no matter where he or she may decide to go.
Location Update Frequency
Cat trackers greatly differ in terms of location update frequency. Some update location information every few seconds, allowing for real-time tracking, while others may provide updates every few minutes or even hours, depending on the settings. In order to allow you to locate your cat easily and quickly, the tracker should provide location updates at least every minute.
Accuracy
Cat trackers are never 100% accurate and their accuracy greatly depends on both the positioning technology used and the surroundings. However, that does not mean that you should settle for a cat tracker with an average error of over 100 feet. Most of the time, it is enough for the tracker to be accurate within 25 feet, which is the standard with GPS trackers.
Safe Zones
The best cat trackers allow you to define areas where your cat is safe and does not need to be actively tracked. These areas are referred to as safe zones and they are usually defined to correspond to the size of your property. When your cat leaves the safe zone, you should be immediately alerted, so you can locate your friend before he or she gets lost.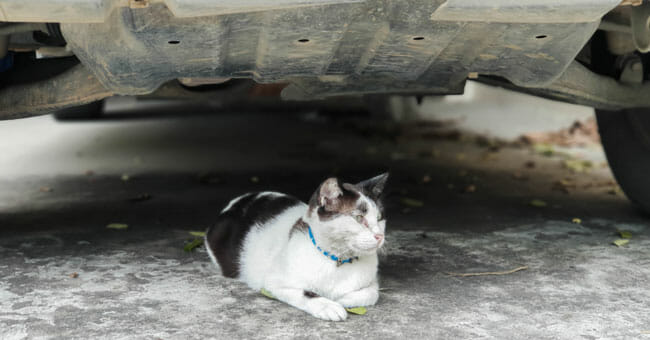 While useful even when automatically set, safe zones should be customizable, so you can adjust them in accordance with your desires and surroundings. If the pre-set safe zone is too small or too large, you may get false alarms or you may not get alerted as soon as your cat crosses the boundaries of your property. Thus, we recommend opting for a cat tracker that does not only offer safe zones but allows you to customize them in accordance with your needs.
Instant Notifications
The importance of instant notifications cannot be overemphasized. If the cat tracker of your choice does not notify you as soon as your cat leaves the safe zone but instead sends an alert minutes later, it makes you lose precious time you could spend searching for your cat. If the notification arrives late, your cat may already be out of range, which makes it particularly difficult to successfully locate your friend.
Location History
The Location History feature allows you to discover not only where your cat is but where your cat has been in the past hour, day or week. It enables you to view your cat's past locations displayed on a map, allowing you to trace your cat's route. This can be useful if your cat is out of range and you need to know his or her last known location and the direction in which he or she is headed. It can also be useful in understanding your cat's behavior.
Interconnectivity
Cat trackers allow you to keep track of your cat's location even when you are away. However, if you are not close to home and your cat decides to go for a walk outside the safe zone, you may not be able to locate your friend in a timely manner. Interconnectivity allows you to share your cat's location with your friends and family, so they can locate your friend when you are unable. Interconnectivity can also be useful if you want other individuals to join your search party.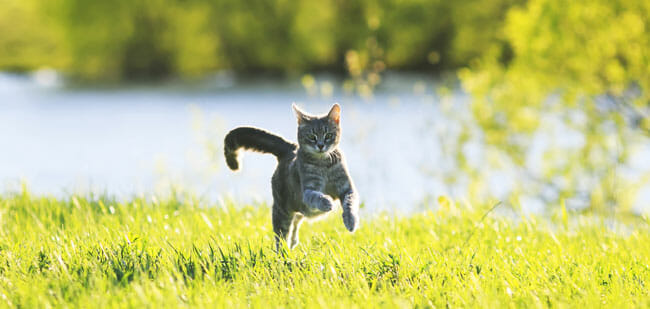 Activity Monitoring
Some of the best cat trackers available do not only keep track of your cat's location but also provide activity monitoring features. They let you discover how much time your cat spent resting, playing, walking or running. They may allow you to custom-define daily activity goals for your cat or provide customized recommendations based on your cat's breed, weight, and age. While activity monitoring does not help prevent your cat from becoming lost, it does help you take better care of your cat's health.
Money-Back Guarantee & Warranty
You can never be sure that you have picked the right cat tracker until you try it out. The tracker may turn out to be too large or too heavy, it may not work as well as you expected or malfunctions may arise after just a few days of use. That is why it is crucial to pick a cat tracker that comes with a money-back guarantee and preferably a warranty, so you do not waste your money on a tracker that does not fit your cat, does not work properly or simply does not live up to your expectations.
Best Cat Trackers Of 2022
Now that you know what to look for in a cat tracker, it is time to learn more about our top picks and find out which one is the best match for your cat's unique needs. View the mini-reviews below and quickly discover all the crucial facts about our top-rated cat trackers.
Benefits Of Cat Trackers
Every year, millions of cats become lost and more than 1 million of them get euthanized in the US alone. If your cat is microchipped and becomes lost at some point, he or she can be returned to you if someone nice takes him or her to a vet who can read the microchip. However, cats normally do not trust strangers, which is why this scenario is not that likely. Currently, cat trackers constitute the only solution that allows you to prevent your cat from becoming lost. Thus, they represent invaluable aids that can keep your beloved friend safe. They may even save your cat's life, considering the potential dangers associated with your cat becoming lost, including but not limited to traffic and euthanasia.
Even if you spend a lot of time at home and take your cat with you whenever and wherever you can, you cannot be with your cat at all times. A cat tracker allows you to know where your cat is every moment of every day. It notifies you if your cat leaves the area you deem safe, thus enabling you to act immediately and prevent your cat from going away too far.
Furthermore, a cat tracker can help you better understand your cat's habits and take better care of your friend's well-being. It can let you trace your cat's routes and see which places your friend visits most frequently. It may also possess activity monitoring features, allowing you to find out exactly how much time your cat spends resting, walking, and playing. Thus, it can help you make sure your cat is active enough to stay happy and healthy.
In short, cat trackers are unique devices that can help you be the best cat guardian you can be. They prevent your cat from becoming lost, allow you to keep track of your cat's location at all times, and notify you if your cat is not where he or she is supposed to be. They can even help you take better care of your cat's well-being and gain better insight into your friend's movement, habits, and activity. A cat tracker is the only device particularly designed to monitor your friend's location and movement around the clock, enabling you to worry less and easily keep your cat out of harm's way.
Limitations Of Cat Trackers
Cat trackers may be incredibly useful in preventing your cat from getting into trouble or becoming lost, but they are not perfect. While some cat trackers are superior to others in terms of reliability, durability, and functionality, there are certain limitations that plague virtually all cat trackers. Thus, in order to help you maintain a realistic view of these devices, we will point to the major limitations of cat trackers.
First of all, unlike microchips, cat trackers are on-collar devices. If your cat is not used to wearing a collar or a harness, it may be difficult for him or her to get accustomed to wearing a cat tracker. While usually small and lightweight, cat trackers are rarely suitable for kittens and small cats, which is another important limitation you need to be aware of before deciding whether a cat tracker is the right choice for keeping your feline friend safe.
Second, cat trackers cannot work everywhere, over literally any distance. Depending on the technologies they use, cat trackers may have smaller or larger coverages and communication ranges. Usually, cat trackers with larger coverage have a smaller communication range and vice versa. Thus, you need to decide whether it is more useful to have a cat tracker that can work in any place on the globe or a tracker that can keep track of your cat's location even if your cat is a dozen miles away from you. You cannot have both.
Another common misconception is that cat trackers can be perfectly accurate, showing you the exact location of your cat. This is impossible since the technologies cat trackers rely on are still not that well developed. There are cat trackers that are accurate within inches, but these trackers usually work over smaller distances. Thus, we would like to emphasize that cat trackers are never 100% accurate and add that perfect accuracy is not necessary to successfully locate your cat. For example, if the tracker is accurate within 30 feet, it can still allow you to come close enough to your cat and locate him or her with little effort.
It is further important to clarify that most cat trackers do not allow you to track your cat in real time. Real-time tracking means that the tracker refreshes location information every second or every few seconds, which is not an easy task since it first needs to determine your cat's location and then send the information to you. Depending on the conditions, it may take more than a second for the tracker to establish the location and it may take some time for the information to travel to you. Even among the best cat trackers, there are only a few of them that allow for real-time tracking, with location information refreshed in several seconds. While preferred, real-time tracking is not necessary for successful tracking. If your cat's location is updated every minute or so, it is still good enough to allow you to quickly locate your cat.
Finally, it is necessary to point out that cat trackers rely on batteries and batteries have limited lifespans. Some need to be recharged every day or even a couple of times a day while others can last for days on a single charge. In live tracking mode, with location information refreshed as frequently as possible, the battery tends to drain quickly – and if not fully charged, it may die before you locate your cat. With this limitation in mind, you should pick a cat tracker with a good battery life and recharge the battery regularly in order to avoid such complications.