Pod Pet Tracker Review
Advertiser Disclosure
This website features affiliate links. For purchases made via these links, we earn commissions that allow us to keep producing helpful content. To find out more
click here
.
Close
Pod 3 is a GPS pet tracker used for both indoor and outdoor tracking. It is the brainchild of Pod Trackers, an Australia-based company that has been producing some of the smallest and lightest GPS pet trackers available since 2014.
Pod 3 boasts a virtually unlimited communication range, provides near-real-time location tracking, and offers useful health and fitness monitoring features. All these characteristics make it superior to most of its competitors and thus more than worthy of your attention. Learn everything you need to know about this advanced pet tracking solution in our detailed Pod 3 review.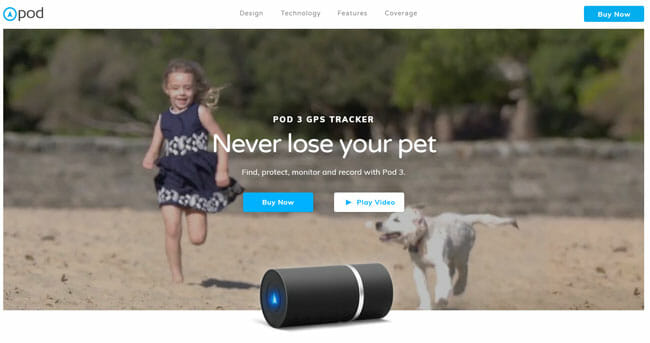 How Pod 3 Works
Pod 3 is a pet tracker for cats and dogs that combines the benefits of GPS, WiFi, Bluetooth, and cellular technologies. It consists of a lightweight tracking unit equipped with a next-generation GPS chip and a roaming SIM card.
When you are at home, Pod 3 uses your home WiFi router to determine your pet's location. It uses surrounding WiFi routers for indoor tracking when GPS tracking is not an option. In the outdoors, the device uses GPS as the main location method. Finally, if your pet is close to your phone, the device may use Bluetooth for establishing his or her location.
The tracking unit attached to your pet's collar sends information to your smartphone using 2G and 3G cellular networks. Since the device is equipped with a SIM card of its own, it does not matter which service provider you are using for your phone. In order to access location information and all available features, you need to download and install the dedicated app, with both smartphone and web applications available.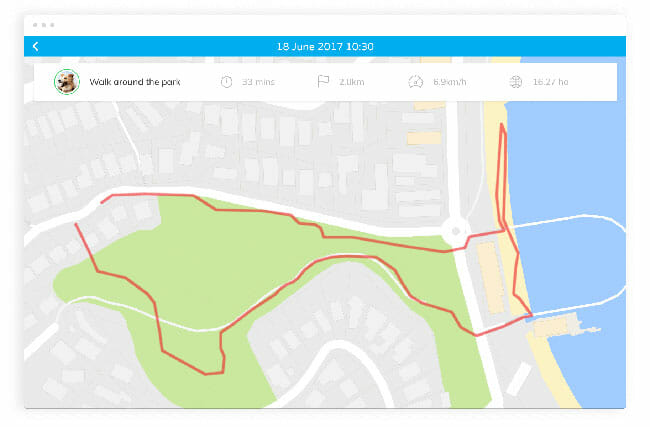 Pod 3 Design
The Pod 3 tracking unit is cylinder-shaped, black, and generally features a rather sleek design. It is debatable whether the shape of the unit is well-suited for its intended purpose, as the device may seem bulky on smaller pets. However, our tests have shown that due to its lightness, the tracking unit does not interfere with the natural movement of pets of different sizes and does not cause any discomfort.
The tracking unit is attached to the pet's existing collar with a long rubber strap featuring multiple holes and a button for fastening. The strap is fed through the slot on the device and looped around the collar. If desired, the excess strap can be cut off. However, since Pod 3 can also be used on various larger objects, such as bicycles, it may be a good idea to leave the excess strap if you want to use the device for purposes other than pet tracking.
The device measures 2 inches (52 mm) in length and 0.9 inches (25 mm) in diameter. It weighs just 1.1 oz. (31 g), which makes it suitable for large and small cats and dogs. Although the company does not provide concrete information on recommended pet size, it does state that its numerous customers use Pod 3 on animals of all shapes and sizes, including emus, falcons, and small cat and dog breeds.
Pod 3 Technical Specifications
Apart from the device's size and weight, which were covered in the previous section of this Pod 3 review, there are numerous physical and technical aspects that determine the usefulness of a pet tracker. Let us now examine Pod 3's technical specifications, focusing on the durability, range, and accuracy of this tracker.
Shockproof
The manufacturer of Pod 3 states that the device is resistant to impact. Our tests have confirmed that it is not prone to damage regardless of the form and level of activity in which your pet may engage.
Waterproof
Pod 3 is resistant to water and boasts an IPX7 waterproof rating. This means that the device is protected from accidental submersion in water of up to 3 feet for up to 30 minutes, which is rather impressive.
Battery
Pod 3 comes with 2 interchangeable, rechargeable batteries. With minimum use, in standby mode, the battery can last for up to 5 days. With safe zone tracking, battery life ranges from 1.5 to 3 days. In live tracking adventure mode, it can last for between 6 and 8 hours.
Communication Range
The tracker does not have a limited communication range. It can work over any distance within cellular coverage.
Accuracy
The accuracy of Pod 3 depends on the location method used. With Bluetooth tracking, you can expect the device to be accurate within 10 feet. With GPS, the average accuracy is about 30 feet. With WiFi tracking, the approximate accuracy is about 90 feet.
Light
The device features a small arrow-shaped light display at the base opposite to the battery. The light is not only useful when searching for your pet at night, it can also provide valuable information on the device's battery, data transfer, and GPS status.
App Compatibility
Pod 3 comes with smartphone apps for Android and iOS and a web app that can be accessed via a computer or phone browsers. Pod 3 smartphone apps are compatible with Android 5.0+ and iOS 8+. The phone should be Bluetooth-enabled to allow for tracking via Bluetooth.
Pod 3 App
Pod 3 smartphone and web apps are easy to use and cleverly designed. They feature 2 main screens: the Map screen and the Pet screen. With the Map screen, you can view location information for all your pets and manually refresh their locations. Furthermore, you can add new pets, manage your account settings, and access Pod Help if you need assistance.
With the Pet screen, you can see your pet's last known locations and location time, view 24-hour location history, and access and manage safe zone, location refresh rate, adventure recording, and activity monitoring settings. If you need help understanding and using any of the features, you can access helpful tutorials straight from the Pet screen.
You can use Pod 3 apps for multiple pets and also share access with multiple users, so your friends and family can keep an eye on your pets as well.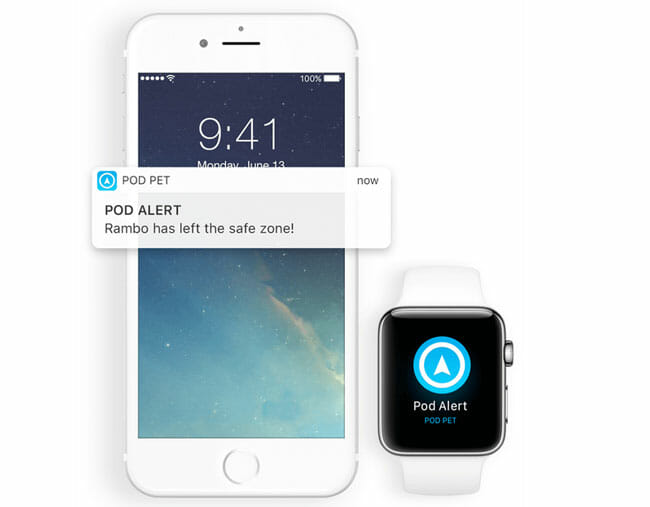 Pod 3 Features
As suggested previously in this Pod 3 review, this device can be appropriately described as a feature-rich pet tracker that does much more than just keep track of your pet's location. It is time for a comprehensive overview of the entire set of features offered by Pod 3.
Near-Real-Time Tracking
Pod 3 can update your pet's location every 10 seconds in adventure mode, which qualifies as near-real-time tracking. Its minimum location update interval is much shorter than with many other pet trackers, which allows you to track your pet more quickly and efficiently.
3 Tracking Modes
In order to help you save battery, the manufacturer of Pod 3 has decided to allow you to choose between 3 tracking modes. The first mode is Standby, in which location information is refreshed every 3 hours and the battery can last for up to 5 days.
The second mode is Safe Zone, in which the location refresh rate is 5 minutes by default but can be anywhere between 2 minutes and 2 hours, depending on your preferences. In the Safe Zone mode, you get instant notifications if your pet leaves the safe zone.
The third mode is Adventure, in which your pet's location information is updated every 10 seconds. In this mode, you can record your pet's walks and revisit them at a later time. Your pet's walk is shown on a map, with useful additional information provided, including distance walked, time spent walking, area covered, and average speed. Safe Zone alerts are disabled in the Adventure mode.
Location History
With Location History, you can view your pet's past locations during a period of 24 hours. You can select each individual location and view the location method used, as well as the time when the location was recorded. This can help you get a better sense of your pet's movement habits.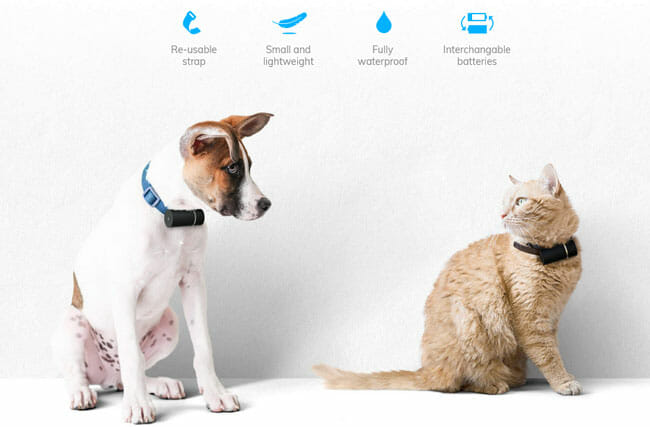 Multiple Safe Zones
Pod 3 allows you to custom-define safe zones for your pet. Unlike many other pet trackers, it allows you to define more than 1 safe zone within which your pet can walk, run, and play without any danger of getting hurt or lost. You can freely choose the location and size of the safe zones and add new ones at any time.
Safe zones come in the form of a circle, but the creators of Pod 3 are currently working on introducing new shapes. It is recommended that you set a diameter about 30 feet larger than that of the actual safe zone in order to prevent false alarms.
Activity Monitoring
In addition to location tracking features, Pod 3 provides activity tracking tools that allow you to keep track of your pet's health and fitness. You can set activity goals for your pet and have the device constantly monitor your pet's activity. You can view daily, weekly, and monthly activity summaries with details on time spent resting, playing, and walking and see if your pet has reached the daily goals you have set. That way, you can easily make sure that your pet has been active enough to stay healthy and in good shape.
Movement Monitoring
With this feature, the device continuously monitors your pet's movement, so you can know if there have been any unusual or sudden changes in your pet's activity and behavior and act immediately to prevent your pet from getting into trouble.
Sharing
As mentioned previously in this Pod 3 review, you can share access to the Pod 3 app with your friends and family, so multiple individuals can track your pet at the same time. You simply need to share your login information with other users and thus allow them to view your pet's location information and receive notifications.
Pod 3 Coverage
Pod 3 has a pretty impressive coverage including more than 175 countries around the globe. It uses multiple cellular networks in all countries within its coverage, leaving only the most remote areas outside its scope. The device operates on both 2G and 3G networks.
How Much Does Pod 3 Cost?
The standard price of Pod 3 GPS pet tracker is $129. However, the company often offers discounts, so you can get your device for just $89. The package includes the Pod 3 tracking unit, 2 interchangeable, rechargeable batteries, a charging dock, and 2 attachment straps. The device comes with free shipping in the US, the UK, and Australia. Most other countries qualify for flat rate shipping of up to $15.35.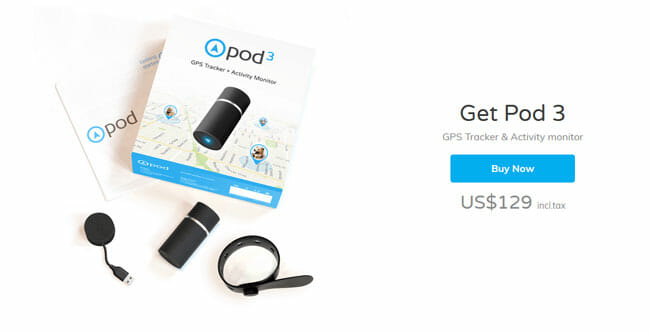 Since Pod 3 relies on cellular network, you need to purchase a service plan before you start using the device. You can opt for the monthly subscription that costs $8.95 per month or the yearly subscription that costs $4.95 per month. It is important to note that the company occasionally provides special offers that allow you to get a lifetime subscription free of charge.
Pod 3 comes with a 30-day money-back guarantee and a 12-month warranty.
Pod 3 Pros & Cons
Knowing the biggest strenghts and weaknesses of Pod 3 can help you decide if it is the right pet tracker for your furry friend. Here is a quick overview of its pros and cons.
Pros
Near-real-time GPS tracking
3 tracking modes with customizable refresh rates
Bluetooth and WiFi enabled
Works in 175+ world countries
Works over any distance within cellular coverage
Multiple safe zones
Activity and movement monitoring
Adventure recording
Fully waterproof and shockproof
30-day money-back guarantee
12-month warranty
Bottom Line
Pod 3 is a GPS pet tracker that boasts plenty of useful features not limited to location tracking. It monitors your pet's location, activity, and movement and allows you to record your pet's adventures. It is Bluetooth and WiFi enabled, so you can track your pet both indoors and outdoors. Its minimum location update interval is 10 seconds, its communication range is only limited by cellular coverage, and it works in 175+ countries around the globe. It allows you to define not 1 but multiple safe zones and provides instant notifications when your pet leaves the safe zone. It is waterproof, shockproof, rather small, and lightweight.
Added to this list of benefits are a 30-day money-back guarantee and a 12-month warranty. If we were to nitpick, we could say that the device may not be perfect for the smallest of pets and that manual location refreshing may take a few minutes. However, keeping all the other advantages in mind, we can honestly say that Pod 3 is a top-of-the-line pet tracker that we gladly recommend.