Find My Pet Nano Review
Advertiser Disclosure
This website features affiliate links. For purchases made via these links, we earn commissions that allow us to keep producing helpful content. To find out more
click here
.
Close
Important Update: Find My Pet Nano is currently out of stock and it seems that situation is not going to change in the future. We recommend you check out our Top 10 Pet Trackers List or just go for the best one, Fi Tracker.
= = = = = = = = = = = = = = = =
Find My Pet Nano is a GPS pet tracker created by Trackimo, a New York-based company that offers a variety of GPS tracking solutions, from car to child tracking devices.
Find My Pet Nano is advertised as the world's smallest and lightest pet tracking device. It promises instant alerts, long battery life, and worldwide coverage. Discover whether this tracking solution has what it takes to keep your pet safe at all times in this Find My Pet Nano review.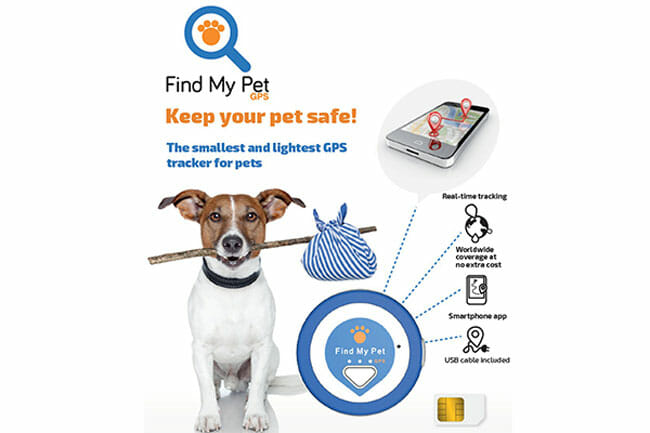 How Find My Pet Nano Works
Find My Pet Nano is a GPS tracker for dogs and cats that comes in the form of a tracking unit attached to your pet's collar. It employs GPS to track your pet in the outdoors and it is Bluetooth and WiFi enabled in order to allow you to track your pet indoors. The device communicates location information to the app on your smartphone and the information can also be accessed via any web browser on any device with Internet access.
The device allows you to define safe zones within which your pet does not need to be actively tracked. Once your pet steps outside the defined safe zone, you receive an instant alert and you can start tracking via the dedicated app or web browser by following the handy map. You can decide how frequently you want your pet's location information to be updated, with the minimum interval being 60 seconds.
You can also activate live tracking by pushing the SOS button on the device and holding it for at least 3-4 seconds. Once you push the button, an SOS alert will be sent to all emails and phones connected to your Find My Pet Nano account, providing the exact location of your pet.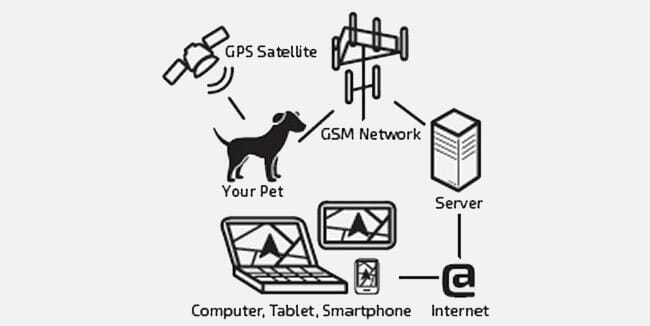 Find My Pet Nano Design
Find My Pet Nano is small, round, and features lively shades of blue and white. It measures just 1.4 inches in diameter and weighs only 0.7 ounces.
The tracking unit can be attached to your pet's collar using the plastic clasp-like collar attachment. If your pet's collar already has a fixed buckle and a clasp, you can use the fabric pouch attachment that allows you to just slip the tracking unit into the pouch and stretch the elastic over the buckle on the collar.
Being tiny and lightweight, Find My Pet Nano is suitable for dogs and cats of different sizes, with the recommended pet size being at least 8 pounds.
Find My Pet Nano Technical Specifications
In the previous section of our Find My Pet Nano review, we focused on the basic physical qualities of the device. Now it is time to provide more in-depth information about the key technical aspects of this pet tracker, including its resistance to water and impact, battery life, range, and precision.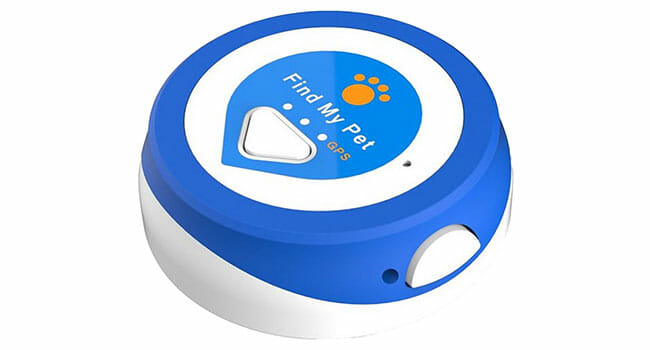 Shockproof
Unfortunately, the manufacturer does not provide information on impact resistance. From our experience and the experience of other users, the device is rather durable and does not get damaged easily even if the pet is prone to rough play.
Waterproof
The manufacturer of Find My Pet Nano claims that the device is waterproof but does not provide exact rating information. Our tests have shown that it can withstand light splashes and rain, but we cannot guarantee that it can withstand immersion of up to 3 feet.
Battery
Find My Pet Nano battery can last for 96 hours (4 days) with normal use. However, it drains much more quickly in tracking mode, giving you several hours to locate your pet.
Communication Range
Find My Pet Nano does not have a limited communication range. It can work at any distance within GSM (2G) cellular network coverage and it is Bluetooth and WiFi enabled for tracking indoors.
GPS Precision
The accuracy of Find My Pet Nano depends on multiple factors, including the number of GPS satellites it can establish a connection with. It is generally accurate within 10 to 30 feet.
LED Light & Sound
Find My Pet Nano comes with 3 lights and a beep sound. However, the lights are activated when you turn the device on and off and the lights flash and the beep sound is emitted when you press the SOS tracking button. The sound is not designed to be used for training and the lights do not facilitate tracking in night mode.
App Compatibility
Find My Pet Nano app can work on virtually any smartphone. It is compatible with both Android and iOS devices and comes free of charge with your device and subscription.
Find My Pet Nano App
Find My Pet Nano app for Android and iOS features a rather user-friendly interface and boasts an impressive customization level. It does not only allow you to follow your pet using the simple map, it also enables you to view your pet's past locations, set and manage virtual fences, and customize app settings in order to suit your needs and your pal's habits.
You can choose location update frequency, define speed limit for your pet, turn SOS, speed limit, and low battery alarms and beep sound on and off, and edit settings for each of your pets wearing the Find My Pet Nano tracker. You can track as many pets as you want at once.
If you want to allow friends and family to access your pet's location information, you can add their contact information (email or phone) for each of the available alarms. You can set text and email alerts for up to 10 people. Alternatively, you can allow your friends and family to access all information by logging into the Find My Pet Nano website or app using your credentials.

Find My Pet Nano Features
So far in this Find My Pet Nano review, we have mentioned the key features of this easy-to-use pet tracker. In this section, we will explore each feature in greater detail in order to give you a full sense of what this device can do for you. Before we begin, we would like to note that Find My Pet Nano only tracks your pet's location and does not possess any activity monitoring features, which can be considered as a drawback.
24/7 Tracking
Find My Pet Nano keeps track of your pet's location at all times and sends instant alerts when your pet is outside the safe zone. Location information can be updated every minute, but you can adjust update frequency within the range of 1 to 120 minutes. Location information is not updated if your pet is resting.
Location History
This pet tracker allows you to access a detailed location history for your pet and stores location history for a whole year. You can define location history time frame and date range and view your pet's past locations at any time.
Virtual Fence
Find My Pet Nano allows you to easily define the perimeter and location of the safe zones with the Virtual Fence feature. The safe zones appear on the map in the form of a rectangle and you can modify the size by dragging the borders and change location by choosing an address or freely dragging the rectangle along the map.
Speed Limit Alarm
Find My Pet Nano does not only keep track of your pet's whereabouts but monitors his or her speed as well. You can define a speed limit for your pet in miles per hour and get a notification if your pet starts moving at a greater speed.
Low Battery Alarm
Useful both in the tracking mode and everyday use, the low battery alarm instantly notifies you if your tracker's battery is about to die. You get an instant alert when the battery is low, so you can recharge it or pick up the pace if you are actively tracking your pet.
SOS Alarm
SOS alarm is activated by the SOS button on the device. It instantly sends you your pet's location when pressed and the alerts can be sent to your friends and family as well, so they can keep track of your pet's location too.
Sharing
As noted previously in this Find My Pet Nano review, you can set text and email alerts for up to 10 contacts, so those closest to you can know if your pet is safe and join the search if needed.
Find My Pet Nano Coverage
Find My Pet Nano boasts worldwide coverage. It works in over 80 countries around the globe, including the US. However, it should be noted that it does not cover all areas within all countries due to cellular network limitations.
One of the main advantages of this pet tracker is that it can work both indoors and outdoors, as long as there is a GSM (2G) network or WiFi network available.
How Much Does Find My Pet Nano Cost?
Find My Pet Nano tracking device costs $79.95. In your delivery, you receive 1 tracking unit, 1 worldwide SIM card, 1 micro USB charging cable, 1 plastic collar attachment, 1 fabric pouch attachment, and the owner manual. Shipping is free in the US.
As for the price of this tracker, Find My Pet Nano allows you to enjoy 1 month of free service. After the first free month, you can opt for the monthly, yearly or 3-year subscription. The monthly subscription costs $4.99 per month, the yearly subscription costs $4.17 per month, and the 3-year subscription costs $2.75 per month.
The manufacturer states that the device comes with a 100% guarantee and warranty but does not provide concrete information on guarantee and warranty period and limitations.
Find My Pet Nano Pros & Cons
Knowing the biggest strenghts and weaknesses of Find My Pet Nano can help you decide if it is the right pet tracker for your furry friend. Here is a quick overview of its pros and cons.
Pros
Small and lightweight
Waterproof
Bluetooth and WiFi enabled
Custom-defined virtual fences
Customizable alert settings
SOS alarm key
Worldwide coverage
Cons
Does not monitor pet activity
Minimum location update frequency of 60 seconds
Available only in the US
Bottom Line
Find My Pet Nano is an easy-to-use, small, lightweight tracker for dogs and cats that tracks your pet in real time and sends instant notifications when your pet leaves the defined safe zone. The minimum location update frequency is 1 minute, which is not impressive. However, it is still good enough to efficiently track your pet. The tracker leaves a lot of room for customization, with easily modifiable virtual fences and alert settings and allows you to share your pet's location information with up to 10 people.
The device does not keep track of your pet's activity but only provides location and speed information, so if you are just looking for a simple and functional pet tracker at a reasonable price, Find My Pet Nano may be the right choice.