Paw Tracker Review
Advertiser Disclosure
This website features affiliate links. For purchases made via these links, we earn commissions that allow us to keep producing helpful content. To find out more
click here
.
Close
Paw Tracker is a GPS pet tracking device developed by PT Labs, a US-based company founded in 2015. It was created by pet lovers with the goal of reducing the number of lost pets on the streets and in animal shelters.
The tracker works over any distance in most parts of North America, boasts high precision and an attractive design, and is suitable for both small and large pets. Keep reading this Paw Tracker review for an in-depth analysis of this handy pet tracker.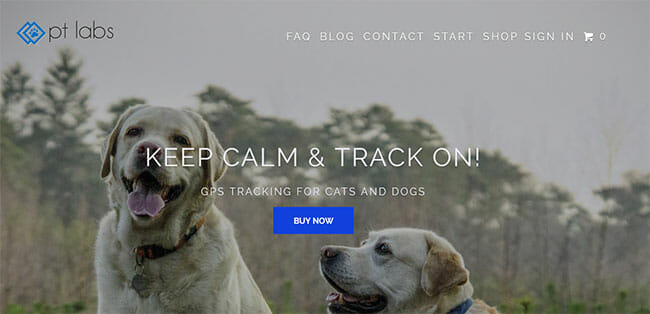 How Paw Tracker Works
Paw Tracker GPS pet tracker comes in the form of a tracking unit that can be attached to your pet's existing collar or harness. It uses GPS, cellular, and WiFi technology to determine the location of your pet and sends the location information to the dedicated Paw Tracker app that you can download free of charge and install and use on virtually any mobile device.
Getting started, the two main steps include defining the safe zone for your pet and deciding how often you want your pet's location information to be updated, with the minimum interval being 1 minute. Your pet's location is monitored constantly and once he or she leaves the safe zone, you immediately receive a notification. You can track your pet directly from the Paw Tracker app by following the provided map.
Paw Tracker GPS pet tracker uses GPS and cellular networks to track your pet in the outdoors. Being WiFi-enabled, it can locate your pet even if he or she enters an enclosed space. The device uses an international 2G M2M/IOT SIM card provided in the package and works on Verizon, T-Mobile, AT&T, Sprint, Cricket, Boost, and MetroPCS cellular networks as well as any available WiFi network or hotspot.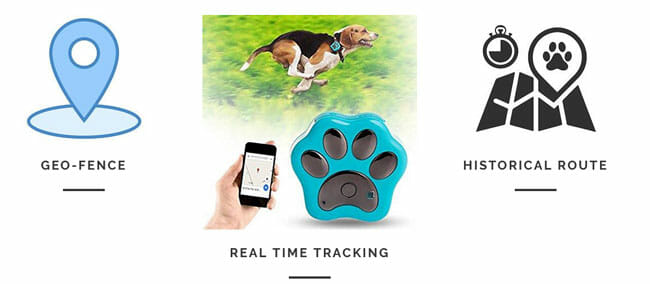 Paw Tracker Design
Paw Tracker tracking unit comes in the shape of a paw. You can choose from 3 available colors: gold, silver, and blue. The device measures 47 mm in height by 50 mm in width by 15 mm in depth. It weighs just 40 grams, that is, 1.41 ounces.
The device is attached to your pet's collar or harness using a clip on the back of the tracking unit. It can be attached either to a collar or a harness up to 1 inch wide and up to 1/4 of an inch thick. Being rather small and lightweight, Paw Tracker can be worn by both cats and dogs weighing at least 5 pounds. For small pets, the manufacturer recommends attaching Paw Tracker to a harness.
Paw Tracker Technical Specifications
Having covered the basic physical features, we will now proceed to explore the most important technical aspects of the Paw Tracker pet tracking device.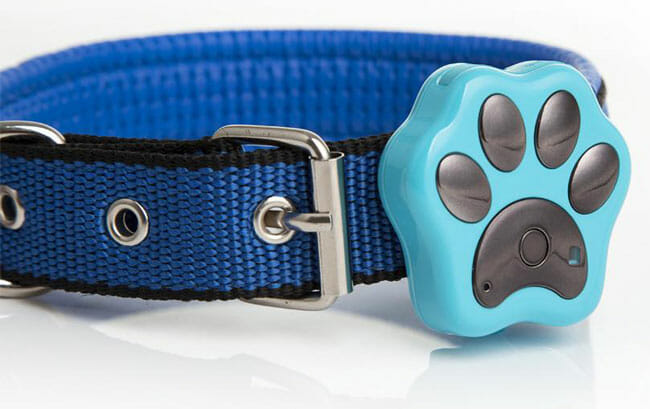 Shockproof
Paw Tracker tracking unit is resistant to impact. It is designed to follow your pet on any adventure, so you do not have to worry about it getting damaged too easily.
Waterproof
The device is resistant to water. Although the manufacturer does not provide concrete rating information, our empirical tests have shown that this pet tracker can withstand immersion in water, though depths greater than 3 feet and prolonged immersion may result in malfunctions.
GPS & WiFi Precision
With Paw Tracker, both the average GPS positioning accuracy and WiFi precision are about 25 feet, which surely brings you within a seeing distance of your pet.
LED Light
To make it easier to track your pet after dark, Paw Tracker comes equipped with LED lights for searching in night mode. If the device is on and it is dark, the lights will flash in colors selected at random, including green, white, red, and blue. The LED lights can be remotely activated using the Paw Tracker app.
Battery
The tracking unit comes with a rechargeable 400mAh battery. Battery life ranges from 12 hours to 10 days, depending on the set interval for uploading GPS location. With the 1-minute interval, the battery can last for approximately 12 hours. With the 12-hour interval, it can last for as many as 10 days on a single charge.
App Compatibility
The Paw Tracker app is compatible with both Android and iOS devices. It requires Android 3.0 and up and iOS 8.0 or later. It is compatible with Android phones and tablets and iPhone, iPad, and iPod Touch.
Paw Tracker App
As stated previously, the Paw Tracker app works on both Android and iOS smartphones and tablets and is available free of charge. You can use it to track your pet in near real-time using the provided interactive map, define the safe zone for your pet, access your pet's location history, and remotely activate the LED lights on the tracking unit.
You can use the app to track multiple pets and, since the app is free, your friends can download and use it to monitor your pet's location with no extra charges.
The app is rather easy to use, as there are no fancy features and the environment is clean and well-organized. The company provides helpful video tutorials on its official website to help you quickly understand how all the major features work.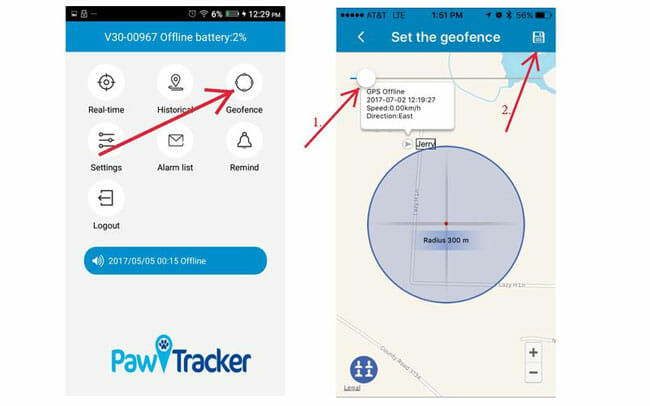 Paw Tracker Features
In this section of our Paw Tracker review, we will explore the key tracking features this tracker provides. Keep in mind that the tracker does not possess any pet activity monitoring features and exclusively serves as a means of locating your pet.
Real-Time Tracking
While the manufacturer of Paw Tracker claims that the device allows for real-time tracking, the truth is that you need to wait for at least a minute for your pet's location to be updated, which does not qualify as true real time but does allow you to efficiently track your pet. You can decide whether you want your pet's location to be updated every 1 minute, 10 minutes, 60 minutes or 12 hours, depending on circumstances.
Interactive Map
When actively tracking your pet, you can follow the interactive map available in the Paw Tracker app. You can switch between different views, focusing on your location, your pet's location or both your and your pet's location. Your location is marked by a blue dot in a larger white circle and your pet's location is marked by a green arrow. The exact distance between you and your pet is also displayed, so you can know how close you are to your pet at all times.
Geofence
With the Geofence feature, you can easily define the size and location of the safe zone within which your pet can move freely. The safe zone appears in the form of a circle and you can modify the radius by using the slider. You receive an instant alert as soon as your pet leaves the safe zone.
Historical Route
The Historical Route feature allows you to view your pet's past locations during a 24-hour period. The time and date options include Today, Yesterday, and Custom, with the Custom option allowing you to choose any desired time and date. With this feature, you get to view your pet's past locations on a map, moving from one location to another at the pace of your choice.
Low Battery Alert
The Paw Tracker app does not only allow you to view the device's battery status at any time but also provides alerts when your battery is low, so you know when to recharge it.
Sharing
You can share your pet's location information with your family and friends. They need to download and install the Paw Tracker app and you just need to give them your device ID number located on the back of the device and password to log in. The great news is that multiple people can access your pet's location at the same time, so your friends and family can join you in your search if needed.
Paw Tracker Coverage
Currently, Paw Tracker's coverage map only includes North America. The device can be purchased and used in the US, Canada, and Mexico. Paw Tracker does not work in all areas within North America since its coverage is limited by the availability of cellular and WiFi networks. The company provides a detailed coverage map, allowing you to determine whether the tracker works in your area prior to purchase.
How Much Does Paw Tracker Cost?
Paw Tracker GPS pet tracking device costs $99.95. The package includes the Paw Tracker tracking device, a SIM card, a USB to Micro-USB cable, and the instruction manual.
Shipping is free within the US. Deliveries to Canada come with a $9.95 shipping fee and Mexico deliveries come with a $14.95 shipping fee. The device comes with a 30-day money-back guarantee and a 1-year manufacturer's warranty.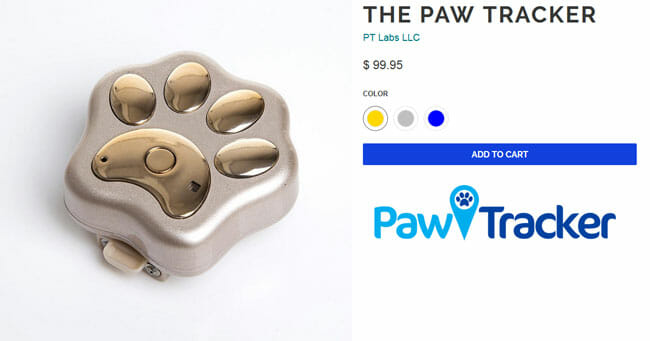 In order to use the device, you need to purchase a service plan. You can opt for the monthly subscription, which costs $9.95 per month, or the yearly subscription, which costs $99.95 per year, that is, $8.33 per month. The company offers discounts on service plans for multiple pets, so you can save up to $3 per month with the monthly subscription and up to $30 per year with the yearly subscription.
Paw Tracker Pros & Cons
Knowing the biggest strenghts and weaknesses of Paw Tracker can help you decide if it is the right pet tracker for your furry friend. Here is a quick overview of its pros and cons.
Pros
Small, lightweight tracking unit suitable for both cats and dogs
Easy outdoor and indoor tracking via GPS, cellular and WiFi networks
Works over any distance within cellular coverage
Waterproof and shockproof
Good battery life
Customizable safe zone
30-day money-back guarantee
1-year manufacturer's warranty
Cons
Available in US, Canada and Mexico
The minimum interval for uploading GPS location is 1 minute
No activity tracking
Bottom Line
Finishing off this Paw Tracker review, we can conclude that this pet tracker is not feature-rich, but it does offer everything you need to efficiently track your pet. It provides instant alerts when your pet leaves the safe zone, allows you to freely modify the safe zone, and works over any distance, as long as there is a cellular network available. The device updates your pet's location within a minute.
Paw Tracker works in most areas within North America and it is WiFi-enabled, so it can calculate your pet's location even if he or she is not in the outdoors. The lack of activity monitoring features may come as a disappointment to some users, but if you are looking for a small, light, accurate, and reliable GPS pet tracker with an impressive battery life, you may have found what you have been seeking.