Findster Duo+ Review
Advertiser Disclosure
This website features affiliate links. For purchases made via these links, we earn commissions that allow us to keep producing helpful content. To find out more
click here
.
Close
Important Update! As of early 2021, you cannot buy Findster Duo+. They seem to be out of stock and their Amazon page is also not working. This has not changed for over a year. So, we recommend you take a look at our Fi Tracker review. And we will let you know if Findster Technologies restarts its production.
Findster Duo+ is an innovative GPS pet tracker that comes with no monthly fees. It was developed by Findster Technologies, a fast-growing California-based startup launched in 2015. It allows for real-time location and activity tracking, boasts a communication range of up to 3 miles, and does not require cell coverage, so you can keep track of your pet's whereabouts no matter where you are.
Findster Duo+ hit the market in 2017 as an upgraded version of the company's already well-known Findster Duo tracker and it has been generating quite a lot of attention ever since its launch. In this Findster Duo+ review, we will explore its key features in greater detail and help you discover whether it is the kind of pet tracker you have been seeking.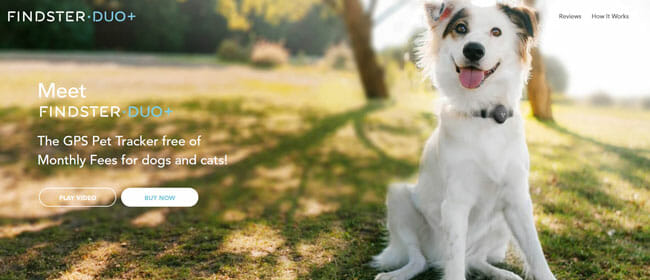 How Findster Duo+ Works
Findster Duo+ GPS pet tracker comprises of 2 devices, that is, 2 modules – the pet module to be attached to your pal's collar and the guardian module you should keep by your side. The pet module is equipped with GPS that communicates the pet's location to the guardian module. In turn, the guardian module is connected to your phone via Bluetooth and allows you to view your pet's activity and location information in the dedicated Findster app.
While this pet tracker performs multiple functions, all of which we will describe in the following sections of this Findster Duo+ review, its primary role is to help you easily track your pet in real time. It shows you the exact location of your pal, allows you to follow him or her via Findster app, and sends notifications as soon as your buddy leaves the safe zone, so you can find your pet immediately.
Like we said before, Findster Duo+ does not require cell coverage in order to work. It employs Findster Technologies' proprietary MAZE technology. It is a unique communication protocol with frequency in the sub 1 GHz ISM band, which is in compliance with the FCC and CE directives. The MAZE technology functions independently, without the aid of telephone companies, which is why it works anywhere and everywhere. This independence is what allows this tracker to be 100% fee-free.

Findster Duo+ Design
Findster Duo+ pet and guardian modules feature a rather sleek design. They come in the shape of a rounded rhomboid with pleasant shades of blue. The pet module comes with a simple, clasp-like collar strap attachment mechanism while the guardian module can either be attached to your keychain or you can carry it in your pocket.
The modules are incredibly lightweight, so both you and your pal can carry them without even noticing they are there. A single module weighs just 1.76 oz., which amounts to 50 grams, the weight of an average kiwifruit.
The pet module is designed to fit both small and large dogs and cats. With a height of 2 inches, width of 2.1 inches, and depth of just 0.5 inches, it can easily fit any collar.
Findster Duo+ Technical Specifications
It is time to discover what you can expect from your Findster Duo+ pet tracker in terms of water and impact resistance, battery life, GPS precision, communication range, and other important technical aspects.
Shockproof
According to the manufacturer, Findster Duo+ is tougher than the old Nokia 3310. It is highly durable, so you do not have to worry about it getting damaged easily if your pet gets restless or if you drop your module.
Waterproof
Another highly useful feature of this tracker is that it is waterproof. It can withstand immersion of up to 3 feet of depth, that is, 1 meter, so your pet can even swim while wearing the tracker.
Battery
Findster Duo+ comes with a rechargeable battery. In comparison to its predecessor Findster Duo, Findster Duo+ comes with an extended battery life. Its battery can last for up to 5 days, depending on use. With live tracking on, the battery usually lasts for 12 hours.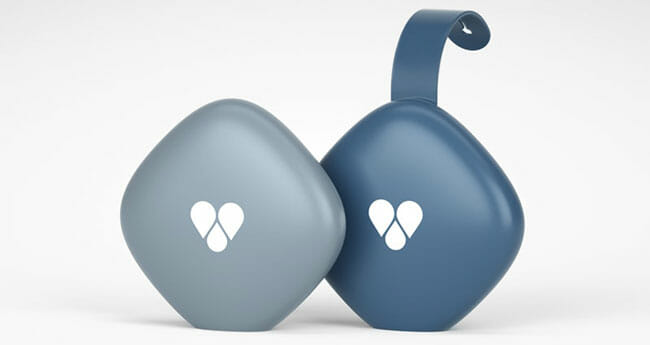 Communication Range
Previously in this Findster Duo+ review, we said that the device has a communication range of up to 3 miles, that is, 4.8 km. However, it is important to note that the communication range can greatly vary depending on surroundings. It can be even greater than 3 miles in open spaces like beaches, national parks, and urban squares, with the record so far being 5 miles (8 km). In urban areas with a lot of tall buildings, the range may significantly decrease, but if the connection drops, the modules will attempt to reconnect until successful.
Distances Between Devices
While the guardian and pet modules can communicate within a range of approximately 3 miles, the distance between your smartphone and guardian module should be significantly smaller. You should always keep your guardian module no more than 2 yards away from your smartphone in order to allow for a Bluetooth connection to be established.
GPS Precision
The tracker features high-precision GPS that lets you easily locate your pet. With this GPS, the average error is just about 5 to 10 feet (1.5 to 3 meters).
RGB LED Light
Findster Duo+ pet and guardian modules come equipped with a LED light that allows you to track your pet more easily in the dark and provides important information about the device. The LED light lets you know if the modules are not paired (white light), if they are turning on (green, 3 times blinking) or off (red, 3 times blinking), if the battery level is good (green) or if the battery is low (amber), if the device is charging (amber), if the device is charged (green), if Firmware update process is running (blue), and more. You can even choose an identification color for pet modules, so you know which pet the module belongs to.
App Compatibility
Findster Duo+ app boasts great compatibility. It can work on virtually any smartphone. It was not designed to be used on tablets, but it can still work well on tablets that meet the minimum requirements, including Bluetooth 4.0+ (Bluetooth LE) and GPS. You can use it on iPhone 5+, iOS 9+, and Android 4.4+.
Findster Duo+ App
Findster Duo+ app is your assistant that provides all the information you need on your pet's whereabouts and activity. It provides a map that tells you the distance between you and your pet and shows you the way to your furry friend. It allows you to set desired ranges and sends automatic notifications when your pet is out of range.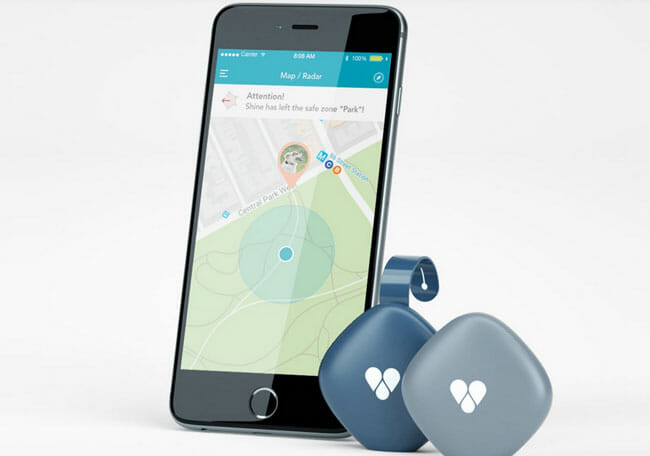 On top of that, the app allows you to easily keep track of your friend's activity. It tells you how much time your pet spent walking, the distance he or she walked, measured in miles and paws, how much time your pal spent resting, and how many calories he or she burned. To make tracking more fun, Findster app allows you not only to view your pal's activity stats but also compare them with stats of other Findster users' pets with the fun Leaderboards feature. Plus, you and your friend can earn badges by reaching activity milestones and compete against other Findster users, which can be an exciting incentive to spend more time walking and having fun with your pet.
Findster app further provides useful reminders, for example, if your pet has not been walked yet. You can keep track of all your pets within the app, without any extra charges.
Findster Duo+ Features
Findster Duo+ is a feature-rich tracker that offers a multitude of handy tools, from true real-time tracking to remotely monitoring your pet's location and activity with the help of your friends and family. Let us see exactly what kind of helpful features this tracker provides.
True Real-Time Tracking
Unlike many other pet trackers that monitor your pet's activity and location in real time but provide belated notifications, Findster Duo+ provides true real-time tracking, with notifications arriving instantly and all information available immediately in the Findster app. This is one of the major advantages of this tracker and one that makes it genuinely useful when your pet roams out of sight.
History
Findster Duo+ does not only allow you to monitor your pet's current location and activity, it also provides a detailed history that allows you to view past walks and locations at any time.
Activity Tracker
Not only useful when your pet is out of sight, Findster Duo+ can help you make sure your pet's daily needs are met as well. With its activity tracking feature, it allows you to view all key information about your pet's activity, so you can be sure that he or she has met the daily goals and engaged in enough activity to stay happy and healthy.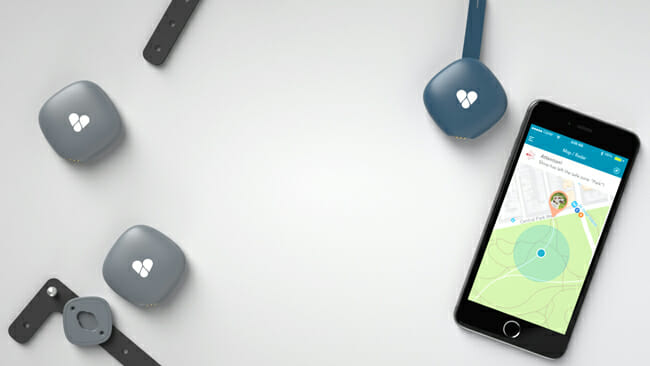 Radar
With the device's built-in radar, you can always keep track of your distance from your pet. Distance data is constantly refreshed and you can easily locate your pet by following the handy map available in the app.
GPS Fences
GPS Fences is a particularly handy feature that comes in 3 forms: Virtual Leash, Safe Zone, and Danger Zone. Virtual Leash is a fenced circle centered in your position and it moves as you move. You can set the desired radius, no smaller than 55 yards, and get an automatic notification the moment your pet steps outside the given radius.
Safe Zone is stationary and fully customizable and it represents an area within which your pet can freely roam. If your pet goes beyond the given area, you are immediately notified.
Just like Safe Zone, Danger Zone is a custom-defined area, but it represents an area where your pet should not go. If your pet enters this area, you receive an automatic notification.
Interconnectivity
Due to Findster Duo+'s interconnectivity, you can share access to your pet's location and activity with your family and friends. This allows you to track your pets remotely – by having someone close to your pet sharing your pet's location and activity information with your Findster account. However, to take advantage of this possibility, you need to be connected to the Internet.
Findster Duo+ Coverage
Thanks to the unique MAZE technology developed by Findster Technologies, Findster Duo+ can work anywhere on the globe, even in the most remote areas. You and your pal can be off-grid, as the device does not require cell coverage or a SIM card. You just need to attach the Findster Duo+ pet module to your pet's collar and you can take your four-legged friend with you wherever you go, no limits whatsoever.
How Much Does Findster Duo+ Cost?
You can purchase a single Findster Duo+ GPS pet tracker for $149.99. If you purchase 2 devices, you pay $199.99. If you purchase 3 pet trackers at once, you pay just $249.99 in total for all 3 devices and save around $200. As stated previously in this Findster Duo+ review, there are no monthly fees; you only pay for the device.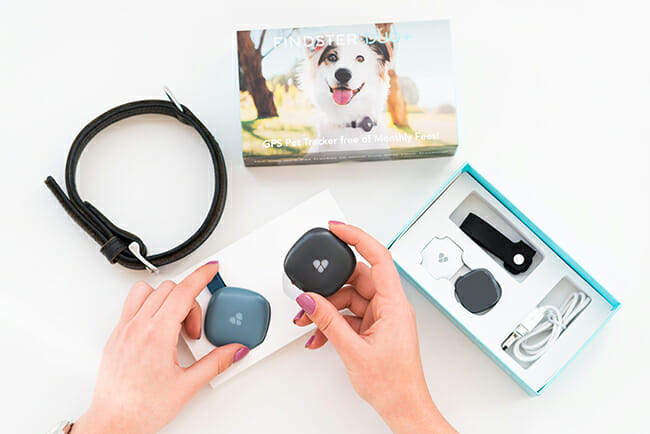 Each tracker you purchase includes 1 pet module, 1 guardian module, and 1 charger. All orders come with free worldwide shipping. It is good to know that Findster Duo+ GPS pet tracker comes with a 30-day money-back guarantee and a 1-year warranty.
Findster Duo+ Pros & Cons
Knowing the biggest strenghts and weaknesses of Findster Duo+ can help you decide if it is the right pet tracker for your furry friend. Here is a quick overview of its pros and cons.
Pros
Excellent design
Communication range of 3 miles
Cellular coverage not required
Works anywhere on the globe
Activity tracking included
Multitude of fun and useful features
Shockproof and waterproof
No monthly fees
Free shipping
30-day money-back guarantee
1-year warranty
Cons
Communication range can be limited in urban areas
Virtual leash radius cannot be smaller than 55 yards
Bottom Line
Findster Duo+ is a cleverly designed GPS pet tracker that can help you keep an eye on your pet at all times, in real time, and also make sure your pal's activity needs are met. It is waterproof, shockproof, lightweight, feature-rich, and easy to use. Its communication radius can be even greater than 3 miles in open spaces and it will work anywhere you go, regardless of cellular coverage. It only requires a one-time payment, with no monthly fees, and it comes with a 30-day money-back guarantee and a 1-year warranty. It is an advanced pet tracking solution that promises great protection and freedom for your pet and peace of mind for you and absolutely delivers on the promise.