Animo Review
Advertiser Disclosure
This website features affiliate links. For purchases made via these links, we earn commissions that allow us to keep producing helpful content. To find out more
click here
.
Close
Animo is a high-quality behavior monitor and activity tracker for dogs designed to "learn" and interpret the unique behavior and activity patterns of your pet and provide you with a greater understanding of their life.
The device was developed and launched by a company called Sure Petcare, previously known as SureFlap. The company was founded back in 2008 in Cambridgeshire by a physicist who wanted to protect his pet from being molested by intruder cats. After introducing its revolutionary microchip-operated cat flap, Sure Petcare has expanded its portfolio to many pet lifestyle products, including dog flaps, pet bowls, pet feeders, and other accessories.
This comprehensive Animo review will outline how the device works, go over its design and main features, and determine its overall price-to-value ratio. Keep reading to learn whether it matches the needs of your four-legged family members.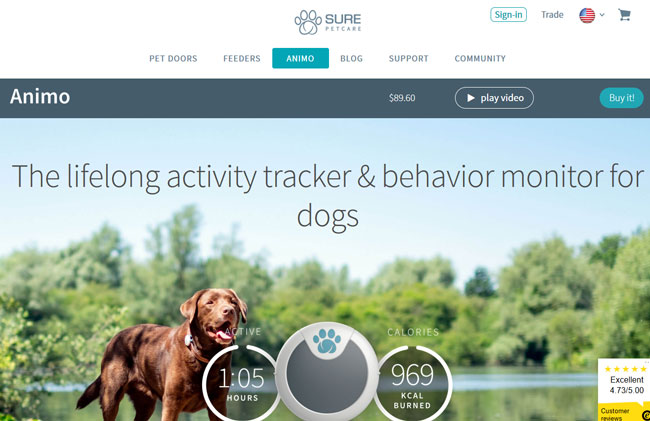 How Animo Works
Animo features a 3-axis accelerometer that allows it to detect changes in behavior and monitor your dog's activity 24/7. It connects to Android and iOS devices via Bluetooth for data synchronization at a maximum range of 10m. The internal memory can store up to 3 weeks' worth of data between synchronizations.
As we already mentioned at the beginning of this Animo review, the device incorporates an adaptive algorithm that learns, interprets, and records data specific to your dog. The algorithm adjusts to your pet's activity throughout their life, which enables you to learn more about their activity and behavior as they age.
When it comes to activity monitoring, Animo tracks your dog's exercise time on a daily level and expresses it in hours and minutes. The device starts collecting data the moment you attach it to your pet's collar, but it takes 7 days for the algorithm to learn his or her normal activity levels, at which point you can start setting daily goals. The available activity categories include walking, running, and any other movement (playing, for example) and the accompanying app keeps track of any set goals and provides you with comprehensive graphs to outline long-term trends.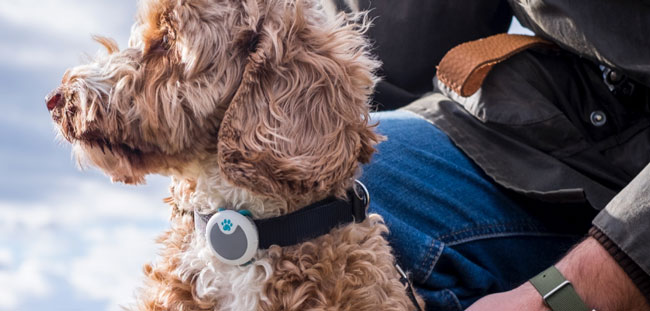 The recorded data also includes a caloric calculator that tracks burnt calories based on your dog's weight, age, and neutered status. Animo incorporates industry-standard calculation, which also takes resting into account as well as any other behavior that actually burns calories. You can review your pet's results via comprehensive graphs by day, week, month, and year.
After defining your dog's sleeping hours, you receive notifications if their sleep quality falls below a certain line. This is extremely important since low-quality sleep may indicate discomfort, stress or even illness. The sleep score recorded by Animo is based on continuity, length, and the amount of movement during sleep.
Animo can detect changes in your dog's behavior, including barking, scratching, and shaking, which can all provide you with critical insights into their health and well-being. Finally, Animo tracks how much rest your pet is getting throughout the day.
Animo is NOT a pet tracker since it does not feature GPS, it is unable to monitor your pet's heart rate, and it does not have any kind of indicator light to let you know when the device is operating.
Animo Design
Animo is a circular pet activity monitor with a 37mm diameter and it weighs just 22g, so you can rest assured that your dog will not even know it is there.
The device comes with 3 different silicone bands used to attach it to your dog's collar. They fit widths between 12 and 30mm, which basically covers all popular dog collars. It is good to know that you can change the battery without removing the mounting ring from the collar.

What is important to note is that Animo REQUIRES the right positioning on the collar in order to function properly. In other words, you want to make sure that the little paw symbol is facing upright and is perpendicular to the collar.
With the exception of the silicone bands, the manufacturer does not provide us with any data regarding the materials used. Having said that, the mounting ring is made of metal and the actual tracking unit feels like a sturdy plastic, so even the most adventurous pets are not able to damage it or take it off the collar.
Animo Technical Specifications
Let us now take a closer look at the technical specification for Animo activity tracker:
Water-Resistant
Animo features an IP-67 rating for water resistance, which means it can be submerged in 1m of water for up to 30 minutes. Your dog can roll around puddles and even go for a short swim without any danger for the device. The external housing also protects it from fine particles like dust and sand.
Battery
Animo uses one CR2032 coin cell battery that should last for around 6 months. As already indicated, you can replace the battery without detaching the mounting ring from the collar.
Shockproof
Animo activity monitor is officially not shockproof, but its sturdy construction guarantees it cannot get damaged easily.
App compatibility
As mentioned in this Animo review, the device comes with its proprietary app available on all devices running Android 5.0+ and iOS 9+.
Animo App
Animo app lets you view the data recorded by the device. As we already stated previously in this review, the monitor utilizes Bluetooth for data synchronization, which basically means you can use it anywhere in the world without any problems. The main interface is very simple and beginner-friendly, so you should not experience any difficulties even if modern technologies are not your strongest suit.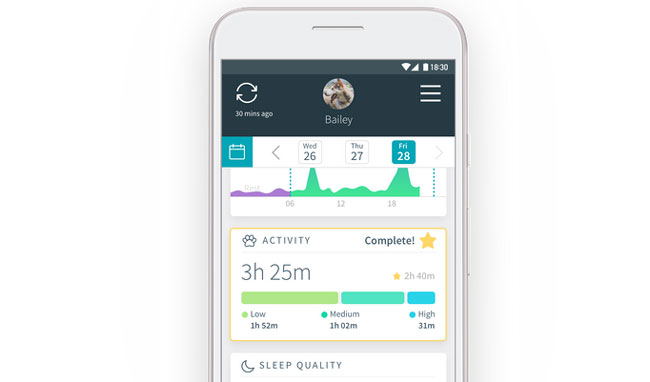 After picking a date, you can see the intensity of your pet's activity compared to the average values. The activity box shows the total activity time and whether or not the set goals have been met. The sleep score for any given date indicates your dog's quality of sleep and compares it to the average values. The rest portion of the report differentiates between day and night rest. Finally, the report shows you the number of burnt calories and also compares it with your friend's average values.
The well-being portion of the app indicates the total number of barking bouts and the amount of scratching throughout the day.
The app also alerts you if it recognizes anything out of the ordinary, which allows you to spot any reoccurring patterns and deal with potential problems before they escalate.
Animo Features
In order to reduce the overall weight and maximize battery life, Sure Petcare decided to pass on GPS and make its activity monitor as simple as possible. Animo does not come with a slew of buzzwordy features, but it provides you with all the necessary functionalities to monitor your dog's health and well-being on a daily basis.
Let us take a look at some of its most important features:
Activity Monitoring
Animo is an activity and behavior monitor that keeps track of your dog's exercise (running, walking), sleep quality, and well-being (barking, shaking, scratching).
Adaptive Algorithm
Animo incorporates an algorithm with the ability to learn about your dog and provide you with personalized data reports. As your pet ages, the algorithm adapts to these changes and always shows relevant information. This is why Animo is a lifelong companion for your furry friend.
Alerts
Animo app alerts you whenever it notices something out of the ordinary compared to the average values for your pet.
App Compatibility
Animo comes with a proprietary app compatible with devices using Android 5.0+ and iOS 9+.
How Much Does Animo Cost?
Animo activity and behavior monitor costs $90 and can be delivered via FedEx Ground (free; 5-7 business days) or FedEx Next Day ($40; 1-2 business days). The accepted payment methods include credit cards (Visa, MasterCard, Maestro, American Express) and PayPal.
Animo comes with a 30-day money-back guarantee and features a 1-year warranty against any defects.
Animo Pros & Cons
Knowing the biggest strenghts and weaknesses of Animo pet tracker can help you decide if it is the right pet tracker for your furry friend. Here is a quick overview of its pros and cons.
Pros
Adaptive monitoring algorithm
Small and lightweight
Sturdy construction
Replaceable battery
6-month battery life
Comprehensive activity and behavior reports
IP-67 water resistance
Accompanying app for Android and iOS
App alerts
30-day money-back guarantee
1-year warranty
Cons
No indicator lights
Requires exact positioning in order to function properly
Bottom Line
Animo is an excellent activity and behavior monitor that allows you to track your dog's exercise levels on a daily basis, monitor their sleep cycles, and avoid certain problems by acting before they manage to escalate.
The device is small and lightweight and the accompanying app is easy to use even for total beginners without any experience with modern technologies.
All in all, if you need a reliable helping hand that will keep your furry friend as healthy and happy as possible, Animo is the perfect choice for you.