Daxin Smart Bluetooth Tracer Review
Advertiser Disclosure
This website features affiliate links. For purchases made via these links, we earn commissions that allow us to keep producing helpful content. To find out more
click here
.
Close
Daxin Smart Bluetooth Tracer is a small and simple Bluetooth pet tracker for cats and dogs that can also be used for finding keys and other valuables. Due to its limited communication range and modest feature set, it is best suited for locating pets within your property.
In this objective Daxin Smart Bluetooth Tracer review, we will explore this tracker's main advantages and flaws and discover whether this inexpensive tracking solution could be of actual help the next time your pet decides to play hide-and-seek.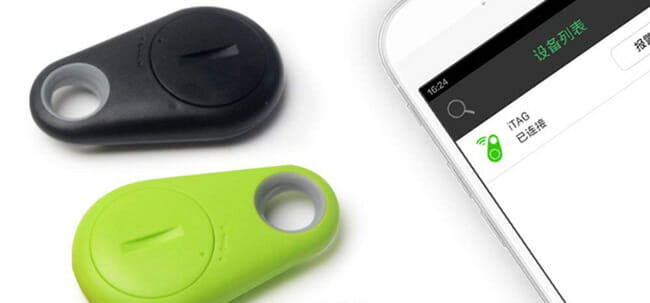 How Daxin Smart Bluetooth Tracer Works
Right at the beginning of this Daxin Smart Bluetooth Tracer review, we would like to clarify that this device does not rely on GPS technology. The need for this clarification stems from the inadequacy and deceptiveness of the product's full name: Daxin Smart Bluetooth Tracer GPS Locator Tag Alarm Car Bag Key Pet Dog Tracker.
The truth is that Daxin Smart Bluetooth Tracer exclusively relies on Bluetooth 4.0 low-consumption technology. It communicates with your smartphone via Bluetooth and relevant information is made available in the iTracing smartphone app.
The device tracks your pet's location within a range of up to 75 feet and notifies you when your pet is out of range. Your pet's last known location is displayed via Google Maps. While you cannot receive fresh location information when your pet is out of range, you can use the last known location to determine in which direction your pet is headed and thus attempt to get close enough for a Bluetooth connection between the tracker and your smartphone to be reestablished. Once your pet is back within range, you can use the app to view his or her current location.
Daxin Smart Bluetooth Tracer Design
Daxin Smart Bluetooth Tracer is a small, pear-shaped plastic device that looks like the majority of key finders currently on the market. It is available in 5 colors: black, white, blue, green, and pink. The device measures 2 inches in height by 1.22 inches in width by 0.43 inches in depth. It is extremely light, weighing mere 0.3 ounces. Featuring a hole at the top, it can be easily attached to the pet's existing collar using attachment loops.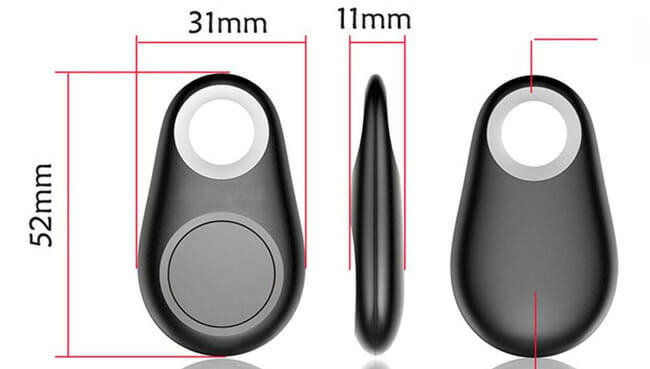 The manufacturer does not provide information on the recommended pet size. However, keeping the dimensions and weight of the device in mind, it is safe to assume that it could be comfortably worn by cats and dogs of virtually all sizes (with the exception of kittens and puppies).
Daxin Smart Bluetooth Tracer Technical Specifications
Daxin Smart Bluetooth Tracer is not impressively designed and does not possess all the technical features we look for in a pet tracker, such as water and impact resistance. That said, let us take a quick look at the key technical aspects of this device.
Durability
Daxin Smart Bluetooth Tracer is neither waterproof nor shockproof. It is made of a low-cost plastic material that can get rather easily damaged, which makes it unsuitable for highly active pets that enjoy rough play.
Battery Life
The device uses CR2032 lithium coin battery. The battery is disposable and it should work for up to 6 months in the standby mode. However, if frequently used, it may not last more than a month. Fortunately, it is inexpensive and easy to replace.
Communication Range
Daxin Smart Bluetooth Tracer's maximum communication range is 75 feet. However, the range heavily depends on the surroundings and may be reduced to a mere 10 feet.
App Compatibility
The manufacturer recommends using the free iTracing app, which is compatible with Android 4.3+, iPhone 4S/5/5S/5C/6/6S, iPad Mini, iTouch 5, iPad 3/4, and iPad Air.
Daxin Smart Bluetooth Tracer App
The iTracing app is a simple smartphone application with a limited feature set. It uses Google Maps to show you your pet's last known location when out of range and the current location when within range.
The settings are easily modified. You can connect or disconnect the tracker, turn phone notifications on and off, choose notification ringtone, turn Do Not Disturb mode on and off, and more – all in a single tap. This is quite fortunate since the tracker tends to disconnect often – and sometimes when the device comes back within range, it is not connected and you need to pair it all over again.
The app can be used to track up to 8 pets wearing Daxin Smart Bluetooth Tracer.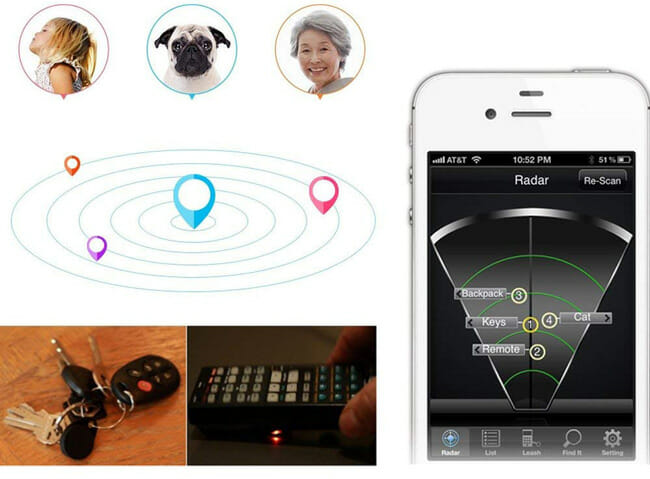 Daxin Smart Bluetooth Tracer Features
Saying that Daxin Smart Bluetooth Tracer is feature-poor would be an understatement. Apart from providing notifications when your pet is not nearby and allowing you to view your pet's last location, it offers no additional tools that would make tracking easier. Thus, what follows are brief descriptions of the 2 basic features this tracker provides.
Find Me
The Find Me feature allows you to view your pet's location via Google Maps. As mentioned above, it lets you discover your pet's current location if your pet is nearby and view the last recorded location if your pet has roamed out of range.
Out-Of-Range Alerts
When your pet is no longer within range, the tracker provides phone alerts, which normally arrive near-instantly. However, false alarms are common and you may receive a notification even if your pet is just a few feet away from you. This is usually the result of the device's diminished communication range in areas with numerous obstacles.
Daxin Smart Bluetooth Tracer Coverage
As stated previously in this Daxin Smart Bluetooth Tracer review, this pet tracker only uses Bluetooth 4.0 technology. It does not rely on cellular networks or any other external services. Thus, you can use it anywhere on the globe.
How Much Does Daxin Smart Bluetooth Tracer Cost?
If you are ordering from the US, Daxin Smart Bluetooth Tracer costs just $8.75 and comes with free shipping. The price may differ depending on your country of residence. Worldwide shipping is available and comes with varying shipping fees.
Since the device does not rely on cellular networks, there are no monthly fees. Daxin Smart Bluetooth Tracer does not come with a money-back guarantee or warranty.
Daxin Smart Bluetooth Tracer Pros & Cons
Knowing the biggest strenghts and weaknesses of Daxin Smart Bluetooth Tracer can help you decide if it is the right pet tracker for your furry friend. Here is a quick overview of its pros and cons.
Pros
Easy to use
Worldwide coverage
Lightweight
Battery life of 1-6 months
No monthly fees
Low price
Cons
Deceptive product name
Limited communication range
Frequent disconnections
No warranty or money-back guarantee
Bottom Line
Daxin Smart Bluetooth Tracer is an affordable pet tracking solution that can mainly be of use if your pet is not keen on running away but instead likes to hide in unexpected places within your home or property. Its communication range is severely limited and our tests and user experience have shown that it tends to disconnect frequently, which diminishes its reliability. Thus, we can exclusively recommend it to pet guardians who do not have escape artists on their hands and seek a low-cost pet tracker that can help locate pets that like to hide in places where they are not easy to spot.