TabCat Review
Advertiser Disclosure
This website features affiliate links. For purchases made via these links, we earn commissions that allow us to keep producing helpful content. To find out more
click here
.
Close
TabCat is a convenient RF-based pet tracker developed by Loc8tor Limited, an English company known for its lines of award-winning GPS trackers and item finders. As the name implies, TabCat was designed to track curious kittens and adventurous cats, whether they have wandered off and got lost or they are just hiding and about to miss their supper.
Continue reading our detailed TabCat review to find out more about the device and its features.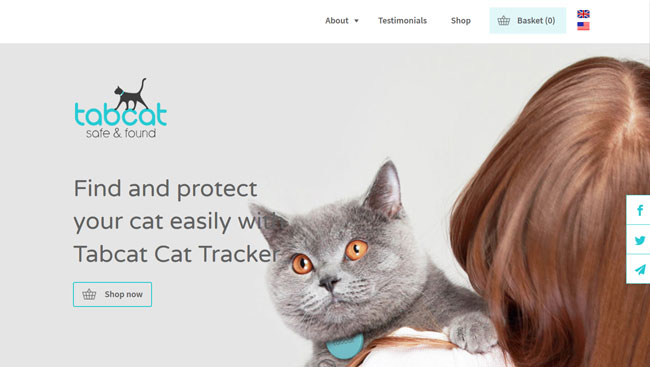 How TabCat Works
TabCat is a very simple device that utilizes RF-based technology to offer a much greater range than your traditional "keyring finders" and better accuracy than GPS trackers.
The tracker consists of a pet tag and a credit card-sized handset that can track up to 4 tags. Before you get started, you need to register each of the assigned tags to the handset. Simply remove the plastic strip that separates the battery from the power connectors and put the tag next to the handset while holding all four buttons for 3 seconds. Successful registration is followed by a distinct beep.
Note that you should register only one tag at a time. Keeping multiple tags in the proximity of the device during registration might interfere with its ability to recognize which tag you are trying to register.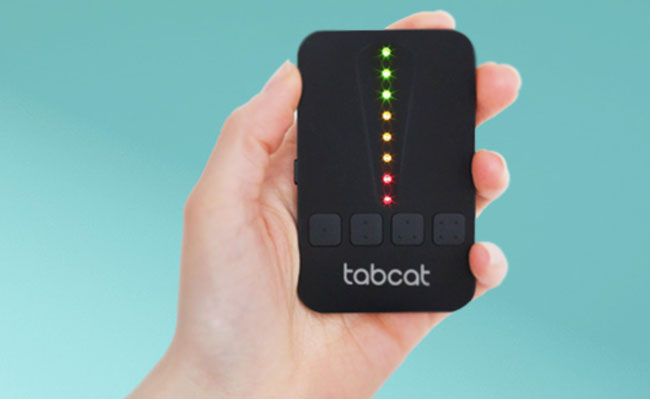 Once the tag is online, you can simply attach it to your pet's collar and quickly locate him or her using the handheld locator.
The device's so-called "Directional Technology" is basically an electronic version of the hot and cold game implemented into a pet tracker. In other words, it uses a series of indicator lights and beeps to tell you how close you are to your cat and which way to go to find him or her.
A single red light means that you are in the range of the pet tag and, as you walk closer, the lights will transition to amber and then green, guiding you right to his or her favorite hiding spot. Every search follows a trial & error principle, so once you pick up the signal, you should make a full circle with the device to see which direction prompts the biggest response.
Note that TabCat is designed solely to pinpoint the exact location of your pet(s). In other words, it does not come with a safe zone feature, so it will not alarm you once your cat leaves the "allowed perimeter."
TabCat Design
TabCat handheld locator sports a pretty flashy design with sleek lines and elegant overtones. It basically looks like a mono-black smartphone without a screen. The face of the device features 8 indicator lights (2 x red, 3 x amber, 3 x green) and 4 control buttons that correspond to up to 4 synced pet tags.
The device weighs around 200g (7oz) and measures:
86mm (3.4") in height
54mm (2.1") in width
6mm (0.2") in depth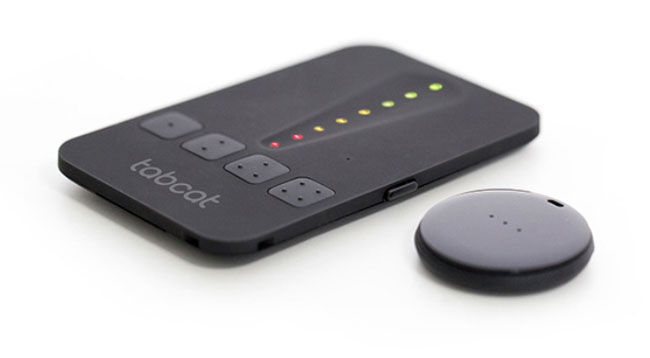 The homing tags weigh 5.67g (0.2oz) and measure:
36mm (1.4") in diameter
6mm (0.2") in depth
As you can see, this is an extremely lightweight device that can be used by pets of all sizes without any difficulties and provide owners with much better handling compared to GPS trackers.
TabCat Technical Specifications
In this section of our TabCat review, we will go over some of the main technical characteristics offered by the device. These include:
Durability
As mentioned previously, the device somewhat looks like a modern smartphone and is definitely as durable. In other words, it is not shockproof by any stretch of the imagination, but it does come with waterproof cases. Still, we would not recommend dropping it on any solid surfaces or letting your kids play around with it.
Water Resistance
Although the device is not waterproof per se, the provided splashproof cases protect it from hazardous water contact.
Communication Range
TabCat allows you to track your pet up to 122m (400ft) away from the handheld locator. Simply walk around until you pick up a signal and you will be able to pinpoint your cat's location within 2.5cm (1 inch).
Light & Sound
As you are getting closer to the tracked homing tag, the device will emit audio and light signals in order to let you know your pet is near. TabCat comes with a built-in speaker and 8 indicator lights.
Accuracy
As already mentioned in this TabCat review, the locator is able to guide you within 2.5cm (1 inch) from the tracked pet tag.
Battery Life
TabCat uses regular CR2032 Lithium batteries and the average battery life is around 1 year depending on usage frequency and the chosen brand.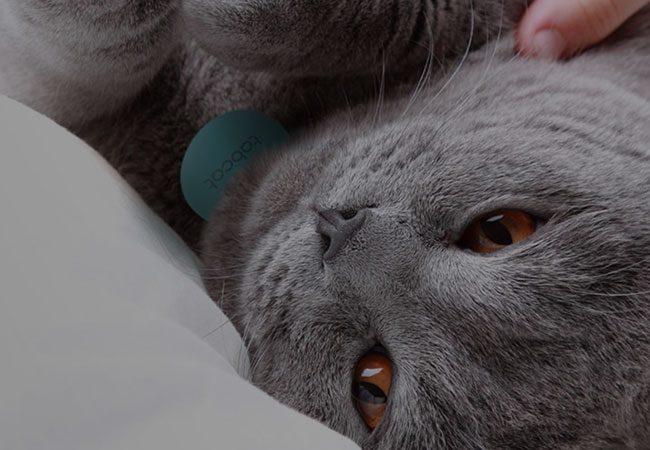 TabCat Features
TabCat does not offer a wide variety of different features. It is a pretty simple handheld locator that allows you to find your pet(s) and potentially train him or her to follow the audio cues. The current set of features includes:
Directional Technology
Loc8tor implements its proprietary RF-based frequency tech into all of its devices. It is much more accurate than regular GPS trackers and allows you to reliably determine your cat's location within an inch.
Lightweight Design
TabCat is much lighter than similar devices, which ensures better handling and mobility. The homing tags weight only 5.67g (0.2oz), so even smaller cats should not have any difficulties wearing them on their collars.
Sound Training
The button used to initiate the tracking function activates a small beep on the homing tag when pressed. You can use this sound cue to train your cats to come home the moment they hear that sound. Note that they will probably expect some kind of yummy reward for a job well done.
TabCat Coverage
Unlike many popular pet trackers, TabCat can work pretty much anywhere in the world. Its technology is completely RF-based, so it does not require any cellular networks or similar limiting factors. This makes it equally efficient in both Ney York and the Himalayas.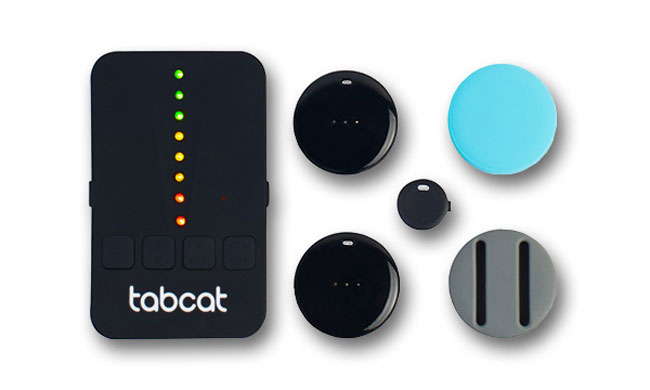 How Much Does TabCat Cost?
The company features the following products in its online shop:
TabCat Pack ($99.99) – The package includes the main directional headset, two homing tags, and two splash-proof cases.
Replacement headset ($59.99) – The instruction manual for replacement headsets can be downloaded from the official website. Note that you first have to unregister the homing tags from your old headset before pairing them with the replacement.
Replacement tag ($29.99) – The replacement tags come with one free silicone case (turquoise or charcoal).
Tabcase protective cases ($9.99) – A pack containing two additional silicone cases available in clear, green, charcoal, and turquoise.
The accepted payment methods include PayPal and credit/debit cards (Visa, MasterCard, Maestro, and American Express). All purchases come with a 30-day money-back guarantee, which gives you ample time to test the product and see if it works for you and your pets.
When it comes to shipping in the US, you can choose between the FREE 2-day option and USA overnight shipping ($24.99). In the UK, you can opt for standard delivery (3-5 business days; $4.99) and UK priority delivery (next business day; $11.99). Users from some European countries have access to Europe standard delivery (10-15 business days; $12.99) and Europe priority delivery (2-5 business days; $32.99). Everybody else can use the so-called rest of the world standard delivery (10-21 business days; $19.99) or rest of the world priority delivery (3-5 business days; $36.99).
TabCat Pros & Cons
Knowing the biggest strenghts and weaknesses of TabCat pet tracker can help you decide if it is the right pet tracker for your furry friend. Here is a quick overview of its pros and cons.
Pros
Proprietary Directional Technology
Lightweight and compact
Splashproof case
Incredible accuracy (2.5cm/1 inch)
Excellent design
Up to 4 homing tags
30-day money-back guarantee
Cons
Limited range
Does not handle obstacles well
No safe zone feature
Low durability
Bottom Line
TabCat is a reliable device designed to perform a very simple action: locate your pet(s) if they get lost. This is certainly aided by its impressive accuracy and the fact that it can work perfectly fine all around the globe.
However, it does come with some debilitating weaknesses that take away from the overall experience. It is pretty fragile even with the protective case, it does not allow you to set safe zones, the beeps get quite annoying after a while, and the range is not that impressive compared to similar devices.
Bottom line, with some extra work, it could have been a perfect pet tracker. As things stand right now, it is just ok, provided that your pet does not wander off too far.