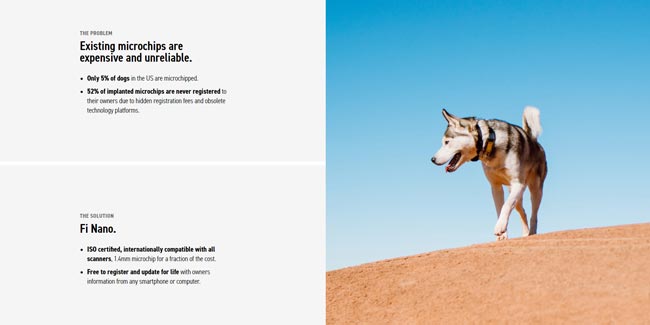 If you're a veterinarian or a dog breeder, you probably know all about microchips. And you're probably looking for the best microchip available. This is where Fi Nano comes in. When it comes to tech as relatively simple as this you can't invent something new. However, what you can do is push the technology to its limits to make the most of it. Fi Nano is ISO-certified, ICAR-registered, and internationally compatible with all scanners. It's significantly smaller than other microchips (1.4 mm instead of 2.2mm and even 5.5 mm) and it's free.
Yes, you read it right, it's completely free apart from the initial charge of $3. You don't have to pay a monthly or yearly subscription fee unlike with other microchips. Fi Nano is also automatically activated and registered. They are linked to the vet at shipment, then easily updated once implanted. Contact updates can be done with iPhone, Android, or web browsers, whichever one you find best suited to your needs.
We already talked about Fi Tracker and how it changed how pet trackers actually work. And we're happy to see that Fi is continuing to work in the same direction with Fi Nano. Finally, if you're a vet, breeder, or rescuer you can request your Fi Nano sample today!