Why spend more money on pet trackers that do less? Check out our list of best pet trackers deals for August 2022 to save money and get only the best for your furry friend. We will be updating this page regularly with new coupon codes and deals as they go live. So, if you're looking for a particular pet tracker and you don't see it right now, do come back at a later date. Finally, all the devices you can find on this page have been reviewed by our team. This means you can read the detailed reports on all of their features and how they work in real life.
Fi Pet Tracker – $70 off
This is the best pet tracker that money can buy and thousands of happy customers and their dogs are proof of that. It features a sturdy design, excellent coverage and an app that's very easy to use. You can use the app to not only check the location but also a host of other, important parameters. For example, the new sleep tracking feature enables you to track not just sleeping patterns but also time spent napping & sleeping, nighttime interruptions, and overall restfulness. Simply put, Fi tracker is the pet tracker we recommend you buy. It is a bit pricier but with our special Pet Tracker Reviews coupon code, it gets cheaper real fast.
Fi Dog Smart Collar (GPS Tracking, Fitness, Sleep Tracking) – Coupon code August 2022: Get $70 off with code SUMMER70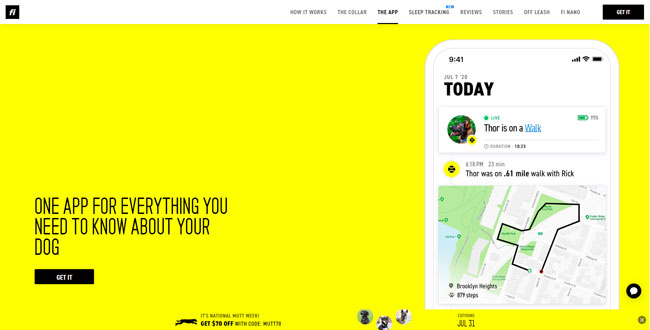 Whistle – Get $10 off plus 20% off bundle package
Whistle is a GPS tracking solution for dogs and cats that provides easy and accurate location tracking as well as comprehensive activity monitoring. It is feature-rich, has a good battery life, and works anywhere within AT&T cellular coverage. It is highly accurate, updates location information every 60 seconds, uses Google Maps for tracking your pet's location, and allows you to create multiple custom safe zones for your pet. Furthermore, it provides rest and activity monitoring as well as customizable daily activity goals. However, there certainly is room for improvement when it comes to notifications, which may take up to 6 minutes to arrive. This is a solid pet tracker worth considering, especially with this deal.
Whistle Pet Tracker (GPS Tracking, Activity, Behavior) – Deal for August 2022: Get $10 off plus 20% off bundle package (Seeing Stripes Dog Collar and Leash)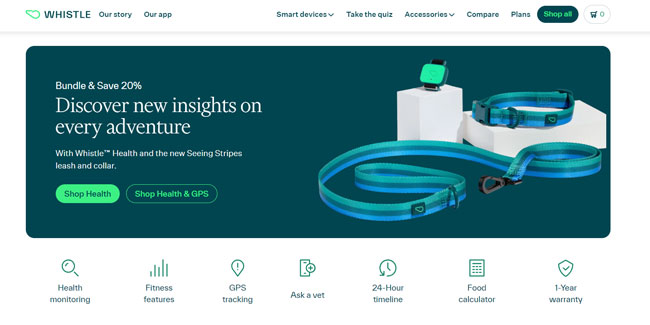 Tractive Pet Tracker – 25% Off
Tractive GPS is a fast, reliable, and precise GPS pet tracker with worldwide coverage that offers a wealth of useful tracking features and provides instant notifications when your pet steps outside the safe zone. Its live tracking mode allows you to receive location updates every 2 to 3 seconds, switch between different map views, and even view your pet's current speed and altitude. It allows you to customize safe zones and share your pet's location with your friends for easier tracking. Its main flaw is that it does not track your pet's activity, but the company does offer an independent activity tracker that is small, lightweight, and affordable, so you can easily use both devices at once and enjoy their combined benefits.
Tractive GPS Tracker for Cats and Dogs – Coupon code for August 2022: Use coupon code WORKWEWALK to get 25% and free shipping.