We have seen a lot of great advances in the field of pet trackers in the last few years. Some of them have now We have seen a lot of great advances in the field of pet trackers in the last few years. Some of them have now increased range, sturdier design, or larger batteries but none of them even compare with Fitness and Health tracking features. Of course, first, you want to know where your dog is but then wouldn't it be super awesome if you could know how he's doing both physically and mentally? It sure would be great if dogs could talk but until we figure out how to do that we will have to rely on other things.
And one of those things is this new feature that we only recently started seeing in most advanced pet trackers. You can read our review of Fi Tracker here if you want to know more about it but for now, let's focus on the issue at hand. So, Fi Smart Dog Collar Series 2 introduced a couple of revolutionary changes, integrating them into just one app. One app that not only monitors where your dog is but also tells you the number of steps and miles for that day, week and month.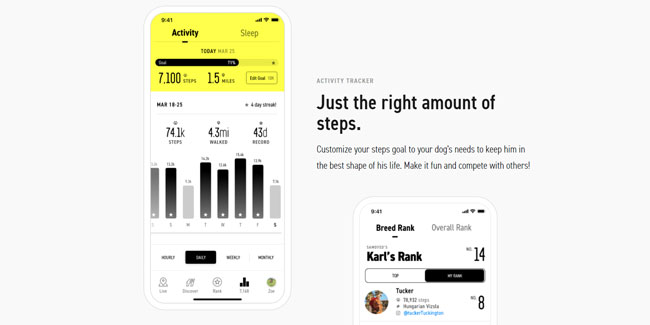 You can use this data to notice changes in behavior, compare it to other dogs or standard values. Simply set goals for that day, week, or month and this will not only help you keep your dog healthy but also motivate you to go out even when you really don't want to. And we've all been there, no judgment. However, the feature that impressed us the most was Sleep Tracking.
Yes, now you can track and understand your dog's rest patterns in detail. Monitor naps, sleeping, nighttime interruptions in sleep, and overall restfulness with just a few swipes. More importantly, you can take this data and share it with your vet if you can't quite figure out what's going on. Changes in sleep patterns are important indicators that something might be wrong and catching them early on is crucial to potential further treatment.
Finally, you can try Fi Smart Dog Collar risk-free with free shipping, a 1-year warranty, and a 30-day GPS trial. To make things even better, we here at Pet Tracker Reviews have a special coupon code that will save you a lot of money. Just enter alpinhound50 and you will get $50 off your purchase. Also, this collar makes for an excellent present so you can buy it for someone you know could use it.