Tuokiy Review
Advertiser Disclosure
This website features affiliate links. For purchases made via these links, we earn commissions that allow us to keep producing helpful content. To find out more
click here
.
Close
Important Update! Tuokiy pet tracker is currently out of stock and it seems this is a permanent thing. There's not much information about why this happened. We recommend you check out our list of Top 10 Pet Trackers list instead. Or just read our comprehensive review of Fi Tracker.
Tuokiy pet fitness tracker is a pet activity monitor with geofencing capabilities. It is a product of a Chinese company named Zhuhai Tuokiy Electronics, which offers everything from smartphone cases, headphones, and chronographs to smart wearables.
Tuokiy is not a standard pet tracker in that it does not focus on location tracking. Instead, it can best be described as Fitbit for pets. It is designed to help pet guardians keep track of their pets' activity levels, health, and wellness. In addition to activity monitoring, the device provides the handy Virtual Leash feature, which lets guardians safely walk their pets without a leash, sending notifications when the pet wanders off too far.
If this sounds like the right fit for your needs, keep reading our Tuokiy review to find out more about this affordable tracker.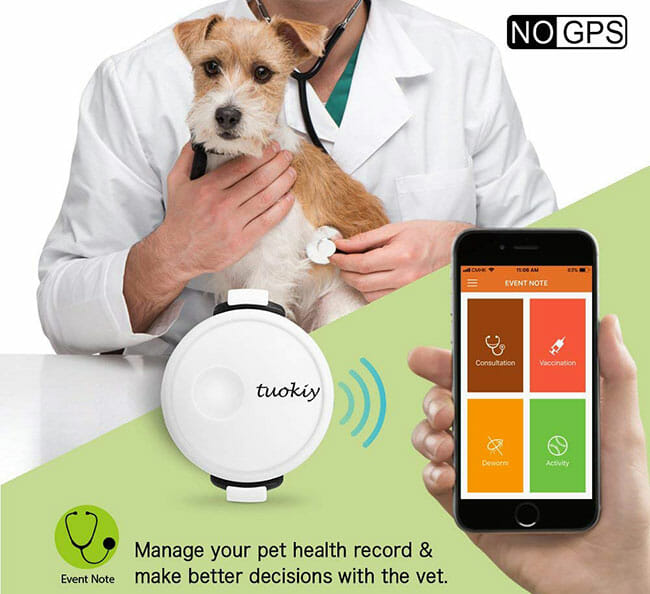 How Tuokiy Works
Tuokiy is a super-thin and lightweight device attached to the pet's existing collar. It comes with a free smartphone app for Android and iOS called Joyful Pet. The device communicates with the pet guardian's smartphone via Bluetooth.
The tracker's main function is 24/7 activity monitoring. Within the dedicated app, it provides detailed activity and rest histories and stores important health information including vet records. The only location tracking feature it possesses is Virtual Leash, which can be of use during walks and hikes. Namely, the device uses Bluetooth to determine whether the pet is close to the pet guardian's smartphone and sends notifications when the pet roams out of range.
Tuokiy does not use GPS and cellular technologies, so it does not come with a SIM card or GPS chip. It is a simple fitness tracker designed to keep track of the pet's health rather than his or her whereabouts.
Tuokiy Design
Tuokiy is a small, round device made of ABS (Acrylonitrile Butadiene Styrene), a commonly used thermoplastic polymer. It is white and features a discreet black Tuokiy logo.
The device is incredibly thin and weighs just 0.3 ounces. While the manufacturer did not specify the recommended pet size, due to the lightness of the device, it is reasonable to assume that it can be worn by cats and dogs of virtually all sizes, with the exception of tiny puppies and kittens. Tuokiy fitness tracker can be easily attached to virtually any collar with the use of the provided silicone straps.
Tuokiy Technical Specifications
A pet tracker is only useful if it can keep up with your pet's active lifestyle, stay functional in spite of potential damages, and remain active without frequent recharging or battery replacements. In this section of our Tuokiy review, we will focus on these important technical aspects of the device and determine its general durability and reliability.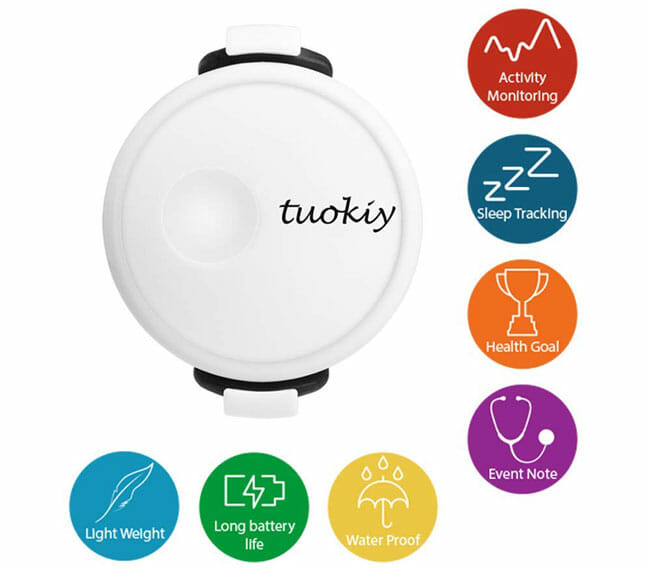 Durability
Tuokiy is not resistant to impact. However, it is protected against harmful solid particles such as dust and it is made of durable thermoplastic polymer that is both hard and light. Thus, while the device cannot absorb shock without damage and potential malfunctions, it is not damaged easily.
Water Resistance
The device is resistant to water. It boasts IP66 rating, which means that it is protected against low-pressure water jets, so your pet can safely take a shower while wearing the tracker.
Battery Life
Tuokiy comes with a disposable CR2032 battery. According to the manufacturer, the battery can last up to 3 months, but real-life tests have shown that the average battery life is 1 month. However, the battery is inexpensive and easy to replace.
Communication Range
Since the device only possesses geofencing capabilities and relies on Bluetooth technology, its range is severely limited. The maximum range is 33 feet.
App Compatibility
Tuokiy's smartphone app Joyful Pet is compatible with Android 4.3 and above and iOS 8.0 and later.
Tuokiy App
Tuokiy Joyful Pet app is well-designed and highly intuitive and it offers great customization options. You can switch between different theme colors, easily modify settings, add and remove pets, and create and edit detailed digital pet profiles. Within the app, you can define custom activity goals for your pet, view personalized activity recommendations, access activity and sleep history, and manage important health-related events, like vaccination. The Virtual Leash feature can be activated in a single tap.
The app comes with built-in support, making it even easier to understand and use the features available.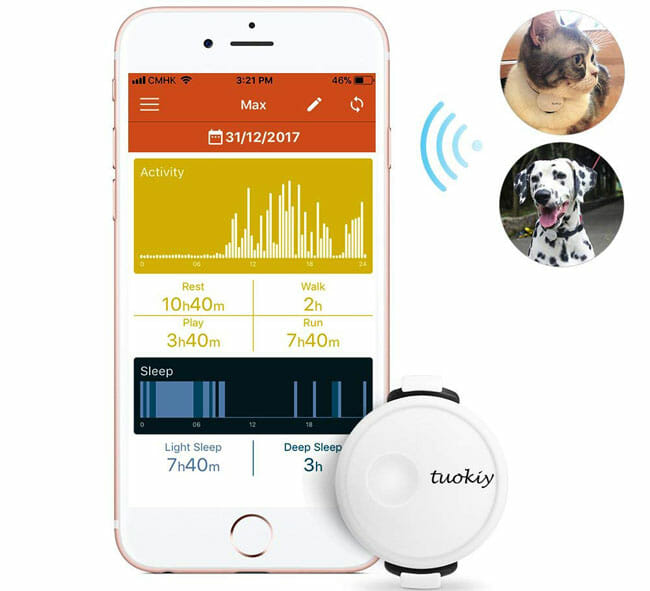 Tuokiy Features
As Tuokiy possesses no location tracking features apart from geofencing, this part of our Tuokiy review will primarily be dedicated to its activity-and-health related tools and it will touch upon its geofencing capabilities.
Digital Pet Profile
With Tuokiy and its Joyful Pet app, you can create profiles for your pets including everything from name, type, breed, and gender to birthdate, weight, and information on whether the pet is neutered or not. This information helps Tuokiy get better acquainted with your pet and provide more reliable activity recommendations.
Activity Monitoring
The device monitors your pet's activity round the clock. Even if your pet is out of range, the device can keep activity records for 3 days and sync the data to the app as soon as your pet comes within range.
The tracker discriminates within moderate and intense activity and light and deep sleep. Not only does it measure how much time your pet spent engaged in different levels of activity and light or deep sleep, it also tells you exactly how much time your pet spent resting, walking, playing, and running, with both numeric data and useful activity graphs.
Custom Activity Goals & Recommendations
Within your pet's profile, you can define a custom daily activity goal expressed in minutes. If you need help determining how much time your pet should spend walking, running, and playing every day, you can rely on Tuokiy's recommendations. The Joyful Pet app contains more than 190 dog breeds and 60+ cat breeds and provides activity recommendations based on your pet's breed.
Event Diary
The Joyful Pet app allows you to keep all health-related information about your pet in one place. You can use the event diary to keep health and medical records, including vet consultations, vaccination, deworming, and activity data, all neatly classified and easily editable.
Virtual Leash
The Virtual Leash feature lets you set a safe zone for your pet, centered in your position. The safe zone's maximum radius is 33 feet. The zone moves as you move and you receive a notification when your pet steps outside the zone. Unfortunately, Tuokiy does not provide an interactive map, so you cannot view your pet's last known location. The feature only enables you to quickly react in case your pet decides to leave your side.
Tuokiy Coverage
As stressed multiple times throughout this Tuokiy review, Tuokiy is a fitness tracker that does not work as a location tracker. It only uses Bluetooth to communicate with the pet guardian's smartphone. Thus, it can work anywhere on the globe, as it does not rely on any external services, but it does not provide concrete location information.
How Much Does Tuokiy Cost?
Tuokiy pet fitness tracker costs just $19.99. Included in the package are 1 Tuokiy tracker, 2 silicone attachment straps, and 1 disposable button cell battery.
The device can be shipped worldwide and the shipping costs depend on location. Since the tracker is sold through Amazon, US residents can get free shipping if they purchase Tuokiy together with any other product, with the total order value being $25+.
Tuokiy does not come with a money-back guarantee or warranty.
Tuokiy Pros & Cons
Knowing the biggest strenghts and weaknesses of Tuokiy can help you decide if it is the right pet tracker for your furry friend. Here is a quick overview of its pros and cons.
Pros
Ultra-thin and light device
Suitable for dogs and cats of nearly all sizes
Detailed activity records
Excellent digital pet profiles
Custom activity recommendations
Health & vet records
Virtual Leash
Highly affordable
Cons
Does not provide location information
No map available
Small Virtual Leash radius
Not resistant to impact
Bottom Line
Tuokiy is a well-designed pet activity monitor that provides all the information you need to make sure that your pet is happy and healthy. From comprehensive activity stats and vet records to custom activity goals and recommendations, this tracker offers all the crucial data that can help you immediately notice any sudden changes in behavior that may reflect underlying health issues that need to be addressed.
The Virtual Leash feature is a nice bonus, although the safe zone radius is rather limited and with no map available, its usefulness is equally limited. However, considering all the tools this tracker offers and its rather low price, we can conclude that Tuokiy offers excellent value for your money.