Each year we get better and better pet trackers and 2021 was no different. With that in mind, we decided to present to you our latest list of Best Pet Trackers for 2022. If you're looking for the best possible present not only for your pet but also yourself, you simply cannot go wrong with any of these products. They will help you track not just the location of your pet but also important health info.
Keep your pet healthy and active with these new features and be certain that he's receiving the best possible care. Out of all the pet trackers we reviewed on this site, one of them stands head and shoulders above the rest. Read on to find out which one it is and what are your other options.
Best Pet Trackers for 2022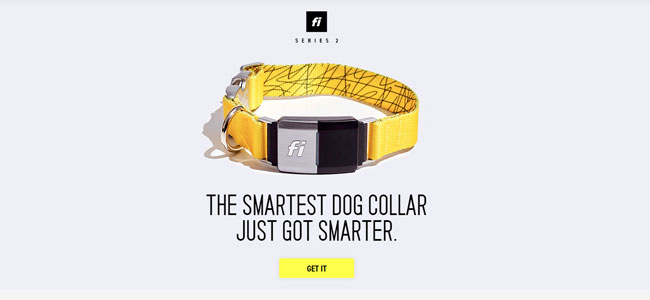 Best All-Around Pet Tracker: Fi Smart Dog Collar
There are so many features that make Fi Smart Dog Collar the best pet tracking device on the market that we simply don't know where to start. First of all, it's continuously improving and getting better each year. Fi Series 2 now features longer battery life, better signal coverage, sturdier hardware, and a vastly improved antenna. This means that the tracking in remote areas is now not only possible but that it also doesn't require any additional tinkering.
Fi Smart Dog Collar Activity Tracker will help you understand not only how your dog is doing when it comes to exercise levels but also how he's been sleeping. Yes, this brand-new feature lets you monitor sleep cycles and patterns. To make things even better, you can compare all of this data with not only the desired values but also all the other dogs. This will give you a complete picture of your best friend's health along with the peace of mind that comes from knowing its location all the time.
If you're still not sure whether Fi Smart Dog Collar is for you, we have great news. You can now order it risk-free with free shipping, a 1-year warranty, and a 30-day GPS trial. Finally, as we always do, Pet Tracker Reviews has prepared for you a special discount. Just use our code: ALPINHOUND50 and get $50 off!
Most stylish Pet Tracker: Whistle
Whistle is a very versatile and solid pet tracker that comes in a variety of colors and options. You can choose all kinds of collars and leashes and various other accessories. However, the most important thing is the choice between three main types of the Whistle Pet Tracker. Whistle Fit is focused solely on your dog's health without GPS monitoring. Whistle Go & Explore includes both health and GPS tracking while its plus version enables 24-hour tracking.
One of the features that blew us away was the ability to talk Tele-vets directly in your app for free. You can also use the app to set fitness goals, track burned calories, and do many other things. Very important things like increased drinking or scratching, that you can then report directly to your vet. The GPS tracking is very precise and you can set zones and alerts that will let you know exactly where your dog is.
Now, Whistle is a bit pricier, so our 20% offer will come in pretty hand if you decide to buy it.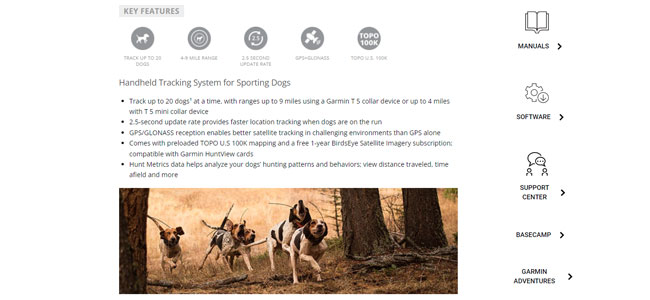 Best Hunting Pet Tracker: Garmin 430
The first thing you need to know about Garmin 430 is that it's expensive. It costs $649.99, almost three times the price of the rest of the devices on this list of Best Pet Trackers for 2022. However, the reasons for that are pretty obvious. This is by far the sturdiest and most precise GPS Tracker money can buy. It's able to track 20 dogs at a time and the combination of GPS and GLONASS enables the best signal even in the most remote areas.
Garmin 430 is the best option for hunters as it was designed with this activity in mind. However, this doesn't mean you cannot use it as an "ordinary dog tracker". It comes with preloaded TOPO U.S 100K mapping and a free 1-year BirdsEye Satellite Imagery subscription.