How To Choose The Right Pet Tracker For Your Dog
We have selected the best dog trackers on the market by carefully examining their technical specifications, features, prices, and performance in various conditions and situations. Now, we will provide a full list of characteristics that you should keep in mind when choosing a dog tracker for your pooch.
Recommended Pet Size
Whether the tracker comes with a collar included or you just need to attach the tracking unit to your dog's existing collar or harness, it is crucial that the size and weight of the tracker fit the size of your dog. In the best case scenario, you can check the recommended pet size as provided by the manufacturer and see if your dog is large enough to wear the tracker in question. If this information is not provided, you need to check the available sizes of the collar provided and the weight and dimensions of the tracking unit.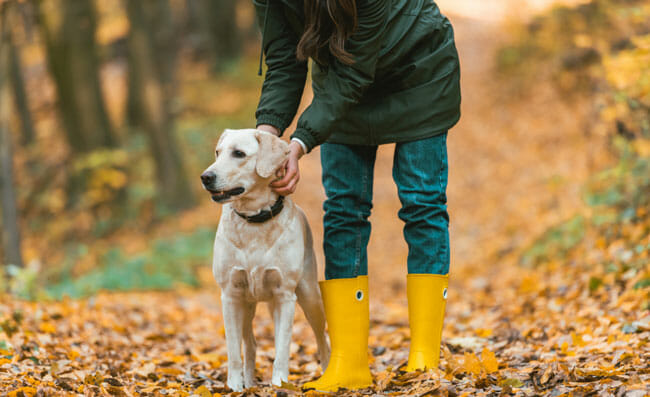 Generally speaking, a tracking unit weighing around 1 oz. is suitable for a dog weighing 8 or more pounds. On top of that, the unit should not be too large, as it could bother your dog and cause discomfort. If provided, the collar should be available in a size that corresponds to the size of your pet's favorite collar. If all these criteria are met, the dog tracker in question is a good fit for your dog and your beloved pal should not even notice it is there.
Durability
In order to be healthy and happy, a dog needs to walk, run, play, and engage in any form of activity that benefits his or her well-being. This may involve playing in the mud, playing with other animals, jumping around, swimming, running through the woods, and being active regardless of the weather.
Thus, you need a dog tracker that can stay functional no matter what your pal may be up to. You should choose a pet tracker that is resistant to both impact and water (preferably up to 3 feet) and made of high-quality materials, so it can accompany your dog for many years, with no repairs or replacements necessary.
Battery Life
A battery cannot last forever, but that does not mean that you have to settle for a battery life of just a few hours. If the battery dies quickly, the tracker is close to useless, which is why a good battery life should always be one of the key characteristics to look for in a dog tracker. In general, you should look for a dog tracker whose battery can last for at least a couple of days on a single charge and no fewer than 6 hours in the live tracking mode.
Night Mode
Since no dog tracker is characterized by perfect accuracy, locating your dog after dark may sometimes prove tricky. You may be really close to your dog but unable to see him or her due to a lack of light and potential obstacles blocking your view. That is where the night light comes in.
Some of the best dog trackers come equipped with a night light, often remotely activated, allowing you to spot your dog more easily. According to our tests, a night light can make a world of difference when searching for your pet after dusk, which is why we warmly recommend paying attention to this sometimes neglected feature.
Coverage
There is no greater disappointment than discovering that your dog tracker of choice cannot work in your area only after you have purchased the device. For example, this may happen if you purchase a cellular tracker and live in an area with spotty cellular coverage. Likewise, you may want to travel abroad with your dog, but the tracker may not work in other countries. Therefore, be sure to check the coverage of the dog tracker in order to be sure that it can work in your area as well as other places you and your dog may want to visit.
Communication Range
If something or someone frightens your dog or attracts your dog's attention, there is no telling how fast he or she may run. If the tracker you have selected has a small communication range, your dog may end up out of range before you know it, making the tracker virtually useless. While communication range is never unlimited, it is wise to choose a dog tracker that can work over large distances, so you do not have to fear about what could happen if your dog runs away too far for the tracker to work.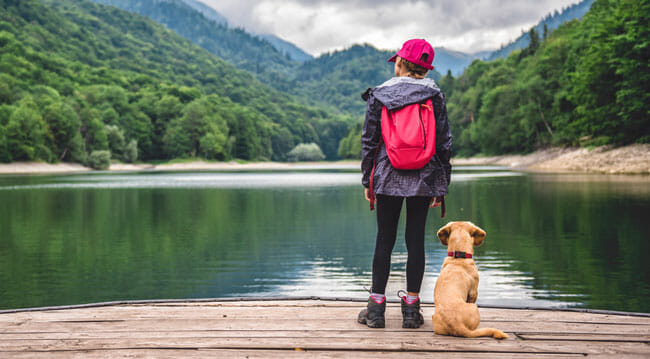 Indoor & Outdoor Tracking
When your dog leaves your property, he or she may not stick to open spaces. Instead, your pal may seek shelter, particularly if the weather is bad. While all pet trackers generally work outdoors, the same is not true for indoor tracking. Thus, it is wise to choose a pet tracker that is WiFi and/or Bluetooth enabled or pick a powerful radio frequency tracker, so you can easily find your pet even if he or she happens to wander into an enclosed space.
Location Refresh Rate
The frequency of location updates is a factor that greatly determines the success of your search. If you do not get updates at least every minute or so, by the time you get the next update, your dog may already be far away. The best dog trackers refresh location information in seconds. Those that take many minutes to update your dog's location are far from the best choice.
Accuracy
A dog tracker does not have to be accurate within inches in order to allow for efficient tracking. However, if it is unable to bring you within a seeing distance from your dog, it may not be of great help. The general rule is that the tracker should be accurate within about 25 feet, so you can come close enough to see your dog and bring him or her safely home.
Instant Notifications
The best dog trackers notify you as soon as your pet leaves the safe zone, so you do not lose any precious time. However, do not expect every dog tracker to provide instant notifications. With some trackers, it may take as many as 10 minutes or even longer for the notification to arrive, which can prove quite problematic. Avoid giving your dog a long head start by opting for a dog tracker that provides at least timely if not instant notifications.
Sharing
If you are not at home, it is good to know that someone else can watch over your dog. If the dog tracker you choose allows you to share access to your dog's location information with family and friends, you can relax, knowing that someone close to your pal has all the information necessary to prevent him or her from getting lost in your absence. Not only that, but sharing allows you to have friends help you out if the search proves more difficult than expected.
Custom Safe Zones
Safe zones let the tracker know where your pet is safe and allow you to know when your pet is outside the defined area, so you can begin your search. However, dog trackers differ regarding the level of customization they allow in terms of safe zones. The best dog trackers let you custom-define the size and shape of the safe zone, so it can be just as large as it needs to be, which further prevents false alarms.
Location History
Sometimes, you do not only want to know your dog's current location. You may want to check where your pal has been during the day. Maybe your neighbor is complaining about your dog ruining her flowers – or worse, your friend may be out of range, so you could use information on his or her previous locations to figure out where your dog is headed. With location history, you can trace your pet's past and most recent routes, which may come in handy in many situations.
Activity Monitoring
In addition to helping you prevent your dog from getting, a dog tracker can make sure your pal has been active enough to stay healthy. Activity monitoring is not something all dog trackers offer, but it can be a highly useful addition to the tracker's feature set and it can allow you to save cash on activity-only trackers. If you want to take care of your friend's health and fitness while making sure he or she is safe, activity monitoring is an option you definitely want to see in your dog tracker of choice.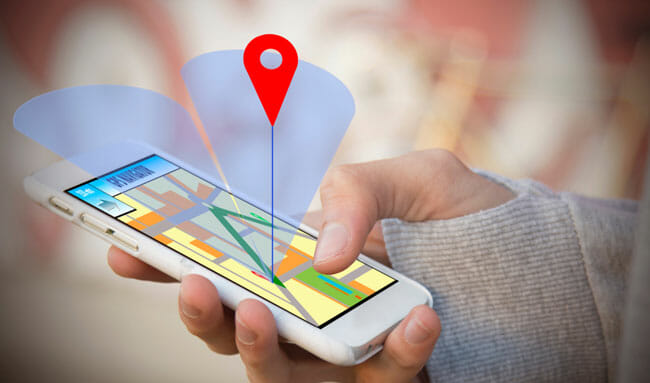 Additional Features
The sad truth is that not all dog trackers possess even the most important features, let alone extras. However, it is also true that trackers with additional features do not always cost more than the ones that offer mere basics. Thus, it is good to know that you can get some neat features that can help you take even better care of your dog (like vet records, sound training assistance or temperature monitoring) without overstepping your budget.
Smart & Risk-Free Purchase
Dog trackers come at different prices and it is up to you to decide how much money you want to spend on the device. You need to keep in mind that a tracker is worth your money only if it possesses the crucial features we listed previously.
You should also be aware of the fact that it can always happen that the device you chose is not the best fit for your dog after all. The same goes for potential malfunctions, which may arise at any time. Thus, we warmly advise you to purchase a dog tracker that comes with a money-back guarantee and a warranty, so you can get your money back or request a repair or replacement in case there is something wrong, so you never waste any cash on a tracker that does not work for you.
Best Dog Trackers Of 2022
The following mini-reviews are designed to allow you to discover all the crucial characteristics of our top picks in mere minutes. Take a closer look at what the best dog trackers have to offer and choose the one that perfectly suits your pooch's size and habits and your personal needs and expectations.
Benefits Of Dog Trackers
No matter how much you love your dog, it is impossible to actively keep an eye on him or her 24/7. Currently, the only solution that allows you to know your dog's location every moment of every day is a dog tracker. It is a device that monitors your dog's location at all times and notifies you if your pal is not where he or she is supposed to be.
If your dog is a free spirit that likes to explore the world independently, a dog tracker can help you prevent your pal from getting carried away and potentially ending up lost. It allows you to define the areas where your dog can walk and run danger-free and sends an alert as soon as your pet leaves the area you defined. This can be particularly useful if your dog does not respond well to training and tends to forget that it is not ok to wander off alone.
Additionally, dog trackers can constitute a time-saving, cost-efficient method of training your buddy. Namely, some dog trackers come with built-in speakers that can be remotely activated, for example, when your dog leaves the safe area. This simple sound training method can help your pal quickly learn where he or she should and should not go. Plus, it enables you to easily locate your dog even if he or she happens to ignore the sound, so you do not have to rely on training alone.
Another benefit of dog trackers is that they can let you enjoy stress-free and leash-free walks and hikes. Since the tracker allows you to know your dog's location and the distance between you and your dog at all times, you can let your pal have fun and enjoy a healthy degree of independence without worrying that he or she may get lost on less familiar grounds.
If your property is rather large, a dog tracker can help you stress less if your buddy vanishes from sight. You can set the tracker so it alerts you if your dog steps outside the boundaries of your property, so you do not have to worry just because your friend is lying behind a tree or the garage, where he or she is not easy to spot.
It is important to note that, unlike a microchip that can only help if your dog becomes lost, a pet tracker is particularly designed to prevent your pet from ever getting lost. This makes it a uniquely useful device that can follow your pal on all of his or her adventures, allowing you to keep track of your dog's whereabouts round the clock, thus keeping your best friend safe without severely restricting his or her freedom.
Features Of Dog Trackers
Even if you have never used a dog tracker before, it is rather easy to understand how it works. It determines the location of your dog with the help of positioning technology and then communicates the location to you, the pet guardian. While all dog trackers perform these 2 basic functions, they differ in terms of the range of features they provide in order to make tracking easier and more efficient.
In this section, we will go over the essential features a dog tracker needs to possess in order to allow for efficient tracking and mention some additional features that not all dog trackers possess but that may enhance the functionality and usefulness of the device.
Essential Features
Live Location Tracking
When you are actively searching for your dog, time is of the essence. That is why live or real-time location tracking is arguably the most important feature of a dog tracker. What is meant by live location tracking is that information on your dog's location and the distance between you and your dog is constantly and frequently refreshed. If location information can be refreshed within a few seconds, the tracker allows for true live tracking.
The upper limit on the location refresh rate in the context of live tracking is 60 seconds. If the tracker cannot update location information within a minute or less, it does not allow for live location tracking and is thus unable to fulfill its primary purpose when the dog is on the run.
Location History
Location history is a feature that allows you to trace your dog's most recent route and revisit previous walks. Depending on the tracker, you may be able to view location history for the past 24 hours, past week or even the past year. Some dog trackers only provide location history in the form of a series of locations on a map while others may provide information on the distance walked, average speed, time spent walking, and more.
This can help you better understand your dog's behavior and it can be particularly useful if the tracker's battery dies and you want to check your dog's last known location, the direction in which he or she is headed, and how fast he or she is moving, so you can know where to look and how fast you need to walk.
Geofencing
Geofencing is a term that denotes the creation of virtual geographic boundaries using technologies like GPS. Dog trackers generally use geofencing to allow you to create safe zones for your dog, that is, to define areas within which your pet does not need to be actively tracked, such as your property. When your dog steps outside the boundaries of the safe zone, you are immediately alerted.
Safe zones are normally stationary. However, there is a sub-type of safe zones often referred to as the virtual leash, which allows you to define an area centered in your position, with the area moving as you move. This kind of safe zone is useful if you want to walk your dog without a leash. Just like with stationary safe zones, you get a notification if your pet crosses the boundaries of the virtual leash.
Some of the best dog trackers even allow you to use geofencing to define danger zones, areas where your dog should not be. This option is not commonly found in dog trackers, but it can be incredibly useful if your dog tends to run into the street or visit other potentially dangerous places when you are not around.
(Near)Instant Notifications
In order to be genuinely useful in keeping track of your dog's whereabouts, a dog tracker needs to provide instant or near-instant notifications when your dog steps outside the safe zone. If you get a notification long after your dog has left the safe zone, you may not be able to catch up with him or her quickly, and there is always the possibility that your dog may end up outside the device's communication range. Thus, it is necessary for a dog tracker to notify you within around a minute after your dog leaves the safe zone, so you can begin your search on time.
Interconnectivity
Whether you need to go to work, run an errand or simply go to a non-pet-friendly place, there will always be times when you need to leave your dog at home, alone or with someone else. In these situations, the interconnectivity or sharing feature plays a significant role in keeping your buddy safe. It enables you to share your dog's location information with friends and family, allowing them to prevent your dog from getting into trouble while you are away. You can use interconnectivity in other situations as well, for example, if you want your friends and family to help you locate your dog.
Extra Features
Activity Monitoring
Apart from location tracking features, the best dog trackers sometimes possess activity monitoring features, allowing you to take care of your dog's safety and well-being at the same time. With activity monitoring, you can learn how much time your dog spent resting, running, walking or playing and you may even get information on the level of activity your pal engaged in (e.g. moderate or intense).
You can also set custom daily activity goals for your dog, making sure he or she stays active enough during the day. Some dog trackers even provide personalized activity recommendations based on your dog's breed, weight, and age.
Sound Training
When talking about the benefits of dog trackers, we mentioned sound training assistance as a highly useful, although non-essential feature of these devices. If the tracker has a built-in speaker that can be remotely activated, it allows for easy sound training, making the device twice as effective.
Vet Records
Another handy extra feature is the option to keep vet records within the tracker's dedicated app. You can set important vet-related and medication reminders, add notes, and simply have all the important information about your dog's health in one place.
Temperature Monitoring
Dogs are incredibly sensitive to extreme temperatures and such conditions can seriously damage their health. That is why some dog trackers come with the temperature monitoring feature that keeps track of the ambient temperature and notifies you if it is too hot or too cold for your dog.
Adventure Recording
One of the main purposes of a dog tracker is to allow you to worry less and simply have fun with your pal. With the adventure recording feature, you can create lovely virtual scrapbooks including information about your most memorable walks with your dog, complete with the date, distance walked, and photos you snapped along the way.
Battery Alerts
When you are actively searching for your dog and location information is updated as frequently as possible, the device's battery can drain rather quickly. That is why the best dog trackers often provide battery alerts, letting you know when the battery is low. These alerts allow you to know whether you should pick up the pace in order to locate your dog before the battery dies.
Speed Alerts
The best dog trackers may provide instant alerts if there are suspicious changes in your dog's movement, like when your dog starts moving faster. This can help you prevent your dog from leaving the safe zone in the first place and save you the trouble of searching for your pal and stressing about potential dangers. Often, you can set the speed limit yourself and get an alert when your dog starts moving at a greater speed.
Limitations Of Dog Trackers
So far we have focused on what you can expect from a dog tracker, but this guide would not be complete without an exploration of the limitations of dog trackers. Thus, in this section, we will highlight what you cannot and should not expect from a pet tracker.
Accuracy
No type of positioning technology is flawless. The accuracy of location information you receive is influenced by a number of factors, one of the most important being your surroundings. GPS dog trackers cannot reach maximum accuracy without a clear line to the sky, cellular dog trackers do not yield optimal results in areas with spotty cellular coverage, and virtually all dog trackers work best in flat, open spaces with minimum obstacles. Even with optimal conditions, no dog tracker is 100% accurate, which is why you cannot expect the device to pinpoint the exact location of your dog. Instead, you need to accept that its estimates are approximate and serve to bring you within a seeing distance from your dog.
Location Update Frequency
The second major limitation is related to the frequency of location updates. Since dog trackers first need to establish your dog's location using positioning technology and then use communication technology to transfer location information, with both processes taking variable amounts of time, it is not possible for the device to provide exact location information every second. A slight delay in location updates is to be expected. However, it should be noted that the delays should not be much greater than a minute, as this would significantly diminish tracking efficiency.
Coverage & Range
It is important to understand that no dog tracker can work anywhere on the globe and over any distance due to the limitations of the technologies used. Non-cellular dog trackers may work anywhere on the globe, but their communication range is always limited and smaller than that of cellular dog trackers. On the other hand, cellular dog trackers work over any distance within cellular coverage, but they cannot work in remote areas where no cellular network is available. Thus, with these limitations in mind, it is important to determine whether you want your dog tracker to work anywhere you and your dog decide to go, even in the most remote areas, or you need a pet tracker that can work over a great distance, so you can track your dog even if he or she is far away from you.
Battery
Like any other device, a dog tracker needs a source of power in order to work. Dog trackers come with either disposable or rechargeable batteries, with the latter being more common. Both disposable and rechargeable batteries have a limited battery life. If you do not replace or recharge your tracker's battery on time, it may happen that the battery dies mid-search, which means that you can no longer receive location updates. Reliance upon batteries is an inevitable limitation of dog trackers, which is why it is important to choose a dog tracker with a good battery life and keep track of the battery status at all times.