LINK AKC Review
Advertiser Disclosure
This website features affiliate links. For purchases made via these links, we earn commissions that allow us to keep producing helpful content. To find out more
click here
.
Close
LINK AKC smart collar is a GPS pet tracker designed to help you track your pet's location and activity levels and monitor your best friend's current health and wellness. It was developed by LINK AKC, a Connecticut-based company founded in 2015 that specializes in tech products designed to protect pets and strengthen the pet-guardian bond.
LINK AKC smart collar is endorsed by the American Kennel Club and it won the CES Best of Innovation award. In this LINK AKC review, our goal is to discover whether this GPS pet tracker can genuinely help you keep your pet safe and healthy and whether it is the right choice for dogs and cats of all shapes and sizes.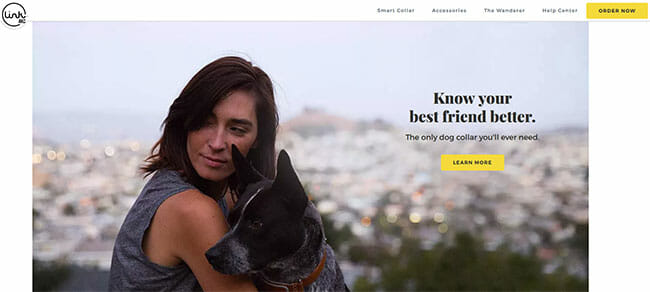 How LINK AKC Works
LINK AKC is a pet tracking system that employs GPS, WiFi, and Bluetooth technology to keep track of your pet's location. GPS relies on AT&T cellular network and allows you to locate your dog within AT&T cellular coverage.
The tracking system consists of a tracking unit and a base station. The tracking unit is attached to the collar provided by LINK AKC or any other suitable collar and the base station can be placed anywhere in your home. The base station should be plugged in at all times, as it establishes a safe zone via Bluetooth, determining where your pet can move freely. Another safe zone is established by your phone via Bluetooth. The safe zones are automatically established, but you can customize them if desired.
When your pet roams outside the safe zone and the Bluetooth connection established between the tracking unit and the base station or your phone is broken, you are alerted within approximately 30 seconds, so you can start tracking your pal via GPS.
To track your pet via GPS, you need to access the dedicated LINK AKC smartphone app and go to the Locations screen, thus turning GPS on. The first location appears on the screen within 3 to 5 minutes and it is constantly updated, allowing you to easily follow and locate your pet.
Apart from the essential tracking features, LINK AKC boasts a number of useful activity, health, and wellness monitoring tools, which we will discuss in the following sections of this LINK AKC review.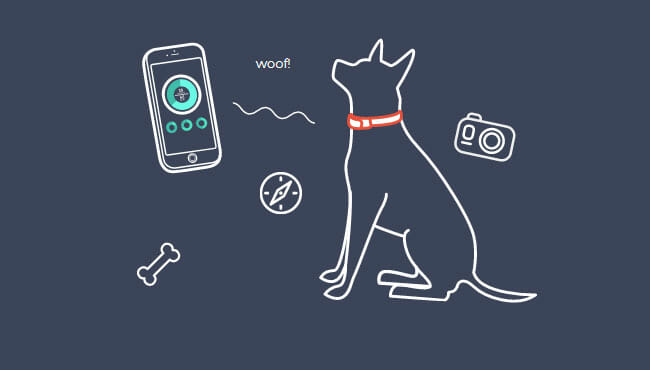 LINK AKC Design
LINK AKC pet tracking system comes in an elegantly designed cardboard cylinder containing a collar, a tracking unit, a collar carrier, a base station, and a charging cord.
The base station is semi-round and light-gray, designed for the tracking unit to fit into it perfectly while charging. It comes with an extra USB that allows you to charge the tracking unit and your phone simultaneously.
The collar is particularly stylish and comes in two versions, the Classic version made of genuine leather and the Sports version made of reflective nylon. It further comes in 3 sizes: extra-small to small, with neck fit of 8 to 11 inches, medium, with neck fit of 11 to 17 inches, and large to extra-large, with neck fit of 17 to 29 inches.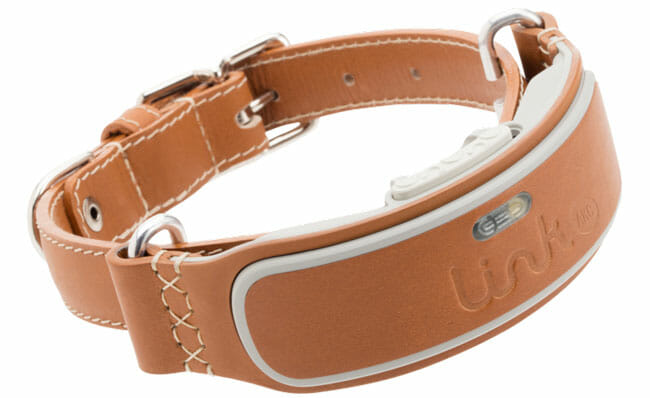 The tracking unit comes in several color schemes, including black-light gray, white-light gray, and leather-light gray. It is rounded to comfortably fit your pet's neck, so it may not be so easy to fit on a harness. The unit measures 1.5 in. in height by 3.9 in. in width by 0.5 in. in depth.
The collar carrier comes in the form of a sleeve and is attached to the collar and designed to carry the tracking unit. The tracking unit clips into the carrier and you can remove the unit by pushing the spring-release button. The carrier and tracking unit together weigh 2.55 ounces.
The manufacturer does not recommend using the smart collar with small pets that weigh less than 10 pounds. It should be noted, however, that LINK AKC may be too large and heavy even for pets that weigh 10+ pounds. Thus, although the manufacturer claims that it is suitable for small dogs and cats, we do not recommend using LINK AKC if your cat or dog is not particularly large.
LINK AKC Technical Specifications
In this section of our LINK AKC review, we will focus on the most important technical aspects of this pet tracking device, including water and impact resistance, battery life, communication range, accuracy, night mode light, and smartphone app compatibility.
Waterproof
The device is resistant to water and rated IP67. That means that it can withstand immersion of up to 3 feet.
Shockproof
LINK AKC smart collar is resistant to impact. It is designed to be durable and withstand regular use during even rougher play.
Rechargeable Battery
LINK AKC comes with a rechargeable battery that can last up to 3 days with normal use. However, battery life significantly decreases with GPS tracking turned on. In such conditions, it may not last more than a few hours. The device comes with an on/off button for battery saving when your dog is within sight.
Communication Range
LINK AKC GPS tracker can work anywhere within AT&T cellular coverage. However, if the place is too crowded or the reception is weak, the range may be significantly decreased and you may experience frequent disconnections. The tracker does not work indoors, so if your pet wanders into a closed space, you can only discover his or her last known location in the outdoors.
GPS Precision
GPS precision highly depends on cellular reception. A clear line of sight to the sky and strong reception are necessary to obtain the highest accuracy. If the reception is weak, the tracker may provide less than accurate information.
LED Light
The device comes equipped with a LED light, allowing you to locate your pet more easily after nightfall. The light is disabled when your dog is at home to conserve battery.
App Compatibility
LINK AKC smartphone app is compatible with Bluetooth-enabled Android and iOS phones. It works on Android 5.0+. and iOS 9.0+.
LINK AKC App
LINK AKC offers a dedicated smartphone app for Android and Apple phones that allows you to access all location and activity tracking information and much more. It lets you activate GPS and monitor your pet's movement, view your pet's historical and daily activity records updated hourly, customize the safe zone around your phone, access and modify vet records, create adventures complete with maps and photos of walks and hikes, and even remotely activate the sound feature on the tracker unit.
The app is intuitive and all-encompassing and it can be used to track up to 10 pets. It is interesting to note that in addition to its dedicated app, LINK AKC enables you to access some of its activity features via Amazon Alexa app, allowing you to check your pet's activity for the current day and the day before and see how much longer until your pet reaches the set activity goals.
LINK AKC Features
Previously in this LINK AKC review, we mentioned that this pet tracker can do much more than just inform you about the location of your pet. Now we will focus on all of its prominent features and discover all the benefits of using LINK AKC smart collar.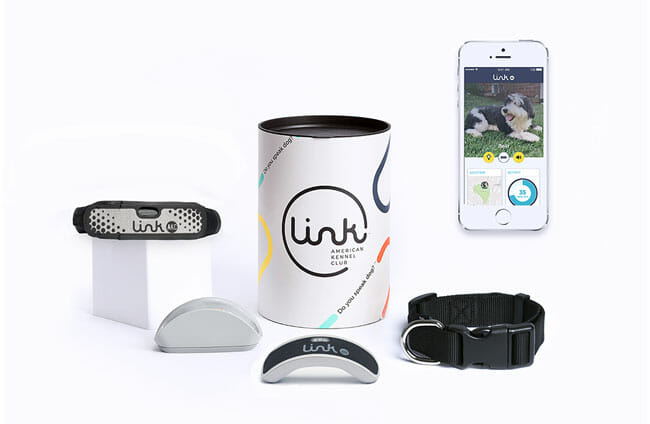 Location Tracker
LINK AKC uses Bluetooth to inform you that your pet is near you or near the base station. It provides near-instant notifications when he or she leaves the safe zone and uses GPS to track your pet's changing location outside the safe zone. It provides a map with paw prints indicating your pet's most recently known locations. While this cannot be described as real-time tracking, as it takes several minutes to obtain the first location via GPS, the locations are constantly updated, allowing you to know where your pet is headed.
Safe Zones
The tracker does not offer plenty of customization when it comes to fencing, but it does provide 2 automatically set safe zones around your phone and base station. If needed, you can temporarily extend the safe zone around your phone up to a radius of 2,400 meters. This can be useful when you are in the park or somewhere where you can pet can safely move within a larger radius.
AI Activity Tracker
LINK AKC employs 3-axis accelerometer that accurately measures your pet's activity. Not only that, but it uses a patent-pending algorithm that learns how to discriminate between different levels of activity, such as moderate and intense, letting you to know whether your pet has enjoyed enough activity during the day.
Personalized Activity Recommendations
To help you determine how active your pet should be in order to stay healthy, LINK AKC provides personalized activity recommendations based on your pet's age, breed or mixed breed, behavior, and size.
Vet Records
Another handy health-related feature is Vet Records. The tracker allows you to easily update, modify, and access vaccination records wherever you are, directly through the LINK AKC app. You can further set reminders, so you never miss an important vet appointment.
Temperature Monitoring
Taking care of your pet's safety at all times, LINK AKC monitors the ambient temperature and notifies you if your pet is in an environment that may be too hot or too cold and thus endanger your pal's health.
Sound Training
To help you train your pet more easily, particularly when it comes to remaining within the safe zone, the tracker features a remote turn-on, clicker-like sound that you can activate directly through the LINK AKC app. Many pets can learn the meaning of the sound rather quickly, which can help you prevent your friend from wandering off and easily remind him or her to come back to the safe zone.
Adventures
With LINK AKC, you can remember your past adventures with your pal with the virtual scrapbook available within the LINK AKC app. You can store as many photos as you wish in the digital album, record special hikes and walks, and easily create adventures including a map showing distance, timestamp, and photos you took during the adventure. You can start an adventure with a single touch of the button and the photos you add are editable.
LINK AKC Coverage
One of the downsides of LINK AKC smart collar is that it can only be bought and used in the United States, unlike a number of its competitors that work across the globe. However, the company does plan to expand coverage to include Canada, Europe, and other world countries and we sincerely hope this expansion will take place soon.
It is further important to note that since LINK AKC tracking is enabled via AT&T cellular network, tracking will not be an option if you and your pal find yourself in a location not covered by AT&T 3G.
How Much Does LINK AKC Cost?
Whether you opt for the classic or the sports version of LINK AKC smart collar, the standard price of the device is $129. However, the company often offers discounts, allowing you to get your LINK AKC for just $99. The price of the device is the same no matter which collar size you choose. All orders come with free shipping.

In addition to the price of the collar, you need to pay for the service plan. You can opt for the monthly, yearly, and 2-year subscriptions. The monthly plan costs $9.95 per month, the yearly plan costs $7.95 per month, charged annually, and the 2-year plan costs $6.95 per month, billed biannually. At the end of the subscription period, your plan is automatically renewed and reset to the monthly subscription, unless you cancel or start a new plan.
By purchasing the service plan, you get access to Pet Poison Helpline, with veterinarian assistance available 24/7. You are further covered by the company's 3-year limited warranty in case of malfunctions that may arise during normal use, as well as its 1-year Size Guarantee, which allows you to get a collar in a different size in case the one originally purchased does not fit or your pet outgrows it.
All LINK AKC collars bought through the official LINK AKC website come with a 90-day risk-free guarantee, so you can return the collar within 90 days if you are unsatisfied and receive a full product purchase price refund. The service plan time used is not refundable.
LINK AKC Pros & Cons
Knowing the biggest strenghts and weaknesses of LINK AKC can help you decide if it is the right pet tracker for your furry friend. Here is a quick overview of its pros and cons.
Pros
GPS location tracking via AT&T cellular network
Bluetooth safe zones
Intelligent activity tracking
Health, wellness, and adventure features
Waterproof and shockproof
Multiple sizes
1-year Size Guarantee
90-day money-back guarantee
3-year warranty
24/7 access to veterinarians in case of poisoning
Cons
Only works in the US, within AT&T coverage
Does not fit dogs and cats of all sizes
Delayed location and activity information
Bottom Line
LINK AKC is a unique GPS pet tracking solution that boasts a variety of extra features many other pet trackers do not possess, such as AI activity tracking, creating adventures, remotely activating the sound feature, and easily keeping vet records. As far as the key tracking and activity features are concerned, it does rather well, although it has some limitations dictated by the inherent limitations of the AT&T cellular network. It provides highly accurate GPS information with strong reception and a clear line of sight to the sky, but it does not work indoors or in areas with weak to no reception, which may be a problem in some scenarios. It does not offer actual real-time tracking, but it does provide timely notifications and reliable location information that is updated constantly, allowing you to locate your pet rather easily.
To conclude this LINK AKC review, we can say that in spite of certain limitations, LINK AKC is a reliable, feature-rich pet tracker that can help you take good care of your friend and make sure he or she never wanders off too far.