Felcana Review
Advertiser Disclosure
This website features affiliate links. For purchases made via these links, we earn commissions that allow us to keep producing helpful content. To find out more
click here
.
Close
Felcana represents a unique innovation in the world of pet health and activity monitoring. It was developed by a team of experienced vets and engineers based in London and it has been on the market since 2017. The goal of its creators was to provide a truly smart way to gain a deeper insight into your pet's wellness.
The device does not only track your pet's activity and discriminate between different activity levels but also monitors his or her eating, drinking, and sleeping patterns. In other words, it collects all the relevant data that can help you and your pet's vet determine whether your furry friend is perfectly healthy or may be dealing with some issues that cannot be readily detected.
Discover the full range of features this tracker offers in this dedicated Felcana review.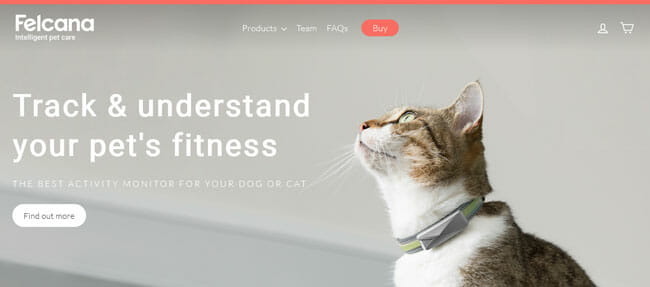 How Felcana Works
Felcana is a pet health and activity monitoring system that includes 3 essential elements. These are Helix, a smart device attached to your pet's collar, the home hub, which works as a data nest, charging base, and range extender, and the micro-location beacons, which can be placed all around your home and attached to the key objects like your pet's bed or food and water bowls.
The Helix device accompanies your pet 24/7 and keeps track of his or her activity, determining whether your pet is resting, walking, running or jumping. The strategically placed micro-location beacons provide insight into your pet's behavior, as they track his or her eating, drinking, and sleeping habits.
Taken together, the cloud-based data is used to provide a clear, comprehensive picture of your pet's activity, behavior, and overall wellness. You can view all the information within the dedicated Felcana app.

Mean values for all activities and behaviors are used to determine what is normal for your pet. Whenever they are discrepancies between the normal values and the current values, you are alerted, so you could consult the vet and check whether there is something bothering your friend.
Felcana is FCC certified as safe for dogs and cats. It uses Bluetooth 5.0 to establish communication between the Helix smart device and your smartphone. It employs long-range <1GHz radio technology to enable communication between the Helix device and the home hub. The home hub is WiFi enabled to help extend the device's communication range.
The system does not employ GPS and it does not rely on cellular networks. Thus, it does not have a limited coverage and there are no monthly fees. Keep in mind that this also means that Felcana only monitors your pet's activity and health and does not help you prevent your pet from becoming lost.
Felcana Design
The Felcana system is elegantly designed and available in silver color. It features the cuboid-shaped Helix device and home hub and cube-shaped micro-location beacons.
The Helix device is miniature and lightweight yet robust and prepared to follow your pet on all of his or her adventures. It measures 1.8 inches by 0.6 inches by 0.4 inches (LWH) and weighs a mere 0.3 oz. (9 grams). Due to its small dimensions and weight, it is equally well suited for cats and dogs of all sizes. The device comes with a nice strap for easy attachment.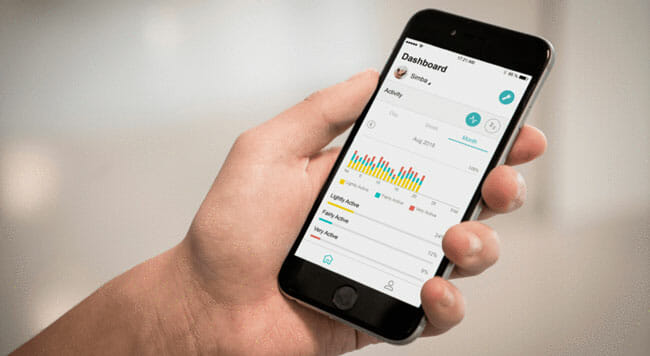 The Bluetooth-enabled micro-location beacons are highly durable and small enough to be placed on any object of interest without attracting too much attention. They measure 1 inch by 1 inch by 0.4 inches (LWH). They come with sucker and sticker attachments.
Finally, the compact home hub measures 3.1 inches by 2 inches by 0.6 inches (LWH), so you can place it anywhere in your home.
Felcana Technical Specifications
Now that you know what Felcana looks like, it is time to go over its key technical specifications and discover how well it does in terms of water and shock resistance, battery life, and other factors that shape its reliability.
Biteproof
With an IP67 rating, the Helix smart device and micro-location beacons can withstand bumps and bites and they are also protected from contact with harmful dust.
Waterproof
Both Helix and micro-location beacons can be safely submerged in water of up to 3.3 feet in depth for up to half an hour.
Battery
Helix is equipped with a rechargeable battery that can last between 7 and 14 days and takes 2-4 hours to recharge. The micro-location beacons come with disposable 1000mAh lithium coin cell batteries that can last for up to 18 months.
Communication Range
Helix and your smartphone can communicate over a distance of up to 220 yards (200 meters) while Helix and the home hub can communicate over a distance of up to 1,300 yards (1,200 meters). Using your smartphone, you can manually set the micro-location beacons' communication range to anywhere between 0.1-11 yards (0.1-10 meters).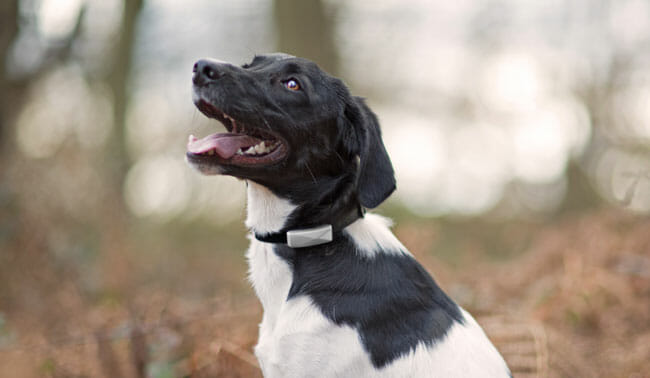 Sensors
The Helix smart device is equipped with a 9-axis accelerometer and thermometer, thus providing accurate activity data and temperature readings.
Night Light
Making it easier to keep an eye on your pet at night, the Helix device features a LED light that you can easily activate using the dedicated Felcana app.
App Compatibility
The Felcana app is currently compatible with iOS 10.0 and later versions.
Felcana App
Everything you want to learn about your pet's activity and wellness is available in the well-designed Felcana mobile app. The app is available free of charge, so your friends and family can use it as well. Unfortunately, the app is only compatible with iPhones and iPads at the moment, but an Android app is in the works. For home use, Felcana also offers a web app.
The apps provide a fact file for your pet, which brings all the obtained data to one place. The convenient dashboard allows you to view daily, weekly, and monthly records that let you easily observe changes in activity and behavior. The Felcana team is currently working on an app upgrade that will allow Felcana to provide instant professional advice whenever you need it.
Felcana Features
So far in this Felcana review, we have mentioned some of the most prominent characteristics of this pet health and activity monitoring system and talked about its primary functions. Now it is time to provide a clearer, more detailed overview of its key features. Join us as we explore how Felcana provides insight into your pet's wellness.
Accurate Activity Data
Felcana monitors your pet's activity 24/7 and continuously provides updates available within the dedicated app. The information collected and provided includes clinical-grade data that is easily interpretable, so it can be of use to both you and the vet. Data accuracy is ensured by the use of a 9-axis accelerometer and artificial intelligence is employed to conduct statistical analysis and recognize your pet's unique traits and activity patterns.
With Felcana, you get to learn exactly what kind of activity your pet engages in (jumping, walking, running or trotting) and observe the intensity, duration, and frequency of the activities.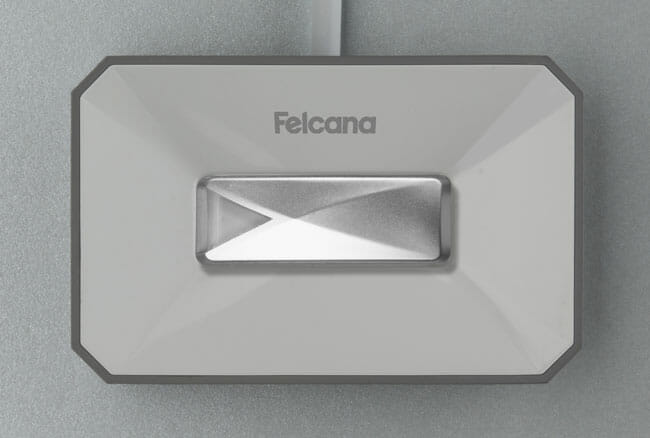 Temperature Monitoring
Knowing if your pet is hot or cold can help you take better care of his or her health. With the built-in thermometer, you can always keep an eye on the ambient temperature and ensure your pet is in an environment that benefits his or her well-being.
Behavior Tracking
What separates Felcana from most other pet activity monitors on the market is the use of micro-location beacons. These handy devices can be placed on objects of interest to accurately monitor behavior. By sticking them onto the food bowl, the water bowl, the bed, the litter box, and the pet flap, you can keep track of your pet's eating, drinking, sleeping, and toilet habits and find out when he or she enters or leaves your home.
Apart from using beacons on pet-related objects, you can distribute them across your house or apartment, so you can find out which rooms your pet visits when you are away.
Early Detection Of Health Problems
With accurate data on activity duration and levels as well as behavior patterns, it is easy to detect unusual changes that may point to potential health issues. Thus, Felcana allows for early detection, which is the key to successful treatment and keeping your pet healthy.
Separation Anxiety Detection
Many pets suffer from separation anxiety and Felcana lets you easily find out whether your cat or dog is among them. By providing information on what your pet does when you are away, like whether your friend rests and sleeps or nervously paces around your home, Felcana lets you know if your friend experiences any level of anxiety when he or she is home alone.
Notifications
Not only does Felcana allow you to observe changes in activity and behavior yourself by browsing the collected data, but it makes sure you notice undesired changes on time. It provides notifications when abnormal activity is detected and lets you instantly become aware of potential health risks and issues.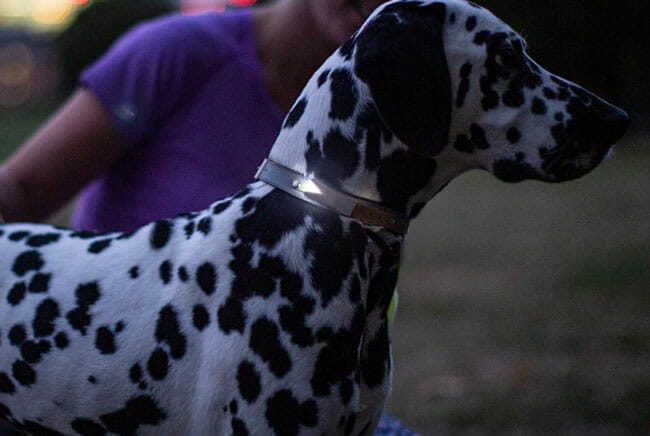 Felcana Coverage
As explained previously in this Felcana review, this device does not keep track of your pet's location. Thus, it does not have a specific coverage. You can use it anywhere you like and take it with you on your travels, as it can work anywhere on the globe.
How Much Does Felcana Cost?
Felcana pet health and activity monitoring system costs £69.99 (around $92). Currently, it can only be purchased in the UK and it comes with free shipping throughout the country. If you are not completely satisfied with the system, you can return it within 14 days and receive a full refund. For carefree use, the manufacturer provides a 1-year limited warranty.
Felcana Pros & Cons
Knowing the biggest strenghts and weaknesses of Felcana can help you decide if it is the right pet tracker for your furry friend. Here is a quick overview of its pros and cons.
Pros
Waterproof and biteproof
Equipped with a 9-axis accelerometer/thermometer
Provides detailed, accurate, clinical-grade activity data
Keeps track of your pet's eating, drinking, sleeping, and toilet habits
Helps detect health problems on time
Reveals separation anxiety issues
Monitors ambient temperature
Provides notifications about abnormal activity
Works around the world
Comes with no monthly fees
14-day money-back guarantee
1-year warranty
Cons
No Android app
Not available outside Europe
Bottom Line
Felcana is a smart, clinical-grade pet health and activity monitor that provides accurate data regarding activity intensity, duration, and frequency, as well as full insight into pet behavior patterns. It is a highly advanced tool for keeping track of your pet's exercise levels and well-being and it far surpasses many of its competitors in terms of precision and the scope of relevant data it provides.
From abnormal activity notifications and early health issue detection to separation anxiety awareness and insights into behavior habits, Felcana offers everything you need to get to know your furry friend even better and make sure he or she stays healthy and happy for a long, long time. The only problem is that Felcana is not available outside Europe. If you live in the United States we recommend you check out Fi Tracker that might be a better choice for you.