Pawtrack Review
Advertiser Disclosure
This website features affiliate links. For purchases made via these links, we earn commissions that allow us to keep producing helpful content. To find out more
click here
.
Close
Pawtrack is a GPS collar primarily designed for cats, but it can also be used for smaller dogs like dachshunds. It was designed and manufactured by Pawtrack Ltd, a company founded back in 2010 in Dartmouth, England. 
Read this comprehensive Pawtrack review to learn more about the device and its capabilities and determine if it fits your feline friend(s).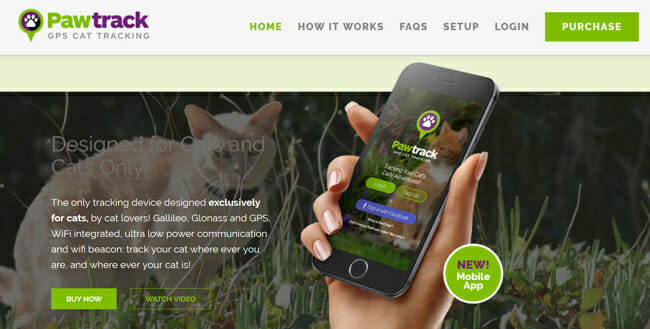 How Pawtrack Works
While your cat is out and about, Pawtrack will take his or her position every 6 seconds, store the information inside the collar, and upload it automatically so that you can view it through your online account or Pawtrack app. In case you do not want to wait for automatic positioning, you can always click the Update button and receive the current location of the device.  
You can track multiple cats from a single account with their GPS positions being displayed on Google Maps or even Street View. You can also set various alerts to let you know when your pet is coming/leaving home or warn you when the battery starts running low.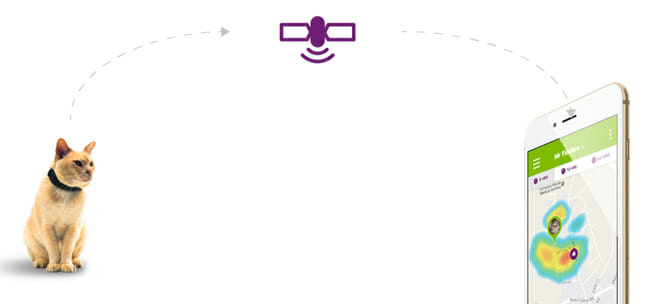 Pawtrack provides you with three different ways to observe your tracking history, including: 
Playback – Replays your time-stamped positions and gives you information about your cat's whereabouts at any given moment;

Path – Creates a lined route of your pet's movement;

Heatmap – Reveals your cat's favorite hiding places by marking regularly visited areas with red indicators.

 
In case you get close to your cat but still cannot see him or her, you can always activate the Beacon feature through your app, which makes the collar emit a distinct signal picked up by your device and translated into percentages that tell you whether you are getting closer or further away.  
Since the collar comes with a Wi-Fi antenna, it can detect your home Wi-Fi and shut down once your cat comes back home, prolonging battery duration. The device will wake up every now and then to make sure it is still connected to your home Wi-Fi. 
The setup process is rather simple even though it includes a lot of steps and might appear intimidating at first. Once you have your Pawtrack unit, all you have to do is download the app, set up your account and home location, add your first cat and link your Pawtrack, select the size of the collar, get a GPS position, and connect to your Wi-Fi.  
Pawtrack Design
Pawtrack features a very robust and sleek design dedicated to removing any unnecessary components that could hinder your cat's habits and routines. Curable plastic and strong webbing were combined to produce this durable collar that can follow your pet on any adventure without fear of any serious damage or malfunction due to physical trauma.  
The collar comes in small (18-22cm), medium (23-26cm), and large (27-30cm) sizes and can be adjusted even further for your pet's optimal fit and comfort. Note that even the small size is too big for kittens so it is not recommended to use the collar if your pets are still too young. Having said that, the unit weighs only 35g.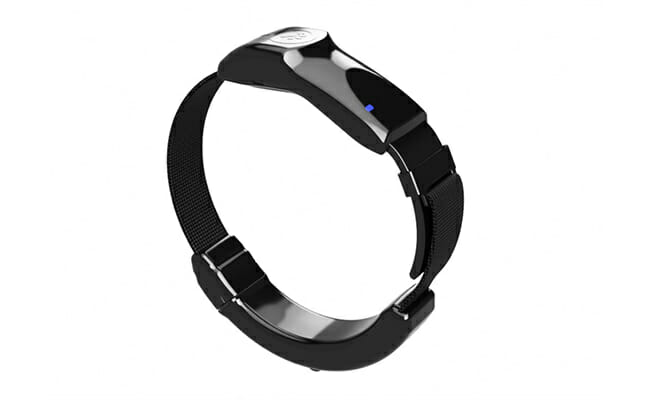 The GPS antenna is positioned at the back of your cat's neck thanks to the collar's forward-thinking design. This means it will constantly face the sky instead of the ground, which is the case with many other pet trackers currently on the market.  
In order to use the Pawtrack collar properly, you need to know what the different indicator lights mean:
Blue, once every 5 minutes – Your collar is in the Wi-Fi mode;

Red, once a second – Your collar is not on the network and should connect within a few minutes;

 

Red, twice a second – Your collar is searching for a new GPS position;

Red, once every 10 seconds – The collar is on the cellular network and everything is working properly;

 

Multicolored lights – Your battery is running low.
The collar comes with two detachable batteries, which provides you with continuous tracking since you can use one while the other is recharging. They are easily recharged via the provided charging station that draws power from an available USB socket on your computer or similar devices.  
Finally, Pawtrack is designed to release automatically under a force of 15kg. 
Pawtrack Technical Specifications
In this section of our Pawtrack review, we will go over some of the most important technical features provided by Pawtrack.  
GPS Tracking Module
The unit combines GPS, GLONASS, Galileo, Wi-Fi, and beacon tracking to provide users with one of the most accurate GPS pet trackers on the market. This is greatly aided by the previously mentioned fact that its GPS antenna is constantly pointed toward the sky.  
Battery
As stated in this Pawtrack review, the unit comes with two detachable batteries that allow you to use the device without any unnecessary interruptions. The battery life is around 2 days and it takes around 2 hours for a full recharge.  
Waterproof
As indicated on the official website, the Pawtrack collar is splash-resistant, which means it is NOT waterproof. In other words, it will be able to handle rain and accidental splashes but should not be immersed in water completely for extended periods of time.  
Localization
Pawtrack should work in most countries regardless of your mobile provider. You can find the full list of available countries (171 at the moment) and mobile providers on the official website. In other words, you can take your feline friends across borders without any fear of losing them due to a malfunctioning pet tracker. Many of the Pawtrack reviews found online claim that the collar only works in the US, which is simply not true.   
Pawtrack App
The Pawtrack app is easy to use and displays the current location of your pet in a clear way. As mentioned in this Pawtrack review, there are three ways to view its tracking history, including Playback, Path, and Heatmap. You can also use the app to manage your settings regarding notifications, geo-fence boundaries, and other important features.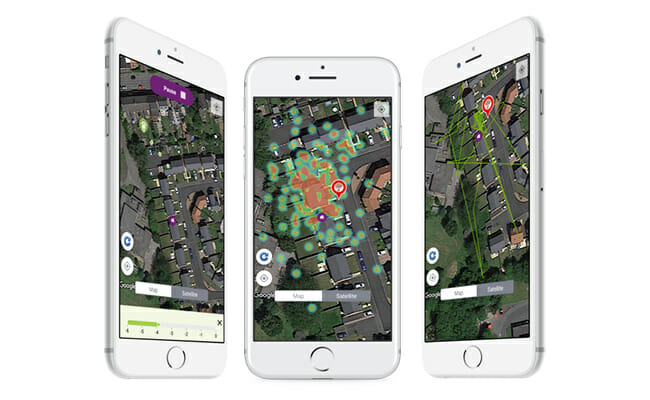 The Pawtrack app also allows you to share your pet's daily activities with your friends or simply download the selected time period as a CSV file in case you want a permanent memory. The file will be sent to your specified email address.  
Apart from geo-fencing capabilities, the collar comes with a tracking beacon that informs you where your cat is hiding in case you fail to find his or her favorite hiding spot. The app is available for both Android and iOS devices. 
Pawtrack Features
Pawtrack offers a variety of different features that make it easy to use while allowing you to keep an eye on your pet at all times. With that in mind, let us go over the most prominent capabilities offered by this collar and see if it justifies the price tag.  
4 Levels Of Tracking
As we already mentioned in this Pawtrack review, the unit implements GPS, GNSS, Galileo, and Wi-Fi tracking in order to provide you with precise readings at any given moment. 
Robust & Sleek Design
The unit is made of hard plastic and tough webbing and should be able to withstand any ordeal your cat decides to put it through without any problems.  
Intuitive & Modern Mobile App
The Pawtrack mobile app is easy to use and it gives you full control over the collar with numerous features that facilitate the search for your little hellions. The app is available for both Android and iOS users.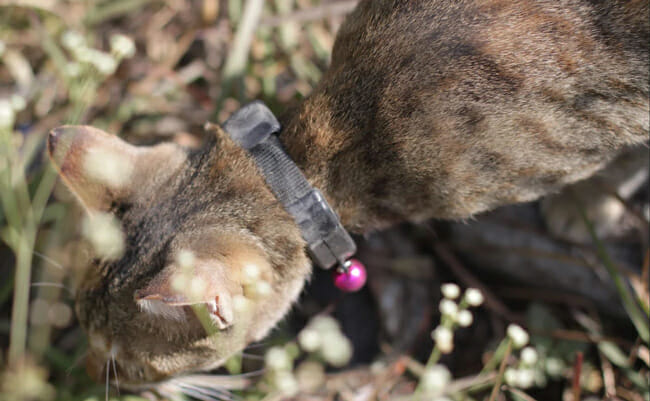 2x Rechargeable Batteries
The built-in battery can be removed for recharging while you are using the second one so you are essentially provided with continuous tracking without any interruptions. 
Geo-Fencing
Pawtrack allows you to set up borders around your house or any other area and receive notifications when your cat leaves the perimeter or comes back.  
Global Coverage
Pawtrack currently works in 171 countries of the world and covers a wide array of mobile operators. To check for your country/operator, consult the comprehensive list on the official website. 
Multi-Cat Tracking
Pawtrack allows you to track multiple felines using just one account.   
Pawtrack Coverage
As already stated in this Pawtrack review, the collar currently works in 171 countries and covers pretty much any mobile operator you can think of. Having said that, you will receive your readings through the mobile app so you are limited to areas with signal reception. In order to make sure your country is covered, please check the list provided on the company's official website. 
How Much Does Pawtrack Cost?
Pawtrack costs £49.99, which is around $63. The unit comes with a 12-month warranty and you can even return it up to 14 days from the date of purchase. In case you want to return the collar, simply contact the company's customer support team.
Pawtrack Pros & Cons
Knowing the biggest strenghts and weaknesses of Pawtrack  pet tracker can help you decide if it is the right pet tracker for your furry friend. Here is a quick overview of its pros and cons.
Pros
4 tracking levels 
3 different sizes 
Durable and modern design 
2 rechargeable batteries 
Global coverage 
Geo-fencing 
Multi-cat tracking 
Intuitive mobile app 
Budget-friendly 
12-month warranty 
Cons
Not ideal for isolated areas 
Bottom Line
Pawtrack is a complete GPS tracker equipped with the most modern technologies aimed at tracking and locating your feline friends at any given moment. The collar comes with 4 different tracking techs that allow you to pinpoint the location of your cat no matter how well he or she tends to hide. The Beacon feature will even show you percentages to indicate whether you are moving toward or away from your cat.  
The geo-fencing feature comes with numerous alarms and indicators that inform you when your pets leave the perimeter or come back home. The rechargeable batteries can be interchanged to provide you with constant tracking. Finally, the unit can be used pretty much anywhere in the world so you do not have to worry about diminished performance across borders.  
Bottom line, Pawtrack is a very impressive unit for cats of all sizes and even smaller dogs and is definitely one of the better choices currently on the market.