PitPat Review
Advertiser Disclosure
This website features affiliate links. For purchases made via these links, we earn commissions that allow us to keep producing helpful content. To find out more
click here
.
Close
PitPat is a British company founded in 2014 in Cambridgeshire. The main idea behind the project is "connecting dogs to the Internet" and allowing their owners to monitor their activity levels, caloric intake, rest cycles, and current weight through one simple app.
This PitPat review will outline the main features of the device and the accompanying app, talk about its design and technical specifications, and determine the overall price-to-value ratio based on the current pricing policy. Keep reading to find out how PitPat can elevate your pet care to a whole new level.

How PitPat Works
PitPat is an activity monitor designed specifically for dogs and engineered from the ground up in the company's facilities in the UK. Many low-quality dog monitors and trackers implement technologies designed for humans, which creates a perfect breeding ground for confusion and inaccurate data. On the other hand, PitPat is not just another re-purposed human monitor created for some extra profit.
The proprietary software algorithms and electronics are able to detect and separate different pet actions in your reports. During the development process, the technicians researched and observed movement patterns of various breeds, which allowed them to calibrate the device to differentiate between walking, running and playing.
This is achieved by monitoring the natural gait motion of your dog and observing differences in intensity and exertion. If PitPat detects longer frequencies of running, walking, and then stopping with a frequent change of direction, this will be classified as playing. Before classifying any activity, the device monitors your pet in 5-10-minute intervals to determine consistency and regularity. This allows it to recognize owner-initiated exercise, which is counted toward the goal, as opposed to your pet just messing around the house.
Even though PitPat cannot detect sleeping directly, the software "knows" when your pet is not moving (this is called resting in the reports). Therefore, if your dog wakes up or has a restless night, the device will spot it and include it in the report. What this means is that PitPat also monitors your pet's sleep quality (indirectly) and nocturnal activities.
PitPat is NOT a pet tracker since it does not feature any GPS technology. This is a compromise the company decided to make in order to provide users and their pets with an extremely lightweight monitor with an impressive battery life. Many potential users think that PitPat features some sort of tracking technology since the official site mentions "distance" on the homepage. However, this is referring to the distance your pet covers each day – the recorded number of steps multiplied by the average stride length of your chosen race.
Once PitPat is safely attached to your dog's collar or harness, you should simply download the app from Google Play or Apple App Store and sync it with the device. When you wish to transfer the reports to your phone via Bluetooth, just press the paw button on the PitPat device. PitPat can store up to one week of data, so it is important to sync it with your phone at least on a weekly basis.
PitPat Design
As we already mentioned in this PitPat review, the company made its pet monitor as small and lightweight as possible. There are two versions of the device, but the shop section on the official website only features the later model (PitPat 2), which measures 40 x 30 x 15mm and weighs only 16g. Your dog will not even notice the device, but the manufacturer still does not recommend using it with puppies under 12 weeks of age. The device is made of extremely sturdy plastic and rubber.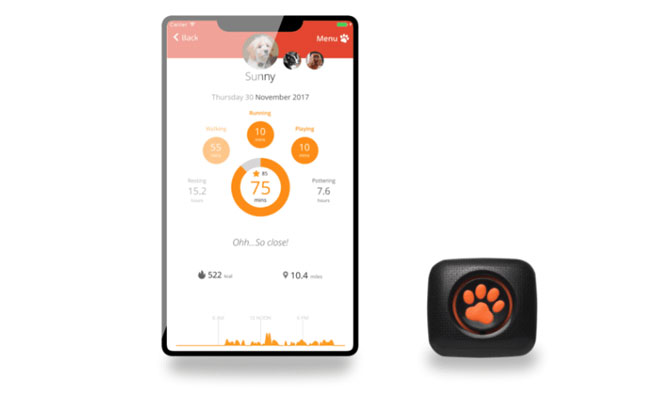 PitPat can be attached to any collar or harness using a super-strong parachute Velcro that wraps around it. It is very comfortable for your pet, it will never come off, and you can remove it quite easily whenever you choose. If your dog's collar is wider than 30mm, you can purchase a longer Velcro set on the official site.
PitPat is a black rectangular pet monitor with a big orange paw in the center. As such, it goes well with pretty much all collars and harnesses, regardless of the color and design.
PitPat Technical Specifications
Now that we know how PitPat looks and works, let us go over some of its technical characteristics:
Shockproof
PitPat is officially not shockproof, but its rugged design and sturdy materials guarantee a long lifespan even with the most adventurous of pets. The inner electronics are well-protected from external trauma, so even if your pet manages to split the front, the device will still function without any problems.
Waterproof
PitPat has an IP-67 rating, which means it can be completely submerged in 1m of water for a period of 30 minutes before the moisture starts penetrating the housing. The official PitPat FAQ, however, claims that the device is completely waterproof, which is not the case. The IP ratings do not account for water pressure and prolonged exposure to moisture. On the other hand, the device is absolutely protected against dust, sand, gravel, and other fine particles.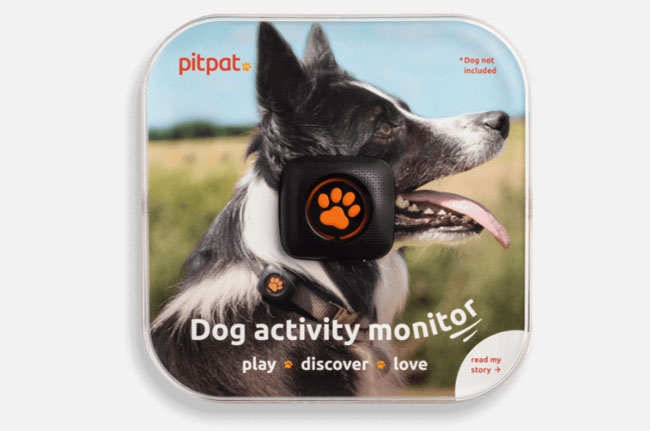 Battery
PitPat 2 uses a regular CR2032 single-use battery that should be able to power it for more than a year. Once the battery runs out, simply replace it and you will be good for another year. With this in mind, you never have to recharge the device or fear it may run out of juice and leave you without any data for that period.
App Compatibility
PitPat comes with its proprietary app that can be used on all mobile devices with Bluetooth 4.0 and Android 5.0+ or iOS 9.0+. The app is absolutely free and you can even use some of its features without the actual monitor.
PitPat App
As we already mentioned in this PitPat review, you can use the accompanying app on all mobile devices released in the last four years.
Once you download the data from your PitPat device, the app will show your pet's activity and differentiate between walking, running, playing, resting, and pottering. Every minute of recorded activity goes toward the set goal and you will naturally be able to see when your dog reaches it. The app will show the traversed distance and spent calories as well.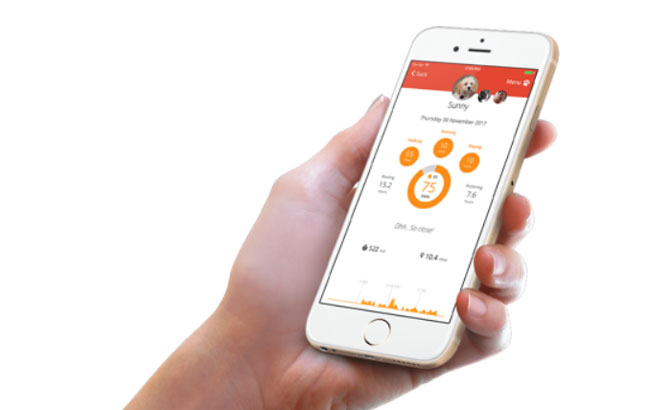 PitPat app enables you to monitor and manage your dog's weight and keep a detailed history of any changes over time. Guided by your vet, you can set your pet's ideal weight and the algorithm will provide you with a time estimate based on his or her average activity levels. There is a quick quiz that will allow you to find out if your dog is overweight without any measuring.
Finally, as your dog meets the set goals, your app will award you with certain badges and a corresponding number of points. These points can then be used in the prize store on the official site to snag some extra prizes – from chew toys and slow feeder plates to a gold-colored version of PitPat.
PitPat Features
PitPat is a very simple device without any super fancy features and soundbites. It is designed for one thing and it does it perfectly. Having said that, let us go over PitPat's most prominent features:
Activity Monitoring
As stated in this PitPat review, the device was designed to monitor the overall activity levels of your dog and generate detailed reports for your phone or tablet. After attaching the devices to your pet's collar, all you have to do is press the big orange paw button on your PitPat and the collected data will be instantly transferred.
Indicator Light
When you press the paw button, the light on the device will start flashing. This is the only purpose of the implemented light indicator and it should never flash outside of the data syncing process.
Alerts
PitPat was created to make your pet care as effortless as possible. The app will let you know when something important happens, so you do not have to worry about missing anything. For example, you will receive an alert when your dog reaches the set goals or when his or her weight drops 10% or more.
How Much Does PitPat Cost?
PitPat dog monitor costs £39.00 and comes with free shipping within the UK. Alternatively, you can purchase a PitPat Life subscription for only £4.00 per month and receive the dog monitor as a part of your staring package.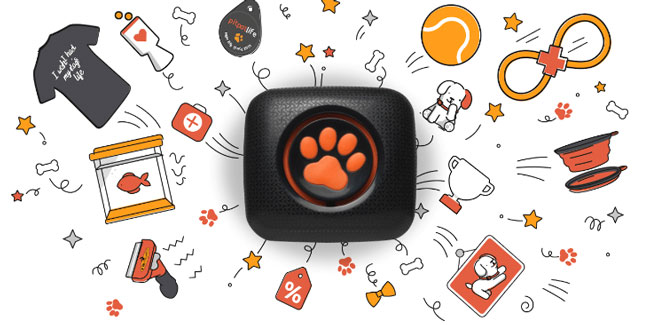 Apart from the device itself, the Life subscription provides you with numerous discounts and the aforementioned points & prizes system is exclusive to this option. The minimum term of membership is 12 payments.
PitPat Life comes with a 21-day money-back guarantee and the device features a full 1-year warranty against any defects in materials or workmanship.
PitPat Pros & Cons
Knowing the biggest strenghts and weaknesses of PitPat pet tracker can help you decide if it is the right pet tracker for your furry friend. Here is a quick overview of its pros and cons.
Pros
Small & lightweight
Replaceable battery
1 year of battery life
3-axis accelerometer
Bluetooth 4.0 connectivity
Parachute-grade Velcro
Impressive activity monitoring
Weight monitoring
Convenient alarms
Free App for Android and iOS
Badge system with points and prizes
Cons
No GPS
Not 100% waterproof
Bottom Line
This PitPat review revealed an impressive pet monitoring device that will keep you up-to-date with your dog's activity levels, sleep cycles, spent calories, and overall weight. Apart from tracking all these factors on your phone, you will also be able to set certain goals after consulting with your vet. The device itself features a very robust build, an IP-67 rating for water resistance, and a replaceable battery that should last for around a year. Basically, PitPat is an excellent choice if you only want to monitor your dog's activity without tracking their location in real-time.