Tagg Pet Tracker Review
Advertiser Disclosure
This website features affiliate links. For purchases made via these links, we earn commissions that allow us to keep producing helpful content. To find out more
click here
.
Close
Tagg is a GPS pet tracker for dogs and cats that tracks your pet's location and activity. It was created by Whistle Labs, a company based in San Francisco that has been providing innovative, award-winning pet tracking solutions since 2012.
The tracker works throughout the US, with virtually no limits in terms of its communication range. It offers detailed activity records and boasts great accuracy and battery life. Keep reading our Tagg review to discover all the key facts about this popular pet tracker.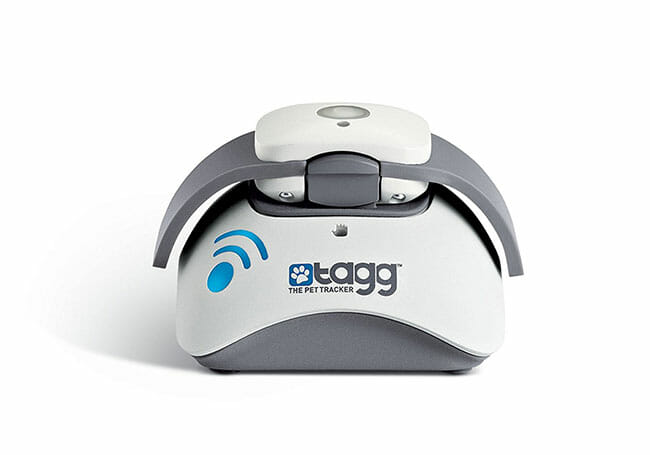 How Tagg Works
Tagg pet tracking system consists of a tracking unit attached to your pet's existing collar and a base station that functions as a charger. The tracker relies on GPS for location tracking and Verizon wireless network for communication between the tracking unit and your smartphone. It comes with a dedicated smartphone app designed for location and activity tracking.
The device lets you set up a safe zone for your pet and receive notifications when your pet leaves the defined zone. You can opt for email and/or text notifications and use the interactive map provided in the dedicated app to view your pet's location and the distance between you. The tracker checks your pet's location at least once every 12 minutes when in the safe zone mode and location information can be updated more frequently in the tracking mode.
Tagg relies on the Verizon Wireless 1x network, but you can use any other service provider for your phone.
Tagg Design
Tagg tracking unit is rather small and light and it features a curved design that resembles a watch. Two color options are available: white-gray and light gray-gray.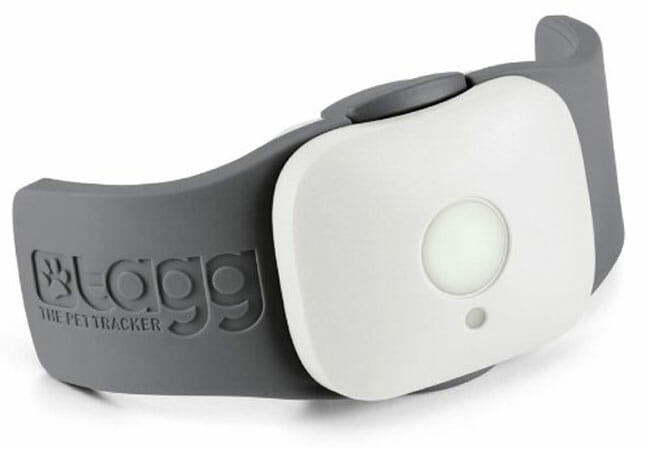 The device measures 3.18 inches in height by 1.49 inches in width by 0.77 inches in depth. It weighs 1.16 ounces and the recommended pet size is 10 pounds. However, our tests have shown that the device can be suitable for smaller cats and dogs as well, although it may be a good idea to attach the device to a harness it the pet weighs significantly less than 10 pounds.
Tagg can be easily attached to your pet's existing collar or harness with the use of the provided clip and straps. The device comes with 2 straps that fit different collar sizes. The clear strap is designed for smaller collars and the gray strap fits larger collars.
Tagg Technical Specifications
In the previous section of our Tagg review, we covered the basic physical characteristics of this pet tracker, including its size and weight. Now we will focus on other important technical aspects of the device, including its resistance to water and impact, battery life, accuracy, and distance over which it can work.
Durability
Tagg tracking unit is not shockproof, but it is well-designed and made of durable materials. That being said, it may not be the best fit for extremely energetic and active dogs.
Waterproof
The manufacturer does not provide exact information on the tracker's IP waterproof rating. However, it does state that the device is waterproof and that your pet can even swim while wearing the tracker.
Battery
Tagg pet tracker comes with a rechargeable battery that can last up to 7 days on a single charge. When your pet is near the base station, the tracker goes into Power Saving Mode, thus extending battery life.
Communication Range
The device's communication range is only limited by its ability to reach GPS satellites and the availability of a wireless network. It can work over any distance within Verizon Wireless 1x coverage.
Accuracy
Tagg is accurate within at least 25 feet, with a 95% confidence level. Accuracy depends on the surroundings and decreases in crowded and urban areas.
LED Light
The tracking unit features LED lights that provide battery and power status information and can be of use when tracking after dusk.
App Compatibility
Tagg comes with a free smartphone app that is compatible with iOS 10.0 and later and Android 5.0 and above.
Tagg App
In the past, Tagg pet tracker came with a dedicated smartphone app known as the Tagg app. Now, it uses the Whistle app that is not just well-designed and easy to navigate but allows you to have all the features at your fingertips. It lets you create a profile for your pet, including your pal's photo and basic information, access an interactive map while tracking, view your pet's last known location, check battery status, and view activity history.
You can further modify settings related to the safe zone, notifications, and more. You can share your pet's location with friends and family as well.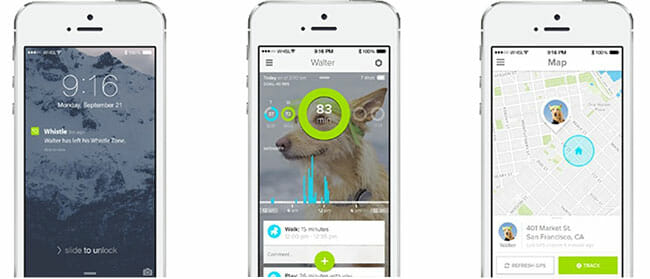 Tagg Features
Tagg GPS pet tracker has a modest feature set but does cover all the basics and provides both location and activity tracking features. In this section of our Tagg review, we will provide descriptions of the basic tools available with this pet tracker.
Track Function
With the Track function, you can follow your pet when he or she is outside the safe zone by using the provided interactive map. Location information can be updated every 3 minutes.
Customizable Safe Zone
The safe zone, also referred to as the Whistle zone, represents the area around your home, office or any other location where your pet can safely move. It is centered in the base station and takes the form of a circle that can be custom-defined in terms of size. You can modify the safe zone or choose a new safe zone location at any time.
Trip Mode
If you are traveling with your pet and do not want to receive notifications during that time, you can use the Trip mode to disable notifications and tracking for 15 minutes. You can restart the Trip mode as many times as you wish.
Activity Monitoring
Tagg uses a built-in accelerometer to monitor your pet's activity. It lets you view daily activity stats and compare activity stats over several weeks. You can discover how much time your pet has spent resting, walking, and playing and define custom activity goals to make sure your pet's activity needs are met.
Multiple Caretakers
The tracker allows you to share your pet's location and activity with friends and family. A single pet can have up to 6 caretakers.
Tagg Coverage
Unfortunately, Tagg pet tracker does not work abroad. It only works within the US, including the continental US, Hawaii, and parts of Alaska. Its coverage is limited by the availability of Verizon Wireless 1x network.
How Much Does Tagg Cost?
Tagg GPS pet tracker costs $120 if you opt for the white version of the device and $118 if you opt for the gray version. Included in the package are 1 tracking unit, 1 base station, 1 collar clip assembly, 1 power kit, and 1 quick start guide. The device comes with free shipping throughout the US.
In addition to the price of the device, you need to pay for the service plan, which costs $7.95 per month. The first two months are free. The device comes with a 90-day money-back guarantee.
Tagg Pros & Cons
Knowing the biggest strenghts and weaknesses of Tagg can help you decide if it is the right pet tracker for your furry friend. Here is a quick overview of its pros and cons.
Pros
Lightweight and waterproof tracking unit
Virtually unlimited communication range
Custom-defined safe zone
Activity monitoring
Text and email notifications
Trip mode
Multiple caretakers
7-day battery life
Power saving mode
90-day money-back guarantee
Cons
Only works within the US
Infrequent location updates
Not the most affordable option
Bottom Line
Tagg GPS pet tracker is small, lightweight, waterproof, and rather elegantly designed. It works throughout the US, over any distance within Verizon Wireless 1x coverage, but unfortunately, it does not work in other countries. It is easy to use and pretty accurate and offers neat activity monitoring features.
We are not too satisfied with 3-minute location updates and 12-minute location checks in the safe zone, but as long as your pet is not a natural-born escape artist keen on running away, the device's virtually unlimited communication range and long battery life should allow you to locate him or her rather easily, even with the less-than-timely notifications and location updates.