Trackimo Review
Advertiser Disclosure
This website features affiliate links. For purchases made via these links, we earn commissions that allow us to keep producing helpful content. To find out more
click here
.
Close
Trackimo is a US-based IoT company that provides its users with sophisticated tracking solutions with numerous proprietary (patent-pending) pieces of technology, including optimized and miniaturized integration of accelerometer, GSM, GPS, and sensors that optimize energy usage while providing smart data. Apart from this, the company also owns servers that dispatch info to apps and systems using minimal bandwidth.  
Having said that, Trackimo primarily focuses on tracking solutions for your valuables, vehicles, drones, shipments, heavy equipment, and even people. It also offers one device designed specifically for pets. Here, we will talk about the company's pet tracker, so keep reading our Trackimo review to learn all about it and determine if it fits your needs as well as those of your furry companions.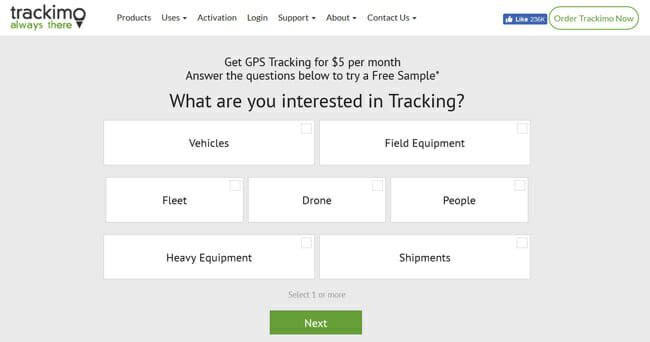 How Trackimo Works
Trackimo tracker utilizes the GSM cell phone network to dispatch information from the GPS tracker to your app. In the US, the company uses the T-Mobile IoT network for cell coverage. In other words, we are talking about a 2G tracker that functions perfectly as long as the T-Mobile network IoT is within reach. If you live in Canada or outside of any metropolitan area, the company recommends going with its Guardian 3G GPS tracker, but the overall design of this unit does not appear to be overly pet-friendly – it does not come with its own collar and can easily fall out of the attachment pouch.  
In order to pick up your pet's location, Trackimo GPS tracker needs to be outdoors to connect with GPS satellites. If the signal fades due to the lack of a clear sky, the device will switch to the available Wi-Fi signals and finally to cell phone tower triangulation. The app will inform you what the device is using at any given moment.  
Trackimo Design
Trackimo GSM tracker is very small and lightweight, measuring ½" in height and 1.4" in diameter and weighing just ¾ oz. It too requires a collar with an attachment pouch, but it is a bit smaller and lighter than the aforementioned 3G tracker, making it less likely to fall out along the way.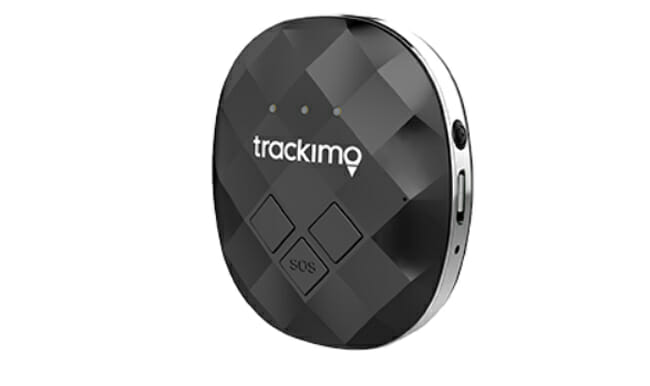 The device also comes with an SOS button that will send your pet's location to you and anyone you designated. In other words, if anyone finds your pet, they can simply press the SOS button to dispatch you in real time.  
Trackimo Technical Specifications
Trackimo GSM uses GPS to keep track of your pet outside and Wi-Fi or Bluetooth to monitor your pet indoors. The unit works worldwide as long as there is GSM 2G cell coverage. The battery life is around 96 hours, depending on usage, which gives you plenty of time to locate your pet even if he or she gets lost. The unit will notify you when the battery needs to be recharged.  
Trackimo App
The Trackimo app is very simple and intuitive and allows you to keep track of multiple pets at the same time. The main screen shows all the available tags (with a filter option), current date & time, and battery charge and allows you to set up tracking periods and fences as well as manage your subscriptions.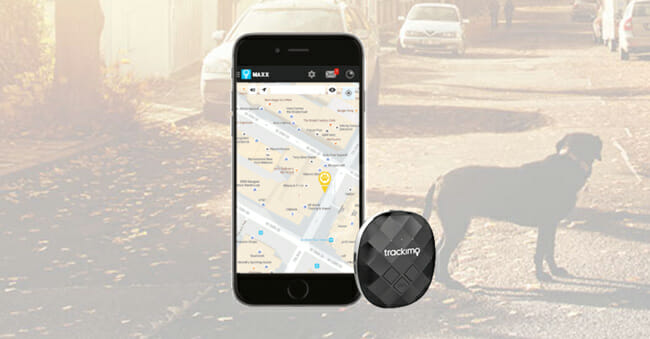 Trackimo Features
In this part of our Trackimo review, we will go over some of the most prominent features offered by this pet tracker: 
Battery
As we already mentioned, the battery life is around 96 hours, depending on the usage of the device.  
Small Alerts
Trackimo provides you with a wide variety of helpful alerts (up to 10 per month) via app notifications, text or email. You will receive these notifications when the device detects movement, location change, and more.  
Geo-Fencing
Trackimo pet tracker allows you to set up virtual fences around your home or yard and receive notifications when your pet exits the perimeter.  
Tracking History
You can view the historical location of your pet up to 1 year back.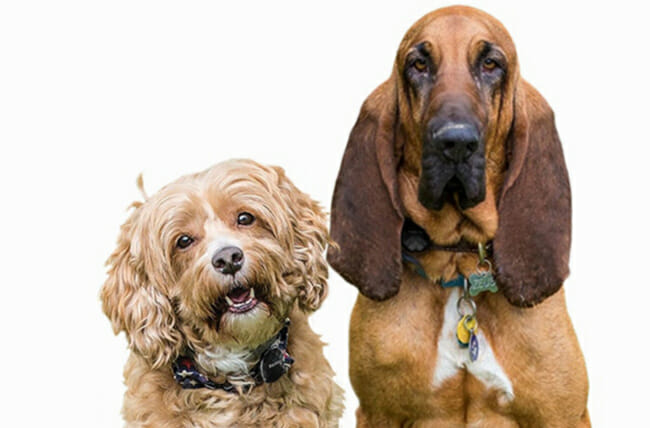 SOS Button
Once pressed, the SOS button will send a notification to all the designated individuals letting them know that the pet is lost. 
Family & Friends List
You can also add your friends and family to your personal Trackimo account to allow them to receive important notifications and help you find your pet.  
Global Coverage
Trackimo pet tracker works anywhere in the world as long as you have access to a GSM 2G network.  
Trackimo Coverage
As stated in this Trackimo review, the device will work worldwide as long as you have GSM 2D coverage. In other words, it will not cover rural areas without any cell signal reception.  
How Much Does Trackimo Cost?
Trackimo pet tracker currently costs $139.00 and comes with free shipping within the US. For international orders, shipping costs depend on location. The aforementioned 3G Guardian tracker costs $198.90. 
The company offers a 30-day money-back guarantee that starts the moment you receive your Trackimo device. Note that the company DOES NOT refund shipping fees and will charge you a shipping & handling fee of up to $35 per item. In case you fail to provide the original packaging, the company may also charge an additional $35 restocking fee. Refunds are usually processed within 14 work days. The device comes with 1 year of cellular service, after which you have to pay a fee of $60 per year. 
Trackimo Pros & Cons
Knowing the biggest strenghts and weaknesses of Trackimo pet tracker can help you decide if it is the right pet tracker for your furry friend. Here is a quick overview of its pros and cons.
Pros
Small and lightweight 
GPS, Wi-Fi, and Bluetooth 
Tracking history 
Geo-fencing 
96 hours of battery life 
SOS button 
Family & Friends list 
Intuitive app 
Cons
No collar  
Needs cellular network coverage  
Bottom Line
Considering the fact that Trackimo does not really focus on pet trackers, this is a pretty decent device for its price tag. The main problem we have with it is that it does not come with its own collar, relying on unreliable collars with attachment pouches. It also does not work in rural areas without proper cell network coverage. 
On the other hand, it does come with some pretty neat features, including geo-fencing, connectivity via GPS, Wi-Fi, and Bluetooth, SOS button, tracking history, and many more. Once we add a battery life of 96 hours, we get a pretty well-rounded unit and a decent investment for the price.