Gibi Pet Tracker Review
Advertiser Disclosure
This website features affiliate links. For purchases made via these links, we earn commissions that allow us to keep producing helpful content. To find out more
click here
.
Close
Gibi 2nd Gen GPS pet tracker is the latest product developed by Gibi Technologies, Inc., a California-based company founded back in 2011. It is small, lightweight, durable, accurate, and easy to use. It represents a new and improved version of the company's first pet tracker, with updated electronics that allow for greater precision and battery life. Discover whether it is the right choice for your pet in this objective Gibi 2nd Gen review.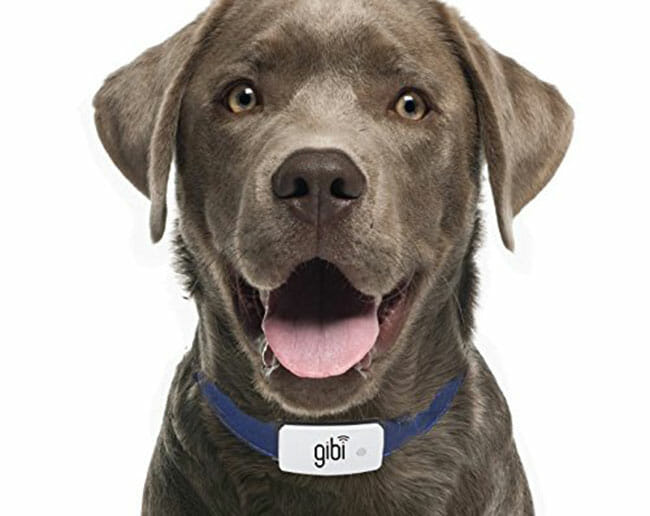 How Gibi 2nd Gen Works
Getting started with Gibi 2nd Gen is as easy as 1, 2, 3. You simply need to attach it to your pet's collar or harness, install the dedicated Gibi app, create a Gibi account, and you are ready to go.
The device uses GPS to determine your pet's location and employs cellular technology for communication. It enables you to set up safe zones for your pet and receive text and/or email notifications if your pet leaves the defined area. Locating your pet is made easy with the use of Google Maps, allowing you to view both your and your pet's location and the distance between you on an interactive map.
Gibi 2nd Gen Design
The tracker is small, white, and cuboid-shaped. It features a black Gibi logo, an ON/OFF button, and a light indicating the device's ON/OFF and battery charging status. It is attached to the pet's existing collar by threading the collar through the provided attachment clip and slipping the device onto the clip, making sure the device clicks into place.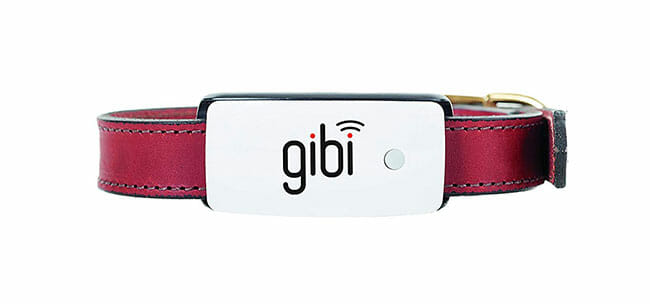 It measures 2.75 inches in height by 1.25 in width by 0.5 inches in depth. According to the manufacturer, it weighs between 6 and 7 US quarters, which amounts to about 1.2-1.4 ounces. Although the recommended pet size is not specified, it is safe to assume that if attached to the collar, it should fit dogs and cats weighing 8 pounds or more. It can be suitable for smaller pets if attached to a harness.
Gibi 2nd Gen Technical Specifications
In this section of our Gibi 2nd Gen review, we will focus on the key technical aspects of the device, with the most important characteristics being its durability, battery life, precision, and the distance over which it can work.
Shockproof
Gibi 2nd Gen is made with active pets in mind. It is durable, resistant to impact, and protected from contact with harmful solid particles (e.g. dust or mud).
Waterproof
The device boasts an IP67 rating, which means that it is not only resistant to occasional splashes but can endure submersion in water of up to 3 feet for up to 30 minutes.
Battery
Gibi 2nd Gen comes with a rechargeable lithium–polymer battery. The battery normally lasts for 2-3 days with location information refreshed every 15 minutes. Modifications in refresh rate can significantly affect battery life.
Communication Range
Gibi 2nd Gen does not have a limited communication range. It can work over any distance, as long as the device is within cellular coverage.
Accuracy
Designed to provide great accuracy even in urban and wooded environments, Gibi 2nd Gen is normally accurate within 10 feet, which is pretty great for a GPS pet tracker.
App Compatibility
The Gibi smartphone app is compatible with the latest versions of Android and iOS. The tracker also comes with a web-based app that works with virtually all computer and mobile browsers.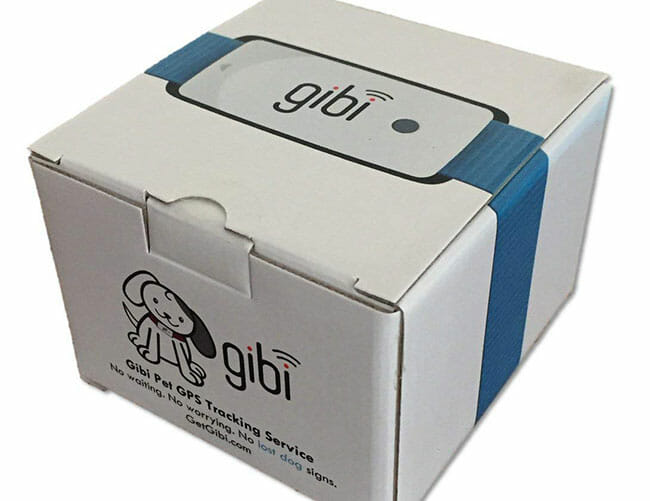 Gibi App
The Gibi smartphone app is available free of charge and allows you to track multiple pets at once. It lets you check your pet's current location, follow your pet via Google Maps, set up safe zones, share notifications with friends and family, and adjust settings, such as location refresh rate and alerts. Unfortunately, the smartphone app does not allow you to access the Pet History feature and view your pet's past locations. This feature is only available with the web-based app.
Gibi 2nd Gen Features
Gibi 2nd Gen does not offer an abundance of features. It does not monitor pet activity nor does it come with any special tools and extras. However, it does well when it comes to the basics. These are the essential features available with Gibi 2nd Gen.
Active Tracking
During active tracking, you can receive fresh location information every 30 seconds or less frequently, depending on your preferences. Using Google Maps, you can follow your pet relying on handy turn-by-turn directions.
Customizable Safe Zones
Gibi 2nd Gen allows you to create multiple fully customizable safe zones. The zones can be created in any polygon shape and can be as large or small as you wish. Notifications are sent when your pet leaves the safe zone.
Pet History
The Pet History feature allows you to trace your pet's recent routes with a map view of all the locations your pet previously visited.
Low Battery Alerts
The tracker does not only let you check battery status in the dedicated app but also sends low battery alerts, allowing you to know when it is time to recharge the battery.
Sharing
With Gibi 2nd Gen, you can share important alerts with friends and family by adding them to your contact list. Depending on the contact information you provide, they can receive text and/or email alerts.
Gibi 2nd Gen Coverage
Gibi 2nd Gen is only available for purchase in the US. However, the tracker works throughout North America, including the US, Canada, and Mexico. Its coverage is only limited by the availability of cellular networks. As long as your pet is located in North America, within cellular coverage, you can track his or her location regardless of whether you yourself are 5 feet away from him or her or halfway across the globe.
How Much Does Gibi 2nd Gen Cost?
Gibi 2nd Gen costs $129.99 and comes with free shipping all over the US. In your delivery, you get a Gibi GPS tracker, an attachment clip, a charging cradle, a USB cable, an A/C adapter, and a quick user guide.
In order for the device to work, you need to purchase a service plan. You can opt for the monthly subscription, which costs $9.99 per month, or go with the yearly subscription costing $99 per year, which amounts to $8.25 per month.
The device comes with a 90-day limited warranty.
Gibi 2nd Gen Pros & Cons
Knowing the biggest strenghts and weaknesses of Gibi 2nd Gen can help you decide if it is the right pet tracker for your furry friend. Here is a quick overview of its pros and cons.
Pros
Small, lightweight, shockproof, and waterproof
Accurate within 10 feet
Virtually unlimited communication range
30-second location updates
Works throughout North America
Safe zones
Location History
90-day limited warranty
Cons
Monthly costs are a bit high
Only available for purchase in the US
Unimpressive battery life
Does not monitor activity
Bottom Line
Gibi 2nd Gen is not what we would call a feature-rich GPS pet tracker, but it offers everything you need for efficient tracking, including accuracy within 10 feet, 30-second updates, turn-by-turn directions, a virtually unlimited communication range, great coverage, and text and email notifications. It could use a couple of extra features and its battery life could be better, but other than that, we are quite pleased with what this pet tracker has to offer.