PetTracer Review
Advertiser Disclosure
This website features affiliate links. For purchases made via these links, we earn commissions that allow us to keep producing helpful content. To find out more
click here
.
Close
PetTracer is a cat tracker that combines radio-frequency with GPS tracking to monitor your pet's location both inside your home and in the great outdoors. It is also a perfect example of a device that comes with a built-in direction finder that can function even without GPS reception. 
Keep reading this comprehensive PetTracer review to learn more about this unique device and see if it works for your feline friends.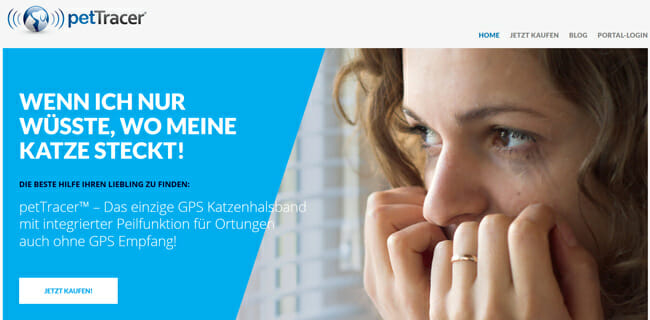 How PetTracer Works
PetTracer comes with high-precision GPS that allows you to monitor your cat's location once he or she exits your home or area around your house. Furthermore, it is also equipped with an integrated direction finder that helps you locate your pet in closed spaces like rooms and garages.  
PetTracer does not come with a dedicated app so you have to track your pet's whereabouts and activity through your personal account on the company's online portal. The digital map will show your pet's routes at any given time either in the form of a line or heat signature. If you track multiple cats, their movements will be marked with different (customizable) colors.  
PetTracer Design
The collar comes with all the necessary electronics required to track your cat and its robust design ensures longevity no matter how adventurous your pet may be. The collar weight only 34g, which is so lightweight even kittens can wear it the moment they grow into it. The collar comes with a nylon strap that allows you to modify the size of the unit. In other words, it is basically a one-size-fits-all product. Apart from the collar, you will also receive a HomeStation that can track up to 5 cats at the same time. Note that you need separate collars for every cat.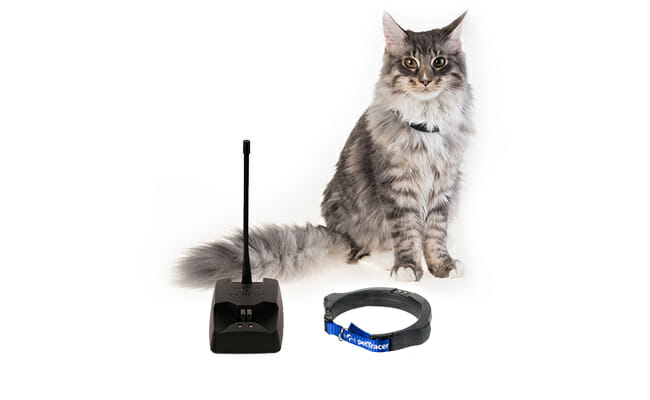 Weight is balanced evenly throughout the collar, which makes it very comfortable to wear. Its ergonomic shape even lets you attach it to your pet's neck over thick collars. The official site states that the unit is weatherproof, which should mean that it can withstand rain and similar outside influences. The integrated white LED light will help you locate your cat in low-visibility conditions or at night.  
Finally, the PetTracer collar is designed to auto-release if your cat gets into any kind of trouble in order to prevent accidental suffocation.  
PetTracer Technical Specification
As we already mentioned in this PetTracer review, the collar comes with an integrated GPS module but can also utilize radio frequencies to engage its direction-finding function. This allows it to track your pet outside of your home but also in areas where GPS cannot reach, including your house, garage, apartment, and other enclosed locations.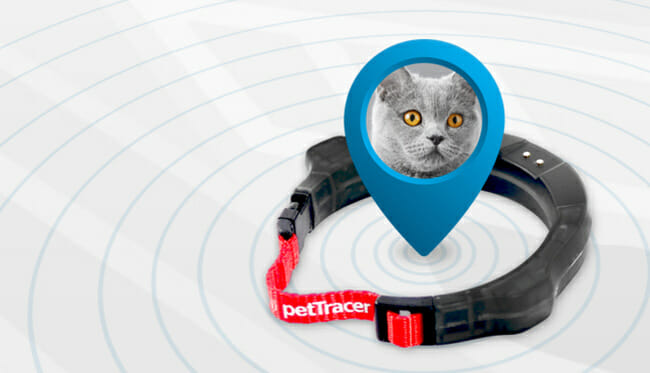 The battery can last around 30 days, depending on the overall activity of your cat and your selected GPS position interval.  
PetTracer Features
In this section of our PetTracer review, we will go over some of the most important features offered by the PetTracer collar to help you determine if this is the right solution for you and your cat(s).
High-Sensitivity GPS
PetTracer comes with an integrated GPS antenna that enables you to monitor your cat's location on your personal PetTracer account.  
Direction Finder
Apart from GPS, PetTracer also provides you with a radio-frequency direction finder designed to locate your pet indoors.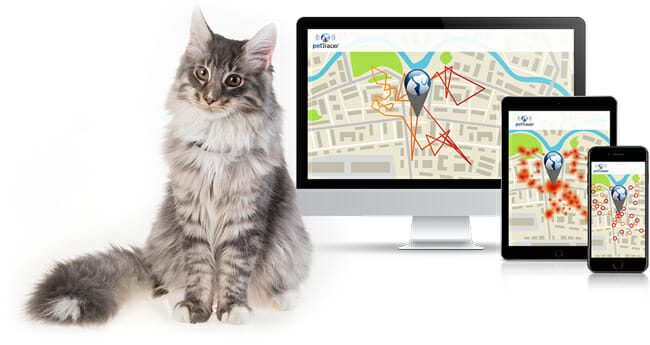 Durable Design
PetTracer is made of hard plastic with a tough nylon band for additional flexibility and comfort. This also makes it a one-size-fits-all unit so you do not have to think about sizing if you decide to purchase it.  
Lightweight
The unit weighs only 34g, which ensures optimal comfort regardless of the size of your cat.  
Safety Lock
The one-click safety lock will open the moment your cat gets into trouble.  
How Much Does PetTracer Cost?
The PetTracer set (GPS collar + HomeStations) currently costs CHF 198.00 and individual collars are sold for CHF 119.00. One Swiss Franc is worth $0.99 so the prices are marginally different when expressed in US dollars.  
PetTracer units, however, require a subscription. Here is a list of the available options: 
BASIC (12 months – CHF 108.00; 24 months – CHF 192.00; 36 months – CHF 252.00; 48 months – CHF 288.00) – PetTracer Set or a single collar

 

PLUS (12 months – CHF 216.00; 24 months – CHF 384.00; 36 months – CHF 504.00; 48 months – CHF 576.00) – Up to 5 cat collars

 
The subscription is NOT renewed automatically so there are no hidden costs or fees and you do not have to worry about missing the cut-off date and renewing your subscription without meaning to do so.    
PetTracer Pros & Cons
Knowing the biggest strenghts and weaknesses of PetTracer can help you decide if it is the right pet tracker for your furry friend. Here is a quick overview of its pros and cons.
Pros
High-

precision

 GPS 

 

Radio-frequency direction finder

 

Rugged and comfortable collar with an adjustable strap

 

Integrated LED light

 

Quick-release feature for extra safety

 

Only 34g

 

Up to 30 days of battery life

 
Cons
Requires a subscription

 

Min 1-year subscription

 
Bottom Line
PetTracer is an interesting pet tracker with a couple of attractive features and a bunch of information the manufacturer failed to provide. For example, we do not know anything about the coverage of the unit and all of the mentioned features are explained vaguely and sound more like a marketing strategy than actual features. We also do not like the idea of a mandatory subscription in order to use the product.  
Bottom line, this PetTracer review revealed a decent albeit costly unit that can track your pet inside your home as well as outside. The official website needs some work and the features offered by the device need to be explained better and complemented with some additional information we would like to have before making a purchase and potentially committing to a 1-year (or longer) subscription.