DOTT Pet Tracker Review
Advertiser Disclosure
This website features affiliate links. For purchases made via these links, we earn commissions that allow us to keep producing helpful content. To find out more
click here
.
Close
Described as the "Best invention" by MSN Money and included in "The Best 5 Pet Gadgets You Should Buy" by TechnoNerd, DOTT The Smart Dog Tag is a Bluetooth pet tracker for both dogs and cat.
In our objective DOTT pet tracker review, you will find all you need to know about how this affordable product works and what features it offers. We will provide you with detailed information about the key advantages and limitations of this interesting device, which does not only come with location tracking but enables owners to keep a record of their pets' activities too.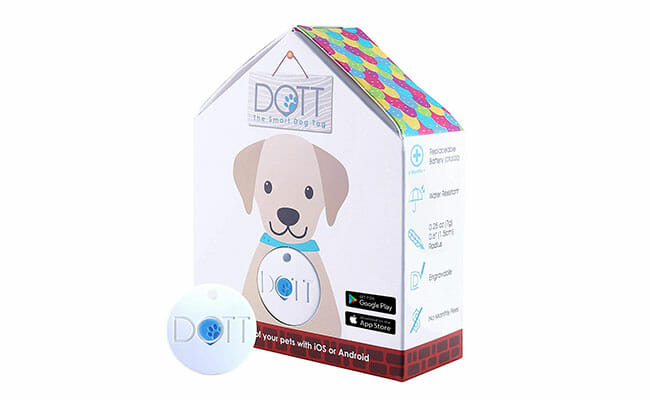 How DOTT Pet Tracker Works
DOTT pet tracker is a small tag that you attach to your pet's collar. In order to start using it, you need to have the dedicated DOTTpet app installed on your smartphone and you need to pair your smartphone with the tracker. This lets you use your phone as a "virtual leash" with a range of 350 feet (about 100 meters).
The app will send you a notification in case your pet goes out of range. If your pet goes missing, you need to report it in the app in order to enable the auto-tracking option, which will allow you to locate him or her. The DOTT tag on your pet's collar continuously emits a signal that can be picked up by your smartphone or by the smartphone of any other user of the DOTTpet app who is within 350 feet from the tracker. To increase the chances of locating your pet, you can expand your search network by sharing the DOTTpet app with family, friends, and neighbors. When the signal is detected, you will immediately be notified of your pet's location.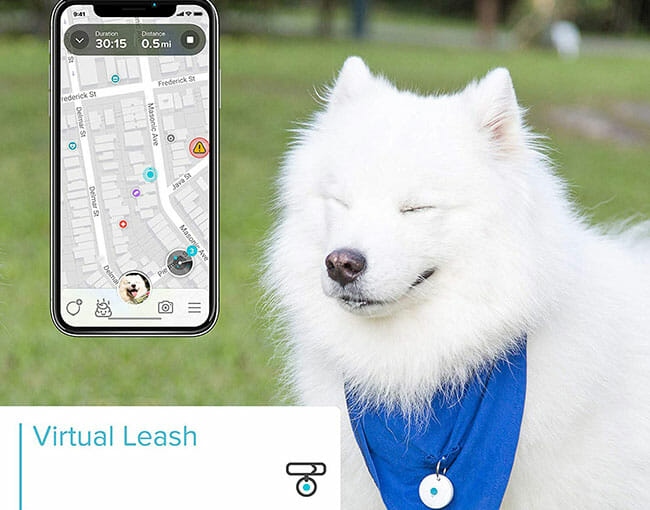 DOTT pet tracker communicates with your smartphone (and other nearby smartphones that have the DOTTpet app installed) by emitting a low-energy Bluetooth signal. This product relies on a community of DOTTpet app users in finding lost pets. The bigger the community, the better your chances of locating your lost pet.
With the DOTTpet app, you can also keep a record of your pet's daily activities, including walks, food intake, potty breaks, medication, and more.
DOTT Pet Tracker Design
DOTT pet tracker comes in the form of a small, round plastic tag. It is white and has a blue button in the middle. There is only one color variation available. Measuring 0.6 inches in radius (1.52 cm) and weighing only 0.25 oz. (7 grams), the tag can be attached to any type of collar with the metal ring attachment that comes with the device. The tag is laser engravable, so you can engrave your details on the tracker.
The information on the recommended pet size is not provided on the manufacturer's website. However, given the dimensions and weight of the device, we can safely assume that it can be comfortably worn by cats and dogs of virtually all sizes, including kittens and puppies.
DOTT Pet Tracker Technical Specifications
In this section of our DOTT pet tracker review, we talk about the technical characteristics of this affordable product, such as water and impact resistance and battery life.
Water Resistant
The manufacturer claims that the tag is water resistant but provides no official water resistance rating to support the claim. Even though your device should remain functional when exposed to rain or slight splashes, we would definitely not recommend using it when you take your dog swimming.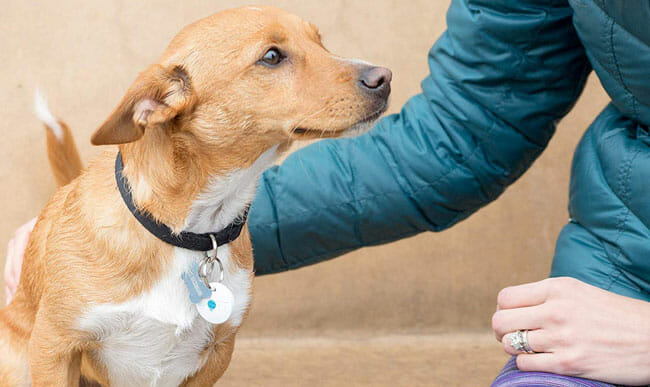 Shatterproof
According to the information provided on the manufacturer's website, the device can withstand a force of 900N. This is a useful piece of information for owners of fun-loving pets that enjoy rough play.
Battery Life
DOTT comes with a replaceable CR2032 battery with a lifespan from 6 to 9 months, which is very good for a Bluetooth pet tracker. However, with frequent use, the battery on your device may not last that long. Fortunately, batteries of this type are inexpensive and easy to replace.
Communication Range
The maximum communication range between your smartphone and the tag is 350 fee, which is pretty impressive for a Bluetooth pet tracker. If the distance between the two devices is larger than that, your smartphone will not be able to pick up the signal from the tag. However, you can expect this communication range only in perfect conditions – the range heavily depends on the surroundings and can be greatly reduced in the presence of major obstacles.
App Compatibility
The DOTTpet app is compatible with iPhone and iPad devices (iOS 9.3 or above). The beta version of the app is now available for Android smartphones.
DOTT Pet Tracker App
The DOTTpet app is not designed only for people who purchased the tracker. The concept behind DOTT pet tracker heavily depends on the community of app users. Thus, everyone who wants to become a member of the DOTT community can install the app free of charge and help locate lost pets. The ultimate goal is to create a safer community for pets by connecting friends and neighbors.
The app announces lost pet information on the map and enables you to get instant support from the DOTT community in locating your lost pet. In addition to that, the app helps you avoid dangers by providing community alerts and weather warnings. It is designed to simplify daily pet care as well, serving as a health journal for your pet and enabling multiple caretakers to share their pet care responsibilities through real-time activity updates. You can use most of these features even if you do not own a tracker.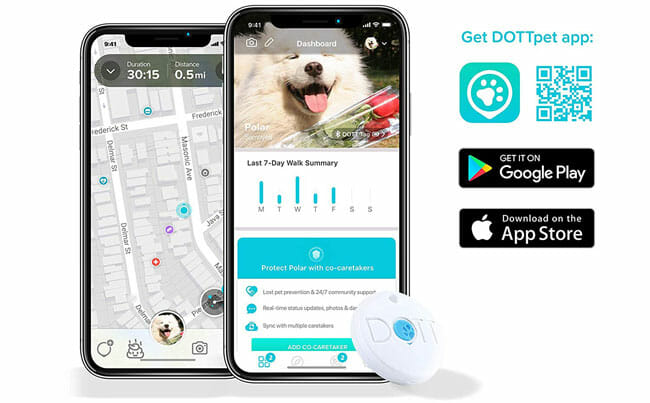 DOTT Pet Tracker Features
DOTT is a community-based Bluetooth tracker that not only tracks your pet's location but also aims to serve as an all-in-one pet care solution. Let's take a closer look at the key features of this device.
Location Tracking
As previously mentioned in our DOTT pet tracker review, the device enables you to keep track of your pet's location when he or she is within the specified communication range (350 feet in open space). The position of your pet is shown in the app on the integrated Google Maps. The manufacturer does not give precise information on the accuracy of the displayed location, but when it comes to accuracy, you should not expect too much from this device.
In case your pet goes missing, you can walk or drive through the neighborhood to try to detect the signal from the DOTT tag.
Community Pet Tracking
In case you lose your pet, you need to report it in the app. This way, you will enable in-app auto-tracking, which means that the app will continuously scan for the signal of the DOTT tag. A lost pet poster will be generated and displayed on the map of all the app users in the area. The DOTT tag on your lost pet will continuously emit a signal with a coverage of up to 384,844 sq. feet (equal to 85 standard basketball courts).
You will be notified of your pet's location as soon as the DOTT tag is detected within the radius of someone who uses the app. As we previously stated, if you have a big community of DOTTpet app users in your area, you will most likely locate your pet. However, if there are no users around, DOTT is not of much use.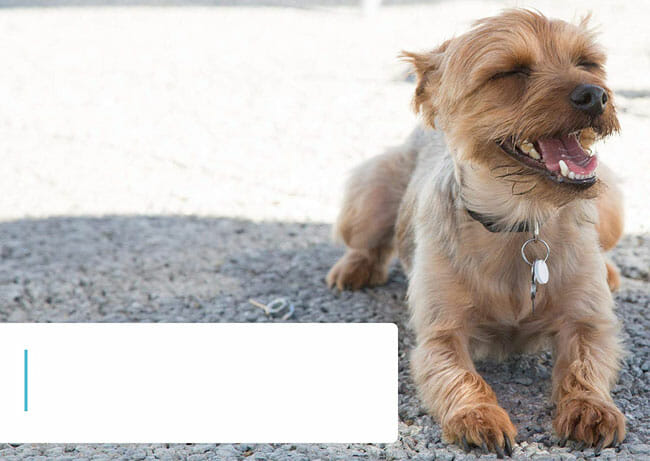 Virtual Leash
By turning on the virtual leash option in your DOTTpet app, you set up a safe zone for your pet with the radius of 350 feet in all directions, which is equal to the maximum communication range of the device. The central point of the virtual leash is your smartphone. Whenever the pet "breaks" the virtual leash, that is, goes out of range, the app will send you a notification. You will also be notified when your furry companion returns back in range. This option may be particularly useful when you walk your pet without a leash.
The problem with this feature is that interferences or environmental factors of your location (e.g. signals from Wi-Fi, computers or other electronic devices) may cause a temporary disconnection. In that case, the app will send you a false alert that your pet is out of range.
Health Journal
The device helps you with the day-to-day care of your furry companion. It allows you to monitor your pet's well-being by keeping a record of his or her walks, potty breaks, food intake, and medication. By tracking the duration and distance of walks, owners can make sure that their pets are properly exercised.
Sharing Responsibilities With Multiple Caretakers
This is a useful feature if more than one person takes care of the pet. Each caretaker has to install the app on his or her smartphone. Using the app, each of them can share status updates related to pet care.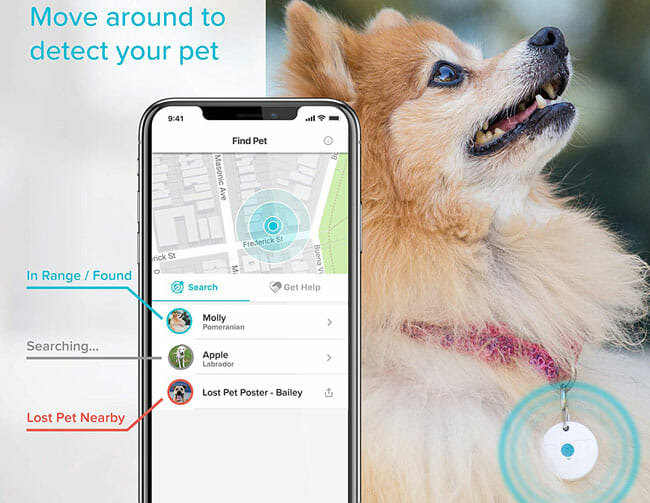 DOTT Pet Tracker Coverage
Given the fact that DOTT pet tracker relies on Bluetooth technology and does not require any external services to work, you can use it anywhere on the globe free of charge. However, remember that the usefulness of this device depends on the number of people who use the DOTTpet app in your surrounding area.
How Much Does DOTT Pet Tracker Cost?
DOTT pet tracker is available on Amazon for about 40 dollars. Free shipping is provided in the USA. The product comes with a one-month warranty. If your device malfunctions within that time period, the manufacturer will either repair it or provide you with a replacement or refund.
DOTT Pet Tracker Pros & Cons
Knowing the biggest strenghts and weaknesses of DOTT Pet Tracker can help you decide if it is the right pet tracker for your furry friend. Here is a quick overview of its pros and cons.
Pros
Small and lightweight
Water resistant
Virtual leash
Good communication range for a Bluetooth tracker
Pet health journal
Affordable
No subscription fees
Very good battery
Cons
Usefulness depends on the number of DOTTpet app users in your area
Limited accuracy
Occasional false alerts
Bottom Line
DOTT is a community-based pet tracker with a very good communication range considering it relies on Bluetooth technology. As a water resistant device with a long battery lifespan, this pet tracker is an affordable solution for monitoring your pet's location and keeping track of his or her daily activities. However, when it comes to finding lost pets, keep in mind that its usefulness depends on the size of the DOTTpet app community in your local area.