Nuzzle Pet Tracker Review
Advertiser Disclosure
This website features affiliate links. For purchases made via these links, we earn commissions that allow us to keep producing helpful content. To find out more
click here
.
Close
Important Update: We regret to inform you that Nuzzle is officially out of business. The company is no longer processing orders and it has not disclosed any plans about a potential return to the market. For a good alternative to Nuzzle smart collar, be sure to view our list of the best pet trackers on the market.
Nuzzle is a smart collar that functions as a GPS pet tracker and pet activity monitor. It was created by Nuzzle, a US-based company founded in 2014 that specializes in GPS pet collars and offers pet insurance services.
The device provides high accuracy, 1-minute location updates, useful location and activity tracking features, and great durability. However, what makes it particularly interesting is the fact that it comes with no monthly fees, even though it relies on cellular technology. If steep subscription costs have been preventing you from getting a cellular GPS pet tracker, read this Nuzzle review and discover whether this device is the optimal fit for both your pet tracking needs and your budget.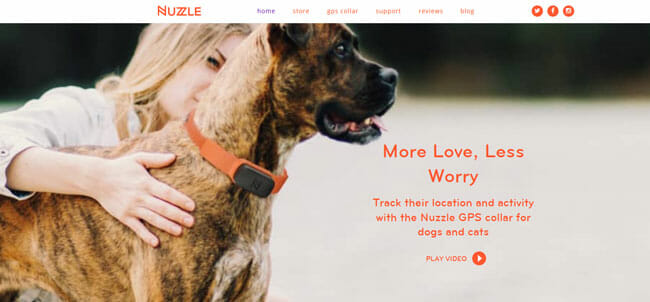 How Nuzzle Works
Nuzzle pet tracking system consists of a collar equipped with a GPS pet tracking unit and a base station that doubles as a charger. The system uses GPS, cellular, and Bluetooth technologies to keep track of the pet's location and establish communication between the tracking unit, the base station, and the pet guardian's smartphone.
Bluetooth technology is used to pair the tracker with the pet guardian's smartphone. It is also used by the base station to establish the safe zone for the pet. High-precision GPS is used for active location tracking outside the safe zone. Cellular technology is used to transfer information from the tracking unit to the pet guardian's smartphone.
When the pet is near the base station, that is, within the boundaries of the safe zone, the base station uses Bluetooth to communicate with the tracking unit. Once the Bluetooth connection is broken, the device notifies the pet guardian that the pet has left the safe zone. From that moment, the tracking unit starts using GPS to track the pet's location and the pet guardian can search for the pet using the location information provided in the Nuzzle app.
The Nuzzle tracking unit comes with a SIM card included. The device relies on AT&T dual-band 3G cell connectivity. While the device needs to be within AT&T cellular coverage in order to work, you can use any other service provider for your phone – you just need to have cell reception while tracking.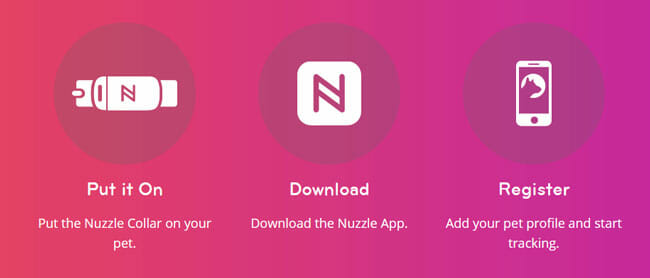 Nuzzle Design
The Nuzzle collar comes in 2 sizes: small and large. The small collar is 0.625 inches wide and fits neck circumference of 8 to 11 inches, which makes it suitable for cats and small dog breeds. It is made of waterproof TPU (Thermoplastic polyurethane). The large collar is 1 inch wide and fits neck circumference of 14 to 22 inches. It is made of heavy-duty nylon. Both collars come in 2 colors: orange and purple.
The tracking unit is made of matte black plastic and comes in the shape of a rounded cuboid. It measures 0.75 inches in height by 2.25 inches in width by 1.25 inches in depth. It weighs less than 1 ounce on its own and 1.45 ounces with the attachment clip. The unit can be used with the Nuzzle collar or it can be attached to the pet's existing collar with the use of the custom connector provided in the package.
Unfortunately, the manufacturer does not provide concrete information on the recommended pet size. However, it is stated that the small collar in combination with the lightweight tracking unit is suitable for cats and small dogs. Before purchasing, it is best to check whether the dimensions of the Nuzzle collar correspond to the dimensions of the pet's existing collar in order to make sure it will be a good fit. Keeping in mind that the tracker weighs just about 1 ounce, it should be safe for pets weighing 8 pounds or more. If the size does not fit, you can always exchange it for a different size or return the device.
Nuzzle Technical Specifications
The technical aspects of a pet tracker determine its reliability and suitability for pets that enjoy different forms and levels of activity. In this section of our Nuzzle review, we introduce you to the key tech specs of the Nuzzle smart collar, primarily focusing on its resistance to water and impact, battery life, range, and accuracy.

Shockproof
The manufacturer of Nuzzle does not claim that the device is shockproof and the tracker's resistance to impact is not reflected in its IP rating. However, the tracker is made of durable materials and is not highly prone to damage.
Waterproof
Nuzzle is resistant to water and boasts an IPX8 waterproof rating. It can be submerged in water up to 10 feet deep for up to 30 minutes without any danger of potential damage and malfunctions.
Battery
The device comes with 2 interchangeable, rechargeable 300mAh lithium-ion polymer batteries. The average battery life is 24 to 36 hours on a single charge. With minimum use, the battery can last for up to 4 days. With the highest power use, the battery may not last more than 10 to 12 hours.
Communication Range
Since Nuzzle relies on GPS and cellular technologies, its communication range is only limited by cellular coverage and the ability to establish connections with GPS satellites. Thus, the device can work over any distance within AT&T coverage, provided that it can communicate with at least 4 GPS satellites.
Accuracy
The device boasts high precision, with an average accuracy of about 10 feet. Since most GPS tracking devices have an average accuracy of about 25 feet, Nuzzle does particularly well in this department.
LED Light
Nuzzle is equipped with a LED safety light, which can be particularly useful when looking for your pet after dusk. The light can be remotely activated via the Nuzzle app and you can choose between the on mode and the slow blinking mode. The light also informs you about the battery status while charging, with the blinking red light telling you that the battery is still charging and the light turning white when the battery is fully charged.
App Compatibility
The Nuzzle app works on both Android and iOS mobile devices. It is compatible with iPhone 4s or later, the 3rd and 4th generation iPad, iPad Air, iPad Mini, and Android 4.1 or higher.
Nuzzle App
The Nuzzle app allows multiple users to track the same pet and it can be used to track up to 5 pets with a single account. For every pet, you get to create a profile, including notes like vet records, medications, and other important facts about the pet.
Within the app, you can check your pet's current location, manually refresh location information, and track your pet via Google Maps on Android and Apple/Tom Tom on iOS phones.  You can view your pet's current route, as well as past routes. You can check activity records, including time spent resting, exploring, and playing. Furthermore, the app allows you to receive important notifications regarding your pet's movement and location (leaving or entering the safe zone), your pet's activity, ambient temperature, and the status of the device's battery.
When searching in the dark, you can use the app to activate the LED light on the tracker. If you want to save battery, you can adjust the location update frequency settings and choose lower frequency when your pet is in the safe zone.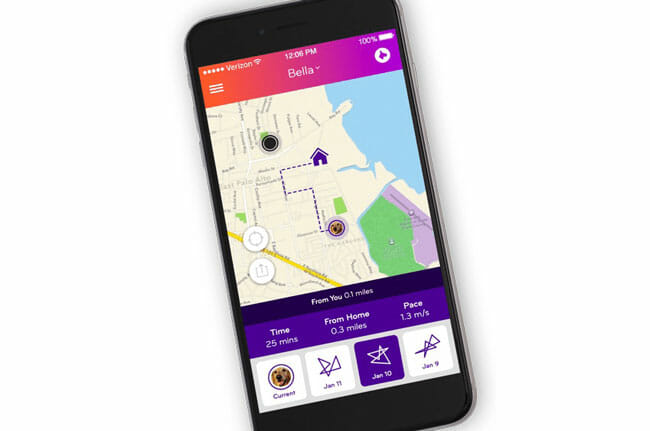 Nuzzle Features
In respect to location and activity tracking features, Nuzzle offers useful and well-crafted basic tools with no major customization options and throws in an extra feature or two to stay ahead of the less advanced competitors. Here is an overview of the key features available with this pet tracking system.
GPS Tracking
While the tracker normally refreshes location information every 2-4 minutes, during active GPS tracking, the refresh rate is 60 seconds, which is not as good as it gets but still rather solid. Location information is highly accurate and includes the pet's distance from the guardian, the pet's distance from home, the pet's average pace, and the amount of time the pet has been away from home. All these information are displayed along with a map for easy tracking
Routes
Nuzzle allows you to view your pet's current and past routes with the useful Routes feature. You can view all recent routes listed by date and select the desired route to view all key details, including date, duration, distance, and pace.
Safe Zone
Safe zone or Basestation zone is the area where your pet can play and walk freely, with the base station being the center of the area. Its boundaries should normally correspond to the boundaries of your property. With Nuzzle, you can choose from 3 safe zone sizes, including 100, 250, and 400 feet in radius.
Alerts are sent when your pet leaves and reenters the safe zone. It may take a few minutes for the notification to arrive. It is important to choose the radius that is not smaller than your property in order to avoid false alarms.
Activity Monitoring
The Activity screen of the Nuzzle app allows you to access all relevant activity information about your pet. You can view current information, data for the previous day, and activity logs for the past week. You can learn how much time your pet has spent playing, exploring, and resting.
All this information is also available in the form of a 24-hour color-coded graph that shows you what your pet has been doing during each part of the day.
Temperature Monitoring
An extra feature available with Nuzzle tracking system is Temperature Monitoring. Namely, the tracking unit keeps track of the ambient temperature and notifies you if the environment is too hot or too cold for your pet.
Low Battery Alarm
Since Nuzzle does not boast a particularly impressive battery life, the manufacturer made sure you know when it is time to recharge the battery. When the battery is low, you receive a notification, so you can recharge the battery and replace it with the spare battery included in the package.
Sharing
You can let your friends and family access your pet's information by sharing your login info with them. They simply need to download and install the app and use your credentials. There is no limit on the number of people who can use a single account.
Nuzzle Coverage
Nuzzle pet tracking system can work throughout North America, including all 50 US states, Mexico, and Canada. However, the tracker may not work in more remote areas with spotty cell coverage, as it operates on AT&T's 3G cellular network and requires the pet guardian to have cell reception in order to receive location information via the Nuzzle app.
How Much Does Nuzzle Cost?
Whether you opt for the small or the large Nuzzle collar, you pay $149.99 per device. Included in the package are 1 Nuzzle collar with a collar attachment, 1 tracking unit, 1 base station that also functions as a charger, 1 power adapter for the base station, 1 custom connector for mounting the tracking unit on the pet's existing collar, and 2 rechargeable batteries.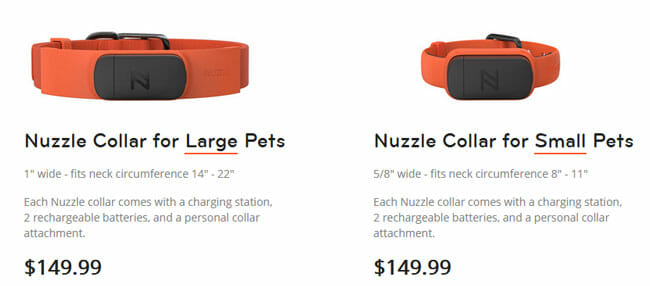 As stated previously, Nuzzle does not come with any monthly fees. It comes with free shipping, so there are no extra charges of any kind. Still, it is worth noting that expedited shipping is available at an additional fee.
Nuzzle comes with a 15-day money-back guarantee. During the first 15 days from the delivery date, it is also possible to exchange the collar for a different size. Nuzzle pet tracking system further comes with a 12-month limited warranty that covers the tracker and accessories included in the package. However, the warranty does not cover lost devices and malfunctions and damage caused by improper use and it does not apply to the system's functionality.
Nuzzle Pros & Cons
Knowing the biggest strenghts and weaknesses of Nuzzle can help you decide if it is the right pet tracker for your furry friend. Here is a quick overview of its pros and cons.
Pros
High GPS accuracy
3 safe zone sizes
60-second location refresh rate with GPS tracking
Activity monitoring
Location history
Temperature monitoring
Range of useful notifications
Lightweight, waterproof, and durable tracking unit
Works anywhere within AT&T cellular coverage
15-day money-back guarantee
12-month warranty
Cons
Only works in North America
Alerts not instantaneous
Rather short battery life
Bottom Line
Nuzzle is a GPS tracker for dogs and cats that has quite a lot to offer. Its features may not be as impressive as they get, but it offers everything necessary for easy and efficient tracking along with a couple of extras. It works throughout North America, over any range within AT&T coverage, it can update location information every 60 seconds, and it is accurate within approximately 10 feet.
The tracker offers both location and activity tracking tools and provides a variety of useful notifications, including battery, temperature, and activity alerts, as well as notifications about the pet leaving or reentering the safe zone. The collar is suitable for both dogs and cats, the device is lightweight, durable, and resistant to water, and the design is quite stylish.
On the downside, notifications do not arrive immediately and battery life is not exactly impressive. However, keeping in mind all the advantages mentioned above, we can conclude that Nuzzle is a rather reliable pet tracking system that performs well when put to the test.