PetPace Review
Advertiser Disclosure
This website features affiliate links. For purchases made via these links, we earn commissions that allow us to keep producing helpful content. To find out more
click here
.
Close
PetPace is a company launched back in 2012 with the mission of improving the quality of life of pets across the world through advanced wearable technology. Its remote well-being and health monitoring solutions give you real-time information concerning your pet's vital signs and other physiological data using the most advanced analytical methods and alerting mechanisms.  
The wireless, low-power PetPace smart collar comes with a wide array of different sensors that monitor numerous vital signs and behavioral or physiological parameters 24/7 and feed that data into the PetPace cloud-based analytical engine, which evaluates the information and alerts the owner if it detects any abnormalities.  
Keep reading this honest PetPace review to learn more about this unique device, including its advantages, essential features, and price.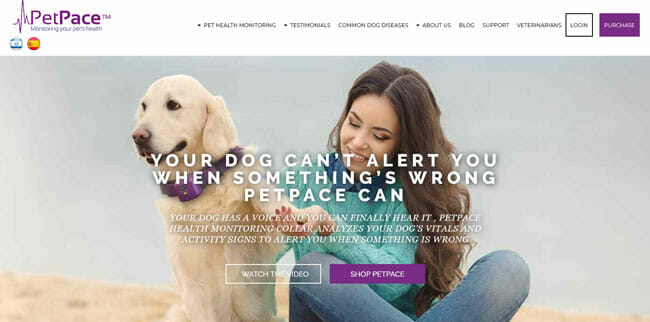 How PetPace Works
The best way to explain the basic mechanism behind PetPace is to compare it with a monitoring service that works with your home alarm system to let the police know if it detects any abnormalities.  
The device utilizes sophisticated diagnostic techniques to analyze a huge set of data relating to your pet's activity and behavioral levels as well as vital signs. In other words, it keeps you constantly up-to-date on your pet's: 
Temperature

 

Pulse

 

Respiration

 

Activity levels

 

Calories

 

Positions (standing, sitting, lying down)

 

Heart-rate variations

 
This approach is ideal for older or at-risk pets since early detection makes all the difference in potential treating choices. Apart from allowing you to monitor the changes on your phone, PetPace also features a comprehensive dashboard, which provides you with current and historical data collected by the collar and analyzed by the health-monitoring service through its cloud-based analytic engine.  
If PetPace spots any abnormalities in your pet's behavior or physiology, it will immediately alert you and your vet, which allows for prompt and efficient pet care. Note that the device tracks your pet's behavior and vital signs in real-time, but you are not able to see that data. You will only receive notifications when some of the numbers go outside the set parameters.  
Finally, PetPace is not able to determine the location of your pet and should not be confused with other devices that offer this functionality.  

PetPace Design
Instead of attaching it to your pet's collar, PetPace IS the collar. It fits all pets over 8lb and measures 1.57" x 1.27" x 0.59". The weight of the electronic case on the collar is just 1.5oz. The case features an on/off button and an LED indicator light to let you know whether the unit is currently working or not. The collar comes with a convenient and pet-friendly clip to attach it to your pet's neck.  
Apart from the collar with the electronic case, you also get a home base called the "gateway," which picks up the information collected by the collar, analyzes it, and sends it to your PetPace app. The gateway measures 3.07" x 2.11" x 2" and weighs 2.18oz. It features 3 LED indicator lights on the front and is powered through a standard micro-USB port.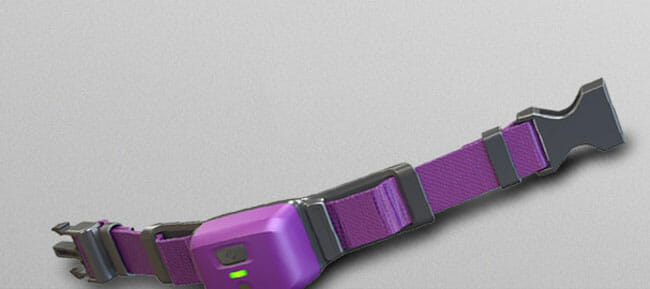 Both components feature a very stylish and modern design and currently only come in purple. The gateway basically looks like a big wi-fi router and should fit right in with the rest of your furniture.   
The PetPace collar comes in 3 different sizes: 
Cat/small dog – Weight: 8 – 22lb; neck circumference: 8 – 12″

 

Medium dog – Weight: 22 – 62lb; neck circumference: 10.5 – 18"

 

Large dog – Weight: 62+lb; neck circumference: 16 – 24.5"

 
PetPace Technical Specifications
As we already mentioned in this PetPace review, the device features two hardware components: the home base (gateway) and the collar itself. Let us now take a look at the technical specifications of both units: 
The Gateway
The home base is the "middle man" between the collar unit and your PetPace app. It is powered via a standard micro-USB connector and it utilizes the 10/100 BASE-T Ethernet standard. It requires an open ethernet port for regular operation and can serve up to 30 collar units at the same time. When it comes to its overall reach, the gateway communicates with collars at a maximum distance of up to 1,000ft. Note that physical obstacles like walls and trees significantly reduce the overall communication range.  
Since it does not rely on cellular networks, the device can work pretty much anywhere in the world as long as you have access to a stable Internet connection.  

The Collar
The collar unit comes with a single push-button interface and corresponding LED indicator. It is made of heavy-duty plastic, so although it is somewhat resistant to shocks and physical trauma, it is not 100% bite-resistant. The electronics case comes with IP-X7 waterproof rating, which means it can endure splashes, rain, and accidental submersion in 1m (3.3ft) of water for up to 30 minutes. Note that IP-X7 rating means that the device has not been tested for dust entry. 
The unit utilizes a LiPo 250mAh battery that should last for more than 3 weeks between recharges.  
PetPace App
The PetPace app allows you to monitor the following parameters in real-time and receives alerts if any abnormality is detected: 
Temperature – The app will detect early signs of fever or hyperthermia;

 

 Pulse – Detection of low/high pulse rates as well as any other irregularities;
Respiration – Monitoring of the respiratory rate and detection of any breathing abnormalities;
Position – Monitoring your pet's posture, which helps detect pain, behavioral or medical problems;
Activity – Monitoring your pet's activity and any deviations from his or her usual patterns;
Calories burned – Tracking burned calories to evaluate activity in a weight management program. 

 
The app is free of charge and supports Android 4.4+ and iOS 8.1+. The latest update introduced an easy way to log events in your pet's life, including everything from a simple walk in the park to used medications and treatments.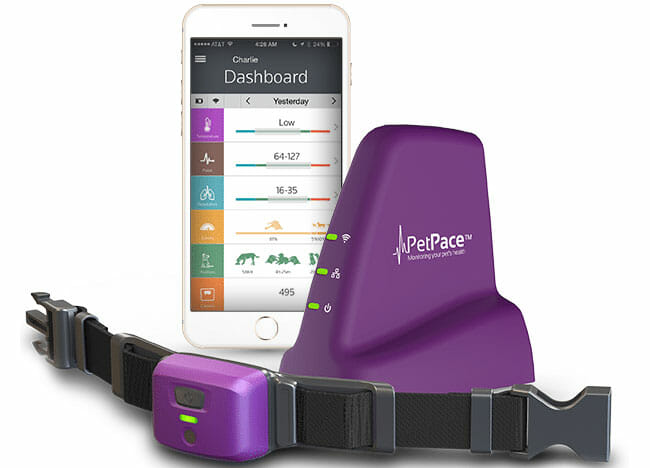 PetPace Features
In this section of our PetPace review, we will go over the most important features offered by the PetPace health and activity monitor: 
Easy To Use
The collar and gateway are pretty easy to set up and connect to your mobile app. If you know how to hook up a regular Internet router and download Candy Crush, you should not have any problems with PetPace. 
Long Battery Life
The PetPace collar unit comes with a powerful battery that allows it to monitor your pet's health and activity levels for up to 3 weeks without a recharge.  
Multiple Sizes
PetPace can be ordered in small, medium or large, which means it fits all types of pets from cats to large dogs. The only condition is that your pet is over 8lb.  
Suitable For Indoor & Outdoor Use
Although not 100% waterproof, PetPace can handle moderate exposure to the grand outdoors. Your pet can even spend limited time in a body of water without any damage to the device.  
Long Range
The home base is able to communicate with the collar at a distance of up to 1,000ft if there are no physical obstructions in the way.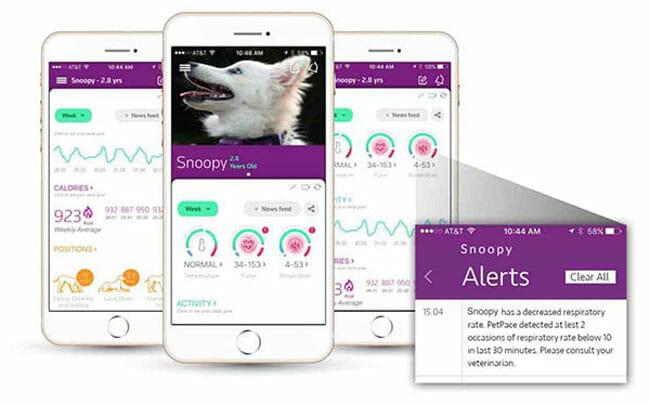 Numerous Tracking Parameters
As mentioned, PetPace tracks your pet's temperature, pulse, respiration, activity levels, calories, current position, and heart-rate variations. Position tracking might not seem all that important, but it is a metric that allows you to know whether your pet just passed out when you are not home, for example. In other words, it has many important uses and it is one of the essential functionalities of PetPace. 
PetPace Coverage
Since it does not rely on cellular networks, PetPace can work anywhere on the globe as long as you have a steady Internet connection. In other words, you can take it with you anywhere you go and continue monitoring your pet's health and behavior without any interruptions.  
How Much Does PetPace Cost?
The price of the PetPace set depends on your chosen package. The company offers the following options: 
Pet Starter ($159.95) – The package includes the collar + 1 year of health monitoring. The health service plan includes continuous monitoring, unlimited alerts and reports, mobile app, veterinarian (access to data), and vital signs sampling & sync every 120 minutes. 

 

Pet ($199.95) – This package is designed for older pets and offers vital signs & sync every 30 minutes. Everything else is the same as with the previous option. 

 

Pet Plus ($245.95) – This option is ideal for sick and at-risk pets. It offers vital signs sampling & sync every 2 minutes as well as access to the web application (dashboard). 

 

Pet Platinum ($349.95) – This option includes the collar + lifetime health monitoring. It offers everything included in Pet Plus along with web sessions with the company's vet. 

 
Although it provides pet owners with tremendous value, especially for older and/or sick pets, we still think PetPace is a bit overpriced. This especially goes for options with limited health monitoring.  
PetPace Pros & Cons
Knowing the biggest strenghts and weaknesses of PetPace can help you decide if it is the right pet tracker for your furry friend. Here is a quick overview of its pros and cons.
Pros
Numerous tracking parameters 
Easy to use 
Water-resistant 
Long battery life 
Attractive design 
Lightweight collar 
Free mobile app 
Cons
Expensive 
Not tested for dust resistance 
Bottom Line
PetPace is an excellent tool for all pet owners who want to monitor vital signs and physiological and behavioral parameters for their pets and get instant alerts the moment something is wrong. The collar unit is pretty lightweight and fashionable, so it does not stop pets from following their usual routines. The device monitors a ton of different factors, which can tell you everything about your pet, from his or her heart rate to his or her current position.  
Having said that, PetPace is rather costly and only the most expensive package features a lifetime of health monitoring. On top of that, the device is not waterproof, just water-resistant, which means it is not ideal for pets who like to swim and play in the water.
Bottom line, PetPace is an excellent and very useful device – but one burdened with a heavy price tag and non-rugged construction.