SportDOG TEK 2.0 Review
Advanced dog tracker for hunters

Advertiser Disclosure
This website features affiliate links. For purchases made via these links, we earn commissions that allow us to keep producing helpful content. To find out more
click here
.
Close
SportDOG TEK 2.0 is the latest GPS dog tracking system developed by US hunting-dog gear specialists SportDOG. Designed primarily for hunting dogs, SportDOG TEK 2.0 has many interesting features and useful functions.
It boasts an impressive communication range of up to 10 miles, it does not rely on cellular networks, and it can track up to 21 dogs at once if you purchase additional collars. As the upgraded version of SportDOG TEK 1.0, TEK 2.0 also comes with an additional tracking + training version, which offers supplementary training features.
Our SportDOG TEK 2.0 review will, however, cover the tracking-only version, including its key characteristics, design, cost, and overall functionality.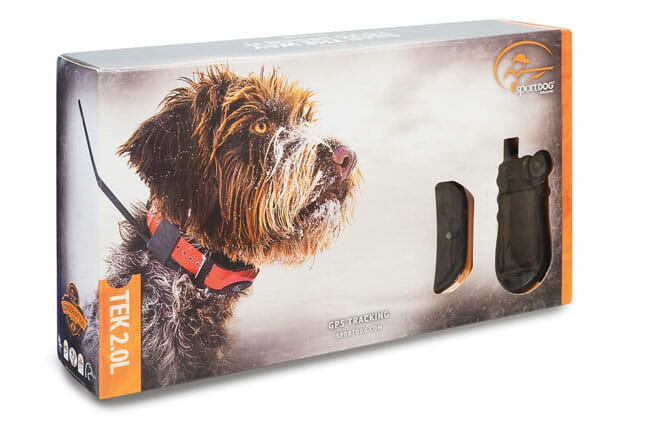 How SportDOG TEK 2.0 Works
SportDOG TEK 2.0 dog tracking system includes a handheld device with an antenna and one or more dedicated GPS dog collars.
The GPS collar gets location information from GPS and GLONASS and sends location updates to the handheld device. The two devices communicate via radio frequency signals. The location updates on the handheld device are received every 3 seconds, but the time intervals can be manually adjusted within the device's settings according to your preferences. More on that below.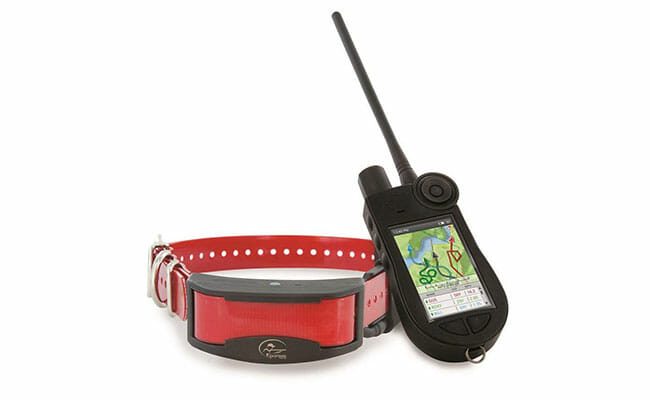 In addition to the GPS and GLONASS satellite tracking technologies, TEK 2.0 also employs HopTek technology, a communication mechanism that prevents signal interferences and boosts transmitter output power. Thanks to this stellar combo, TEK 2.0 boasts an impressive communication range of up to 10 miles in line of sight. However, as is the case with many GPS tracking devices, the total communication range may vary depending on the surroundings.
Your dog's location will be displayed on the handheld device, which comes ready with 1:100,000 colored topographical maps. The said maps do not require a subscription and come with unlimited lifetime updates.
SportDOG TEK 2.0 Design
Made of high-quality plastic, the handheld device is sleek and comes in an all-mat-black whilst the GPS collar comes in a bright red color. The measurements of the handheld device (without the antenna) are 5.45" x 2.50" x 1.50" (LWD).
SportDOG TEK 2.0 tracker is made for dogs who are 8lbs or larger and have neck sizes between 10.75" and 23."  The manufacturer states that the collar should not be left on for more than 12 hours a day and that it should be repositioned on the dog every 1 to 2 hours in order to avoid skin irritation or damage.
SportDOG TEK 2.0 Technical Specifications
In the following segment of our SportDOG TEK 2.0 review, we will take a closer look at all of the technical details and characteristics of TEK 2.0 dog tracking device, from its communication range and accuracy levels to its battery life and overall physical resistance.
Waterproof
Both the handheld device and the GPS collar are waterproof. The handheld device can be submerged up to 5 feet in water whilst the GPS collar is DryTek waterproof and can be submerged up to 25 feet.
Shockproof
While there is no information on the device's resistance to impact, the manufacturer states that it should not be exposed to heat for a prolonged period of the time. It is also important to note that the warranty does not cover any defects caused by dog bites or chews.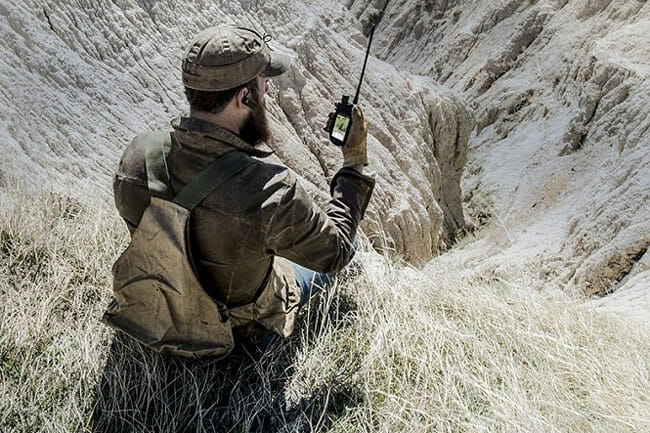 Battery
The two devices come with rechargeable lithium-ion batteries. The handheld device requires an 8-hour charge, lasting about 12 hours per charge. As for the GPS Collar, it requires a 4-hour charge, with the battery duration lasting up to a total of 24 hours. Naturally, the battery duration depends on the length of use. The batteries should last between 3-5 years.
Communication Range
Thanks to the tracking technology used, SportDOG TEK 2.0 tracking collar has an impressive communication range of up to 10 miles in line of sight. That being said, that range can vary depending on your surroundings, including terrain, vegetarian, and weather. The way the handheld device is held also plays a factor in its overall functionality – if you hold it in a vertical position above your head, you can expect the best results.
Accuracy
With the combination of HopTek, GPS, and GLONASS, SportDOG TEK 2.0 claims that it is capable of providing highly accurate location information. According to the company, TEK 2.0 tracker is accurate within 15 yards.
USB
SportDOG TEK 2.0 comes with USB cables that can be used to connect the handheld device to a laptop or computer in order to update its software and firmware.
Memory
The total storage capacity of the device is not specified. However, if you wish to increase the storage space, an additional MicroSD card can be inserted into the USB port located on the handheld unit. The extra SD card needs to be purchased separately.
SportDOG TEK 2.0 Features
SportDOG TEK 2.0 boasts a variety of interesting features that make dog tracking easy. This part of our SportDOG TEK 2.0 review will cover all of the key characteristics that make up this highly capable dog tracker.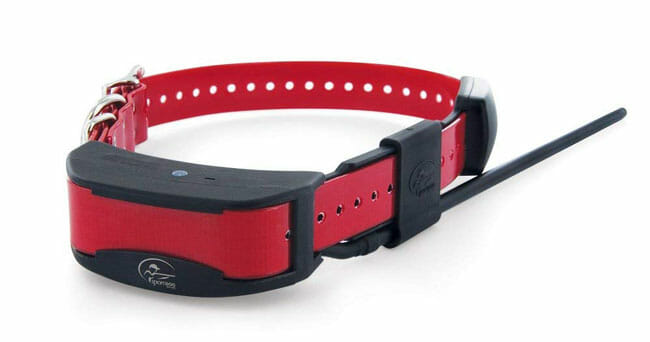 Near Real-Time Tracking
With location updates coming in every 3 seconds or less frequently – the updates can be manually adjusted to 5 sec, 10 sec, 30 sec or 2 min time intervals – SportDOG TEK 2.0 provides a near real-time tracking experience. Through the use of color-rich topographic maps, you will be able to keep track of your dogs and any other shared devices in the area. In addition, the unit comes with a tilt-integrated compass, thus allowing you to easily navigate your way around.
Maps
As already mentioned in our SportDOG TEK 2.0 review, the device is preloaded with 1:100,000 colored topographic maps, which clearly mark any major roadways, bodies of water, and country roads in the area. The maps come with no additional subscription fees and have unlimited lifetime updates.
Compass
TEK 2.0 has an integrated floating needle compass that makes navigation that much easier during live tracking. A total of three tracked items, whether dogs or hunters themselves, are displayed on the screen. The compass is used in two modes, including General Tracking, which is used when a route is not active, and Route Navigation, which is used when a route is active.
Waypoints
SportDOG TEK 2.0 enables you to create up to 1,000 waypoints that you can save, edit, and delete as you go. You can mark active dogs or hunters, your current location, and map locations as waypoints. The waypoints include coordinates, date and time, and elevation data.
Geofencing
With the geofence feature, you can easily create a virtual safe space for your dog/s. If the parameters of the pre-determined boundaries are breached, that is, if your dog leaves the zone, a notification will be sent to your device so that you can immediately activate the live tracking mode and begin searching for him or her.
Voice Updates
SportDOG TEK 2.0 also offers a voice feature that provides audio updates on your active tracked items via a Bluetooth-enabled earpiece. The voice alerts include the distance and direction of the dog/hunter as well as the speed at which they are moving. The incoming alerts will also tell you whether your dog is on point, whether he or she is treeing, whether he or she is barking, and whether he or she is leaving the preset geofence area. The update rate for voice updates can be set to a 1 min, 2 min or 5 min time interval.
Profiles
TEK 2.0 allows you to create profiles for your dogs, additional collars, and those hunters who shared their handheld devices with you. In the My Dogs section, you can view the list of all of your dogs, add and delete new ones, assign a color-coded collar to each one in order to identify them, and manage settings for each dog. TEK 2.0 allows for a total of 21 active dogs, provided that you have the additional collars, and up to 100 dog profiles in total. The same principle can be applied to the My Hunters and My Collars sections.
Trip Computer
The trip computer screen is a feature that provides all of the information related to your trip, including coordinates, average moving speed, distance traveled, and total tracking time. The feature does not only store your information but also that of your tracked dogs and fellow hunters, including battery status of the GPS collars, last communication received, average moving speed, and much more.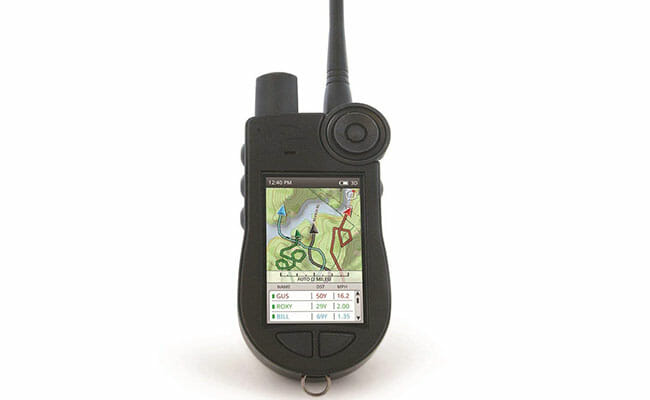 Bonus Features
In addition to all of the aforementioned features, TEK 2.0 comes with additional features designed to make your hunting experience all that more practical and enjoyable. There is a journaling section that enables you to add and store various notes, waypoints, and breadcrumbs that you have created along the way. There is also the sun and the moon hunt feature, which provides insightful information on the sun and moon rising and setting times as well as forecasts for hunting conditions in your area.
SportDOG TEK 2.0 Coverage
Seeing that SportDOG TEK 2.0 does not rely on cellular networks, it can work almost anywhere on the globe over a distance of up 10 miles.
How Much Does SportDOG TEK 2.0 Cost?
SportDOG TEK 2.0 is available for purchase on Amazon. The content of the package includes the handheld device, the GPS collar on a 1-inch red collar strap, a charging adapter, and a charging cradle. In addition, you also get USB cables, a lanyard, a SportDOG gear bag, a quick start guide, and a basic training manual and DVD.
The return policy states that the product can be returned in exchange for a full refund within 45 days of purchase. There is also a 2-year warranty.
SportDOG TEK 2.0 Pros & Cons
Knowing the biggest strenghts and weaknesses of SportDOG TEK 2.0 can help you decide if it is the right pet tracker for your furry friend. Here is a quick overview of its pros and cons.
Pros
Communication range up to 10 miles
Can track up to 21 dogs at once
Location updates every 3 seconds
HopTek, GPS & GLONASS
Voice updates
1:100,000 topographic maps with no subscription fee
45-day money back guarantee
2-year warranty
Cons
Bulky in size; not suitable for all dogs
Fairly pricey
Bottom Line:
Now that we have come to the end of our SportDOG TEK 2.0 review, we can safely conclude that TEK 2.0 is a highly capable dog tracking device worthy of your attention. Designed with hunters and hunting dogs in mind, TEK 2.0 comes with a variety of hunter-friendly features that are both useful and easy-to-use. From tracking up to 21 dogs at a time and the use of 1:100,000 topographical maps preloaded on the device to setting safe zones and receiving voice updates via Bluetooth, the options are seemingly endless. Capturing data from both GPS and GLONASS satellite systems and with the use of the HopTek technology, TEK 2.0 offers unprecedented precision and accuracy at every turn. On the downside, the device can prove to be a little pricey and perhaps a little bulky in size for some dogs. Regardless of these minor drawbacks, however, TEK 2.0 is still one of the best dog trackers for hunters on the market.