FitBark 2 Review
Advertiser Disclosure
This website features affiliate links. For purchases made via these links, we earn commissions that allow us to keep producing helpful content. To find out more
click here
.
Close
FitBark 2 is a canine health and activity monitor developed by a successful startup launched back in 2013 in Kansas City, MO. Apart from motivating dogs and their owners to stay active and healthy, the company also produces collar sensors and software infrastructure that allows owners to take control of their pets' activity, caloric expenditure, sleep quality, behavioral patterns, and overall health. FitBark also represents a research-grade platform adopted by more than 40 vet schools and research institutions to validate new foods, drugs, medical treatments, and procedures.
Keep reading this comprehensive FitBark 2 review to learn all about this popular monitor's design, implemented technologies, main features, and price.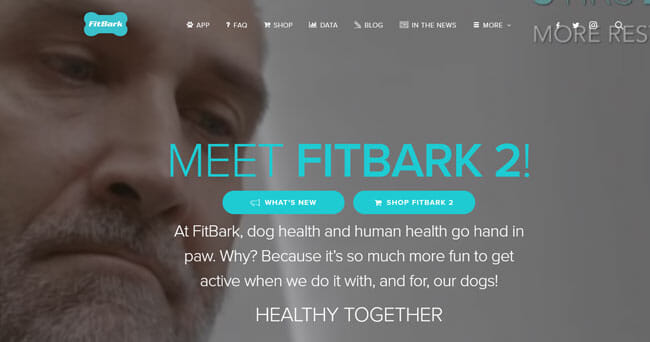 How FitBark 2 Works
FitBark 2 is a research-grade canine activity and sleep monitor. It collects information regarding your pet's activity and rest levels 24/7, providing you with unprecedented insights into his or her health and behavior.  
The device comes with accompanying Android and iOS apps and is very easy to set up. Simply charge it for 90 minutes using the provided cable, download the app from Google Play or the Apple Store, and follow the on-screen instructions to create a personal profile for you and your dog.  
FitBark 2 uses Bluetooth 4.0 (Bluetooth Smart) to connect to your phone. Bluetooth connectivity usually does not come with impressive communication ranges, so your Android or iOS device will have to be within 30ft (9m) from FitBark 2 during the synchronization process.  
Note that FitBark 2 is NOT a pet tracker since it does not feature any type of global positioning mechanisms. The company is primarily dedicated to animal health and adding a GPS sensor would probably make the device 5-7 times as bulky.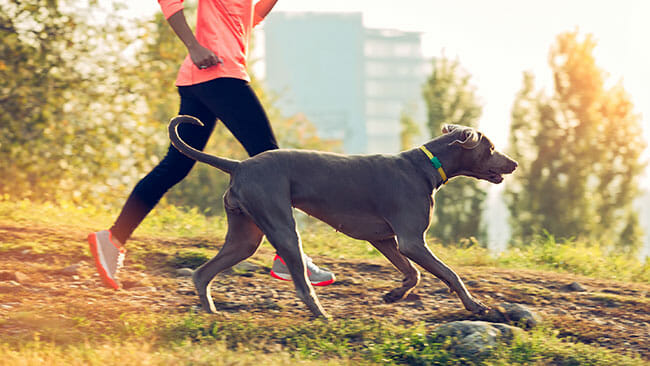 FitBark 2 Design
The device is made in the shape of a stylish, tiny dog-bone and can fit on dogs of all shapes and sizes, ranging from a 3lb Chihuahua to a 200lb Leonberger. However, note that the device is not compatible with collars wider than 1.18" (30mm). It is made of high-impact polycarbonate that is quite resistant to dog bites, but the manufacturer indicates that nothing is 100% dog-bite-proof. 
The bottom of the device features a Micro USB port covered by a protective cap. You can connect it to any computer's USB 1.x/2.0 port or a class 2/Limited Power Supply with a USB output.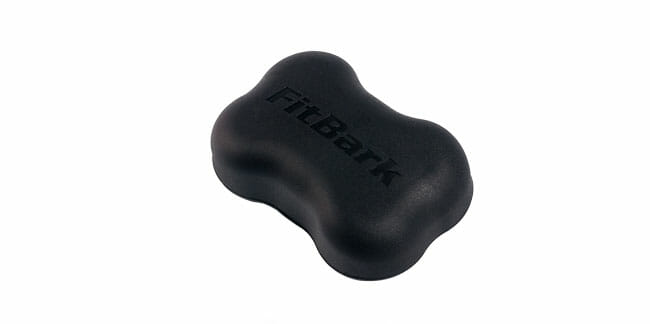 The unit also features a set of LED indicator lights that will flash during the pairing process with your phone or tablet, remain solid when charging the device, and turn off when the battery is fully charged. Note that the lights should not illuminate during regular operation.  
The FitBark 2 box features the activity monitor itself, 8 zip ties, a micro USB charging cord, and a quick start guide. Brand new units come with a default black cover. 
FitBark 2 can be easily attached to your dog's collar by taking the two zip ties provided in the package and wrapping them around the unit while capturing the collar. Pull the device about an inch away from the collar until you hear two distinct clicks, which signify that FitBark is securely attached to the collar.   
FitBark measures 1.6" x 0.5" x 1.1" and weighs only 0.35oz.  
FitBark 2 Technical Specifications
In this section of our FitBark 2 review, we will take a look at the main technical features of the device, how it fares against water and physical stress, how long its battery lasts, and more.
Shockproof
As already mentioned in this FitBark 2 review, the monitor is made of rugged polycarbonate, which means your pet will have a really tough time damaging it in any way. However, the manufacturer points out that FitBark 2 is not 100% resistant to dog bites and larger dogs will probably be able to destroy it if they put enough effort into it.  
Waterproof
FitBark 2 is rated IP67, which means it can be submerged up to 3.3ft (1m) for up to half an hour. Note that the cap at the back of the unit has to be properly closed during exposure to water.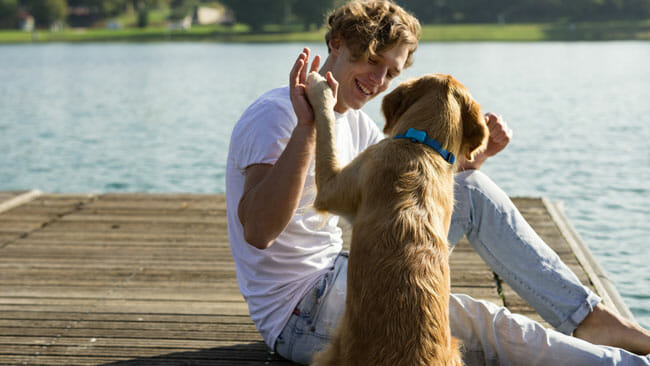 Battery
FitBark 2 utilizes a lithium-ion polymer battery that lasts up to 6 months. It comes with a standard micro USB charger and the regular charging time is 90 minutes. Most collars allow charging without removing the unit.  
Synchronization
FitBark 2 uses Bluetooth 4.0 to connect to Android and iOS devices or a FitBark Wi-Fi Base Station. The sync range is 30ft (9m). The unit is compatible with mobile phones and tablets running Android 5.0 and above or iOS 10 and above.  
Memory
FitBark can store up to 100 days of minute-by-minute data concerning your pet's rest and activity levels.  
Localization
The unit can work anywhere in the world since it does not depend on cellular networks. However, FitBark DOES require an Internet connection during the synchronization process.  
Environmental Requirements
The ideal operating temperature for FitBark 2 units is -4°F to 122°F (-20°C to 50°C) while the storage temperature can range from 22°F to 140°F (-30°C to 60°C). 
FitBark 2 App
The FitBark 2 app for Android and iOS devices is an integral part of the mechanism designed to monitor the activity and rest levels of your pet at all times.  
First of all, the app allows you to set activity goals for your dog depending on his or her age and general activity levels. The unit of measure implemented by the app is called a "BarkPoint."
The 3 default activity goals are: 
Average – 6.300 BarkPoints (lots of snuggle time, a couple of walks a day, in the 50% percentile)

 

Active – 9,100 BarkPoints (adventurous, always playtime, in the 75% percentile)

 

Olympian – 12,900 BarkPoints (never stops going, full speed ahead, in the 90% percentile)

 
Alternatively, you can also adjust the BarkPoint slider yourself and create a custom activity goal for your pet. The app allows you to create journal entries every single day in order to properly keep track of your dog's goals and achievements.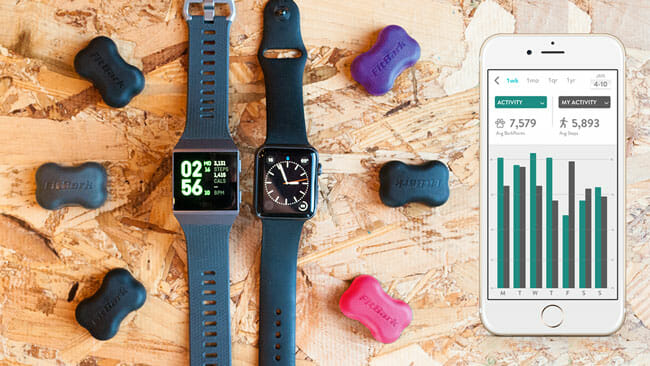 Apart from expressing your pet's activity counts in BarkPoints, FitBark 2 app also tracks his or her rest, active and play time, nocturnal sleep score, overall health index, calorie burn, and distance traveled. On top of all that, it will also indicate any significant changes in mobility and anxiety, as well as potential skin conditions.  
The FitBark 2 app can be linked to a human activity monitor by choosing this option in the Settings menu. It currently supports Fitbit (all trackers), Apple HealthKit (including Apple Watch), and Google Fit. After the initial configuration, you will be able to see your dog's progress next to yours in a single app.  
Many cat owners usually wonder whether their felines can also use FitBark 2. The answer is yes, but you will not be able to find much data in terms of baselines and comparative norms. Simply pick an animal from the "not a dog" list and you will be able to setup FitBark for your cat, pig, bunny, chicken, sheep, falcon, penguin, zebra or any other animal. Humans are also on this list, by the way.   
FitBark 2 Features
FitBark 2 is a compact wonder of modern health and activity-tracking technology that does not just alert you when it picks up changes in your pet's behavior and health levels but also allows you to keep a journal of his or her activity and rest times and even set different activity goals depending on your dog's age and general shape. Here are some other important features you should be aware of before purchasing this device: 
3D Accelerometer
This technology allows for precise minute-by-minute tracking that is also used by research institutes and vet schools worldwide.  
No Monthly Or Hidden Fees
All FitBark apps and APIs are absolutely free for all users and third parties, so you do not have to worry about any additional costs and hidden fees.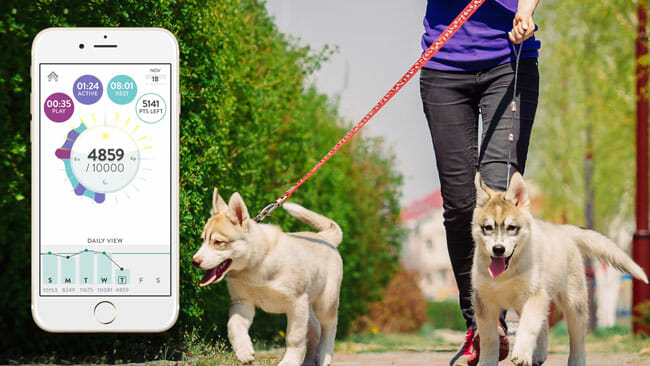 Bluetooth 4.0
Since it uses Bluetooth Smart to sync with your smartphone or tablet, FitBark 2 does not need cellular networks for regular operation. Additionally, you can also sync FitBark with Android or iOS devices of other dog owners and even your vet in order to keep them informed about your pet's condition at all times.
Minute-By-Minute Tracking
FitBark 2 monitors your pet 24/7 whether he or she is sleeping or playing around.  
Customizable Cover
FitBark 2 comes with a black cover by default, but you can order additional covers that match your pup's personality and fur color. The company currently offers 12 different colors.  
FitBark 2 Coverage
As we already mentioned in this FitBark 2 review, the unit will work perfectly fine anywhere in the world. It stores your dog's activity and sleep data 24/7 and shares it with your Android or iOS device during the synchronization process. Daily sync is recommended but not necessary. Note that synchronization does require an Internet connection, which probably excludes the most remote and isolated areas.  
How Much Does FitBark 2 Cost?
FitBark 2 costs $69.95 and comes with a full 30-day money-back guarantee. Just make sure to save the receipt and the original packaging. The manufacturer also offers a limited 1-year warranty against all hardware or software-related problems.  
FitBark 2 Pros & Cons
Pros
Made of high-impact polycarbonate 
3-axis accelerometer 
Compact and stylish design 
Lightweight 
Waterproof IP67 
Battery life up to 6 months 
LED indicator lights 
Up to 100 days of minute-by-minute data 
Works anywhere in the world 
Ideal for dogs of all sizes 
Android and iOS app 
Cons
Short communication range 
No GPS sensor 
Bottom Line
FitBark 2 is a compact and lightweight health and activity monitor that can be used by pretty much any dog out there. It stores up to 100 days of minute-by-minute data that you can easily share with other owners or your vet to help them create a better activity and nutrition plan for your pet.  
Since it does not rely on cellular networks, the unit can work anywhere in the world. The battery can go up to 6 months without recharging, so you do not have to worry about losing any important data. Bottom line, FitBark 2 is a perfect gadget if you want to monitor the health and activity levels of your pet on a regular basis and learn all about potential health or behavior changes the moment they happen.