Kippy Vita S Review
Advertiser Disclosure
This website features affiliate links. For purchases made via these links, we earn commissions that allow us to keep producing helpful content. To find out more
click here
.
Close
Kippy Vita S is a GPS tracker and activity monitor that relies on both GPS (Global Positioning System) and LBS (Location Based Services) tracking technologies. Created by Kippy, an Italian-based company founded back in 2013, Kippy Vita S is designed exclusively with dogs and cats in mind. Its main purpose is to help pet owners keep tabs on their furry companions' position at all times as well as provide insightful data on their activity and tips on how to keep them fit and healthy.
From live tracking and geo-fencing to daily running and calorie-burning reports, Kippy Vita S sounds like it has it all. Our Kippy Vita S review will explore the device's strengths and weaknesses and look at all of the key features provided so that you can decide whether this GPS pet tracker is the right choice for you and your pet.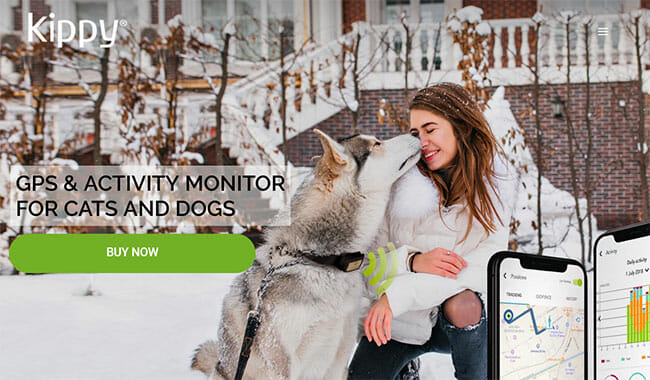 How Kippy Vita S Works
Developed together with the University of Bologna that has tracked and studied the behavior over 200 dogs of different breeds, Kippy Vita S is a GPS tracker and activity monitor for dogs or cats that comes in the form of a tracking unit that can be attached to your pet's collar or harness.
Once activated through the app, which is available for download on both Google Play and the App Store, Kippy Vita S will communicate your pet's location information as well as any activity reports directly through to your smartphone or tablet. You can also use the Kippy Vita web app on your laptop or PC. You can get access to the web app on the company's official website. Additionally, up to 5 different devices can be connected to one account.
Running on a 2G cellular network, Kippy Vita S employs two different tracking technologies in order to find your pet's exact location: GPS and LBS. Relying on GPS, the device works anywhere within network coverage. However, if the GPS signal is weakened or lost, LBS is switched on in order to communicate directly with the cell phone towers in your area to localize the position of your pet. The range usually varies from 300m to 2km in distance. Of course, the more cellular towers in the area, the shorter the range.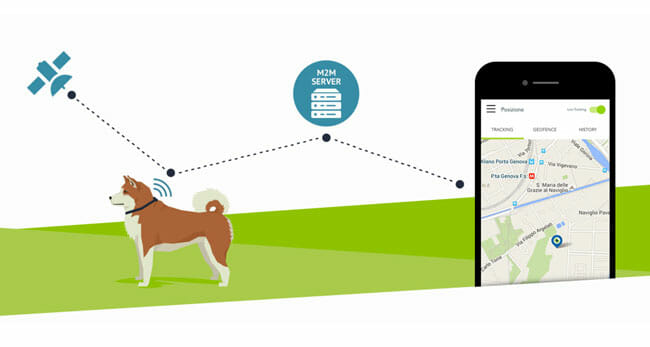 Like similar GPS pet trackers, Kippy Vita S also comes with geo-fencing, enabling you to fence-off a certain area and create a 'safe space' for your pet. When your pet leaves the predetermined boundaries, the device will automatically set off an alarm, thus allowing you to instantly begin tracking your pet's movements. Once the tracking system has been activated, Kippy Vita S will update the position every 5 seconds. If there is no movement in over 5 minutes, the updating will stop in order to save battery.
Like mentioned previously in this Kippy Vita S review, this device is also an activity monitor that helps owners keep an eye on their pet's overall well-being. You need to provide your pet's age, sex, and breed in order to help generate accurate reports related to their sleeping, walking, and exercising regiments. You can also oversee their motor activity levels throughout the day and see how many calories they have burned. In addition, you can set exercise goals for your pet. Kippy Vita S' activity tracking algorithm is regularly updated in the pursuance of more data and higher accuracy for over 400 animal breeds.
Kippy Vita S Design
Kippy Vita S pet tracker is square, stylish, and sleek in design and it will definitely arouse the interest of those who are following the latest trends. Made of steel and extra-grip Velcro, it measures 6 x 3.5 x 2 cm and weighs 50gr. Although it has been designed for pets of any size, the tracker is mostly recommended for dogs and cats that weigh over 4kg. If your pet is slightly smaller, then Kippy Vita S might be a bit bulky and heavy for your pet to wear.

Kippy Vita S comes in three different colors, a dark beige (Kippy Vita Black Guardian), lime green (Kippy Vita Green Eye), and baby pink (Kippy Vita Pink Angel). You can easily attach it to your pet's collar or harness by using the provided Velcro band strip. When you hook the band strip under the metal hook of your Kippy Vita S, you can then wrap the band around your pet's collar or harness and you are good to go.
As a side note, Kippy Vita S also offers its own specially-designed collars and harnesses that each hold a designated pocket for the tracker. More details can be found on the company's official website.
Kippy Vita S Technical Specifications
The following section of our Kippy Vita S review will focus on all of the key technical details and characteristics of the device. From battery life and coverage range to precision, range, and physical resistance, you can find all the relevant information below.
Shockproof
Kippy Vita S is resistant to impact. It is made of steel and has an anti-shock ABS body that makes it highly durable, so it is suitable for even the most boisterous of pets who enjoy various kinds of games and activities.
Waterproof
The device is water-resistant. However, it is recommended not to allow it to 'soak' in water for a long period of time. The device can stand puddles and quick soaks, on the condition that the USB port is properly sealed.
Battery
Kippy Vita S has a rechargeable battery, which can last anywhere between 3-4 days. However, battery life changes according to the level of use. For example, if live tracking is on, the battery will not last for more than a few hours.
Communication Range
Thanks to its in-built GPS antenna, Kippy Vita S' range can cover almost any distance. However, the communication range can be limited when the device is unable to establish a connection with the circling GPS satellites. In that case, it switches to LBS in order to communicate with the surrounding cell phone towers, with the communication range varying anywhere between 300m to 2km.
Accuracy
Working with both GPS and LBS technologies, Kippy Vita S' accuracy level is lower than 2m in an open field.
Developed together with the Factory of Veterinary Sciences of the University of Bologna, the tracker's precision of detecting activity is also reliable. However, in order to increase accuracy, it is recommended that you provide the correct information of your pet's age, sex, and breed and that the tracker is kept on your pet at all times in order to improve the efficiency of the data received.
LED Light
Kippy Vita S comes with an integrated LED light that makes things easier when searching for your pet at night. There are also different lights and sequences that can tell you a lot about the status of the device. For example, 3 green flashes indicate that the device is ON, 3 red lights indicate that it is OFF. If the green light blinks slowly, that means that the device is connecting to the GPRS network while 3 green quick lights signify the transfer of data to the server. If the orange light flashes, the device is attempting to connect to the GPS network. If the red light flashes every 5 seconds, there is no GPRS network available.
App Compatibility
The Kippy Vita app is compatible with both Android and iOS smartphones. It works on Android 4.4+ or iOS 8.0+. A web app is also available on the company's official website for either laptop or PC users.
Kippy Vita S App
The Kippy Vita app is considered to be your main tool when it comes to tracking your pet's movements and activity. Available for both Android and iOS – as well as laptop and PC users – the app provides you with the ability to view and track your pet through an interactive tracking map as well as receive insight into his or her location history and activity information, such as distance walked, calories burned, and rest and active time.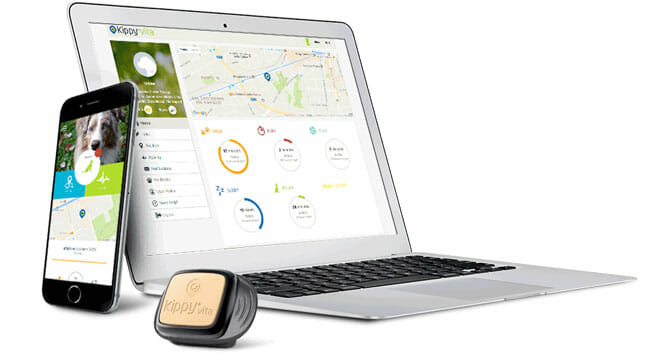 The app is free and simple-to-use. Upon registration, you can create your pet's profile and input all of the information related to his or her age, sex, and breed in order to ensure the accuracy of the information received. Even from a distance, the Kippy Vita app will allow you to gain access to real-time updates of your pet's movements and activity as well as provide a platform for your pet to communicate directly with you through its innovative Vita Messaging feature. You can also modify your pet's exercise goals and set up virtual 'safe zones.'
Kippy Vita S Features
Not many trackers out there have an integrated activity tracking monitor, which makes Kippy Vita S' features list rather impressive. The following segment of our Kippy Vita S review will cover all of the location tracking and activity features that this pet tracker has to offer.
Live Tracking
One of the main aspects of the device is the live tracking feature that allows you to view and track your pet's movements in almost real-time through an interactive map, with your pet's position updated every 5-10 seconds. Every time you access the app, the function will be automatically activated. You can also turn it on and off manually by pressing the dedicated button in the app.
Proximity
Once you have managed to obtain a GPS signal in the live tracking mode, the arrow tracking mode will be enabled. Much like a compass, this function will guide you to your pet's location with a blue needle-like arrow that will begin filling up space in between as you get closer to your pet. Once you are within 30m of your pet, it will completely disappear in order to notify you that you have located your pet. You will have to make sure that your phone has a magnetometer in order for this feature to work.
History
Through this feature, you will be able to access the record of your pet's previous locations. All of the positions are chronologically ordered and you can even choose specific dates and times you would like to gain access to through the Calendar.
Geo-Fence
If you would like to increase security measures for your pet, you can do so by drawing a virtual parameter for your pet through the geo-fencing option and get alerted when your pet decides to wander off farther than allowed.
Activity Tracking
Whether your pet is out walking, running, playing, sleeping or simply relaxing, the motion feature will summarize all of the activities accomplished so that you can get a better overview of your pet's general motor activities. You can analyze the data for every single activity and see how far you are from achieving your pet's set goals. The activity reports will be collected and sent to you every 60 minutes. As the update frequencies affect battery consumption, you can manually adjust how often you would like to receive the updates by accessing the 'Pet Profile' menu in the app.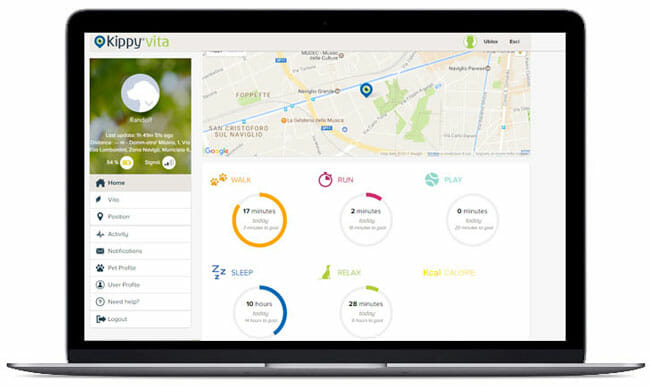 Goals
Kippy Vita S uses your pet's profile to determine which goals need to be met in order for your pet to maintain a healthy lifestyle. If you would like to alter any of those goals, you can always set a different set of objectives for your pet to achieve.
Vita Messaging
With the aim of strengthening the pet-owner bond, the Vita Messaging feature allows pet owners to keep a close eye on their pets, even when they are not with them. This feature lets your pet contact you in the form of a simple message to remind you about the goals that you have assigned or even just to check in and say hello. In addition, Vita Messaging also provides insightful information on how you can improve your pet's psychological and physical well-being. All the messages are stored so you can revisit and read them whenever you want.
Kippy Vita S Coverage
As long as there is a GSM network around, your Kippy Vita S will work. Operating all over Europe, Turkey, India, and South Africa, the tracker's coverage is relatively wide. However, it is not functional in the US or Canada. If you would like to make sure that your area is on the coverage list, you can check the company's official website for more details.
How Much Does Kippy Vita S Cost?
Kippy Vita S pet tracking device costs €49.99. It takes anywhere between 3-5 days for delivery and the charges may vary depending on the location of the order. Beside the Kippy Vita S device itself, the content of the box also includes the following: a quick start guide, a micro USB cable, a band with a Velcro latch, and your Kippy Vita ID code, which needs to be entered upon the registration of the device.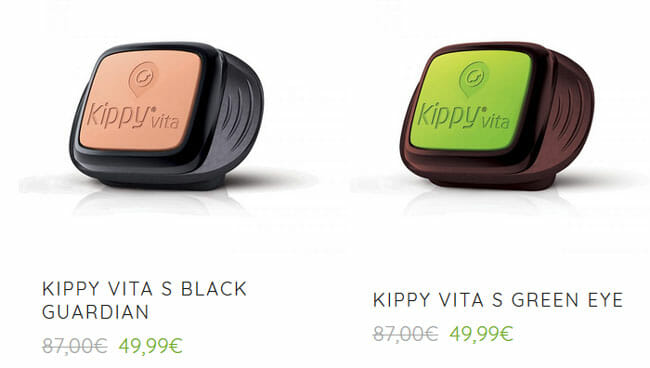 In order to activate your device, you need to purchase a service package. There are three package plans available, the Basic Plan for €7.99 per month, the Premium Annual Plan for €59.99 (€4.99 per month), and the Ultimate 2-year plan for €99.99 (€4.16 per month). Both the Basic and Premium plans include unlimited tracking. However, in the Ultimate package, on top of everything else, you also get direct access to a dedicated customer care operator who is there to assist you when needed. If you wish to cancel your package, you can do so 2 days before expiry
As far as warranty goes, according to the manufacturer, it lasts for 2 years as per European standards.
Kippy Vita S Pros & Cons
Knowing the biggest strenghts and weaknesses of Kippy Vita S can help you decide if it is the right pet tracker for your furry friend. Here is a quick overview of its pros and cons.
Pros
Reasonably priced
Relying on both GPS & LBS tracking technologies
Extra-grip connection
Waterproof
Rechargeable
Geo-fencing
Calorie consumption
Activity tracking
Long-battery life
Cons
Bulky in size
Does not cover all regions
Subscription plans need to be bought separately; min 6-month commitment
Activity goals overreaching for some breeds
Bottom Line
Looking back at our complete Kippy Vita S review, we can safely say that this pet tracker and activity monitor has a lot to offer. It relies on not just one but two tracking technologies to help you localize your pet. The connection range is wide and Kippy Vita S only needs a 2G cellular network to operate. The activity monitor will provide you with useful tips and keep track of your pet's activities throughout the day, making sure that the bond with your pet is ongoing and strong.
However, there are certain downsides to Kippy Vita S. It is a little bulky and it is not available everywhere. In order to activate the device, you will need to commit to a 6-month subscription plan and some consumers have even stated that the activity reports are not exactly accurate and some goals might be overreaching for some breeds.
Nevertheless, on the whole, Kippy Vita S is still worth considering. It boasts a sleek and sophisticated design and the interactive features are sure to bring fun and joy to you and your pet should you decide to give it a go.