Pawscout Review
Advertiser Disclosure
This website features affiliate links. For purchases made via these links, we earn commissions that allow us to keep producing helpful content. To find out more
click here
.
Close
Pawscout smart pet tag is a Bluetooth pet tracker created by Pawscout, Inc., a US-based company launched in 2015. It is a community-powered pet tracking solution that allows you to locate your pet with the help of its growing family of users. It is inexpensive, easy to use, and boasts a greater communication range than most Bluetooth pet trackers.
If you are looking for a pet tracker that can help you keep your pet safe without putting a dent in your budget, read this objective Pawscout review and discover whether it is as reliable as it is affordable.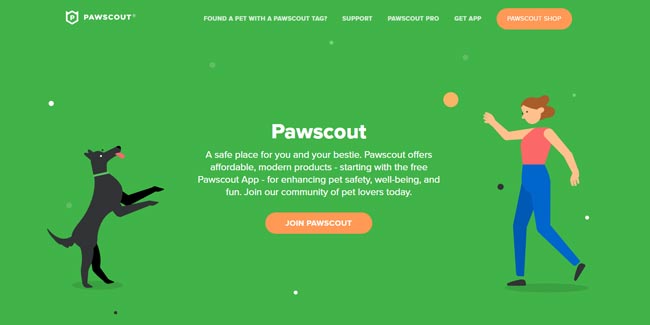 How Pawscout Works
Pawscout consists of a small pet tag that can be attached to virtually any collar. It comes with a dedicated smartphone app that is available free of charge. The tag communicates with your smartphone and other nearby smartphones with the Pawscout app by emitting a low-energy Bluetooth radio signal.
If your pet is within range, you can see a green circle around your position on the interactive map in the Pawscout app. If you want to make sure you get notified when your pet roams outside your range, you can set up a safe zone around your position that moves as you move and get a notification when your pet is not nearby.
When your pet roams outside your range, you cannot actively track him or her using the app. You can head toward your pet's last known location and attempt to reestablish a Bluetooth connection with the device. If your pet has already wandered away too far, you have to rely on the community of Pawscout users in your area.
You can report your pet as lost and all nearby Pawscout users will be notified that your pet is missing. When your pet passes by a Pawscout user, you get a notification and the Pawscout user in question is urged to get in touch with you and help you reunite with your pal.
How easily you can reunite with your pet depends on the size of your local Pawscout community. You can help expand the community by encouraging other people in your area to install the Pawscout app. Since the app is free and does not require the possession of a Pawscout tag, anyone who wants to help can become a part of the Pawscout community at no expense whatsoever.
Pawscout Design
Pawscout tracker comes in the form of a small, light, round tag with a nameplate. The nameplate is normally black, but you can opt for any of about 2 dozen beautifully designed custom nameplates available in the Pawscout online store. The tag is roughly the size of a silver dollar. To be exact, it measures 1.6 inches in height by 2.0 inches in width by 0.4 inches in depth. It weighs about the same as a quarter, which is approximately 0.2 ounces.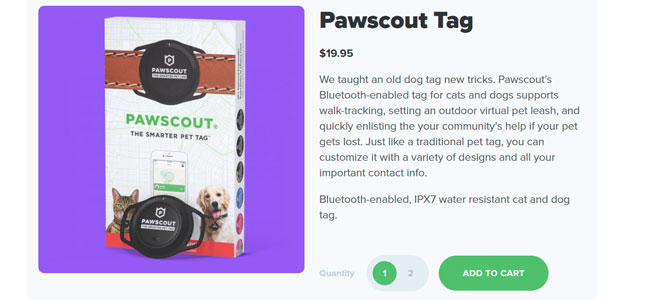 The Pawscout tag can be attached to your pet's existing collar using the standard circular hanging mount provided with the device. However, if your pet likes to play with dangling objects or is simply highly active, you can use the alternative flush mounts provided in the package. Flush mounts can keep the tag securely attached to any collar that is up to 1.25 inches wide.
Since the tag only weighs about 0.2 ounces, it comes as a bit of a surprise that the recommended pet size is 10+ pounds. However, the manufacturer does state that the tag can be worn by smaller dogs and cats if attached with the help of flush mounts.
Pawscout Technical Specifications
While examining the technical aspects of the tag for the purpose of this Pawscout review, we got the feeling that its manufacturer did not aim to wow its customers with the device's tech specs. The tag does not feature a night light, it does not provide sound training assistance, and not a word is to be found on whether the device is resistant to impact.
In all fairness, the device is highly affordable and thus it is reasonable to expect that it does not come equipped with all the extras that more expensive pet tracking solutions feature. That being said, here is an overview of the basic technical characteristics of Pawscout.
Waterproof
The Pawscout tag is resistant to water. It can withstand submersion in water of up to 3 feet for up to 30 minutes. This means that it can remain functional if it is exposed to rain or light splashes and it may not get damaged even if your pet takes a short swim.
Battery
Pawscout uses a CR2032 battery that can last for 6 to 12 months. The battery is replaceable and it is rather inexpensive.
Communication Range
The device works over a range of about 300 feet in all directions, which limits its communication range to a 600-foot radius. In comparison to other Bluetooth pet trackers, its range is rather impressive.
Accuracy
While Pawscout users are generally satisfied with the device, they do commonly complain about the device's inconsistent accuracy. Normally, the device is accurate within 50 to 100 feet, but this is not always the case. Plus, considering that its range is only 300 feet, 50-100 feet does not sound too great, as it leaves room for false alarms and late notifications.
App Compatibility
The Pawscout app is compatible with both iOS and Android smartphones.
Pawscout App
The Pawscout smartphone app differs from many other pet tracker apps in that it is not only designed for users of Pawscout tags. Everyone who wants to become a member of the Pawscout community can download and install the app free of charge and help locate lost pets.
The app allows you to create digital profiles for multiple pets, track your pet's location with the use of the interactive map, view Pawtracker coverage map, discover pet-friendly locations and businesses in your area, track walks, share your pet's location with friends and family, set up a virtual leash safe zone, receive notifications, and report pets as lost or found. Many of these features are available even if you do not possess a Pawtracker tag. However, it goes without saying that you cannot actively track your pet's location via the app without the tag.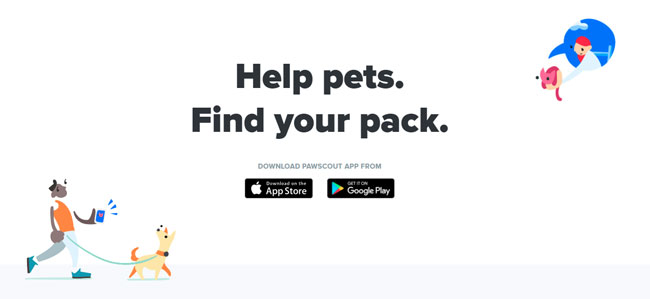 Pawscout Features
As suggested in the previous section of this Pawscout review, in terms of features, Pawscout does rather well for a Bluetooth pet tracker. It does not only keep track of your pet's location but also provides handy extra tools that can enhance your Pawscout experience. Let us take a closer look at the most prominent features this tracker provides.
Location Tracking
Pawscout allows you to actively keep track of your pet's location when he or she is within range. It provides an interactive map that enables you to view both your pet's location and your location, with a green circle around your location if your pet is within your range.
Community Pet Tracking
When your pet roams outside the range and you report your pet as lost, you get a notification when your pet is close to another Pawscout user. The Pawscout app encourages the user to contact you and help your pet return home safely.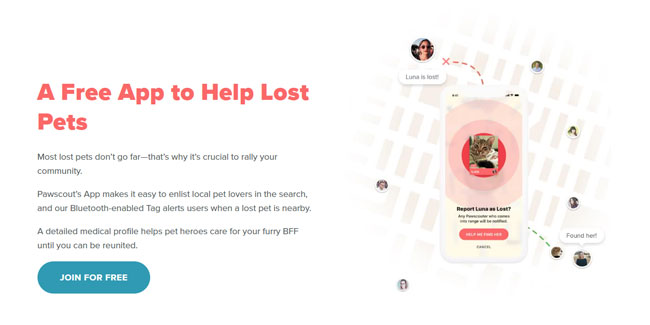 Virtual Leash
In terms of geofencing, Pawscout provides the Virtual Leash feature that allows you to set up a safe zone around your location, with the safe zone's boundaries corresponding to the device's maximum communication range (300 feet in all directions). The Virtual Leash is centered in your position and moves as you move. A notification is sent when your pet leaves the safe zone.
The Virtual Leash feature is particularly useful if you are taking your pet for a walk or generally spending time in the outdoors, where your pet can run and play.
Tracking Walks
Pawscout allows you to track your pet's daily walks. At all times, you can view basic stats including data such as distance walked and time spent walking.
Digital Profile & Medical Records
With the Pawscout app, you can create a detailed digital profile for your pet. The profile can include your pet's name and photos and your contact information, as well as important notes on your pet's behavior, habits, and medical records, such as vaccination information.
Points Of Interest
Pawscout provides a handy map that allows you to view and share places relevant to pet guardians. These can include vets, shelters, groomers, parks, pet-friendly stores and restaurants, and other points of interest in your area.
Coverage Map
Since Pawscout heavily relies on its community of users, it provides a coverage map that allows you to discover how many Pawscout users are located in your area. Users appear on the map as blue blotches, allowing you to assess the density of your local Pawscout community.
We warmly advise you to give this feature a try before purchasing Pawscout tags, so you can be sure there are enough Pawscout users nearby to help you locate your pet if he or she goes missing.
Sharing
Pawscout lets you invite your friends and family to help keep your pet safe. Simply by going to the home screen of the Pawscout app and selecting the Share icon next to your pet's photo, you can generate a share code and send it to your friends via SMS or email. They only need to install the app in order to make use of the code, become members of the Pawscout community, and help you keep track of your pet's whereabouts.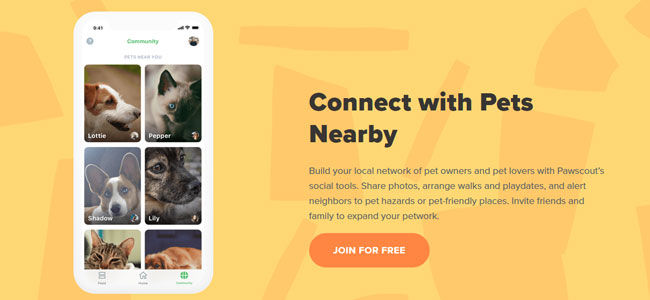 Pawscout Coverage
Since Pawscout only uses Bluetooth and does not rely on any external services, it is reasonable to assume that you could use it anywhere on the globe. The truth is that Pawscout can only be bought in the US and Canada, which means that Pawscout communities in other countries may be small or non-existent. If there are no Pawscout users in your area, the device is not of particular use. Thus, we can only advise you to purchase Pawscout if you live in one of these 2 countries.
How Much Does Pawscout Cost?
Previously in this Pawscout review, we mentioned several times that the device is inexpensive and now it is time to discover how affordable it really is. Pawscout tag costs just $19.95. If you want a custom nameplate, you can get one for $9.95. If you want to order both a tag and custom nameplate, you will pay $25, saving $5 on this one-time purchase. We also want to add that you can buy a set of two batteries for $4.99.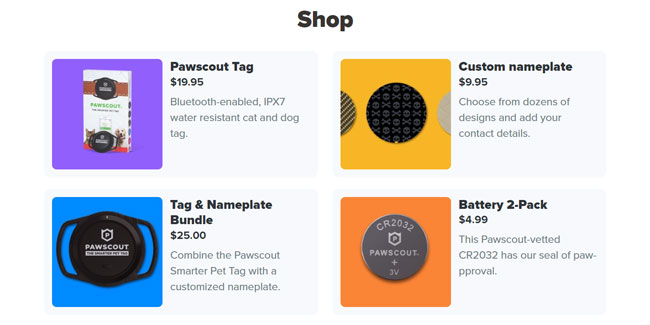 While custom nameplates come with free shipping, a flat shipping fee applies to orders including Pawscout tags. If you are ordering from Canada, the fee amounts to $9.95 per order. For US orders, there is a $2.95 shipping fee. Pawscout comes with no monthly fees, so you only pay for the device and shipping. If you are not satisfied with the tracker, you can return it within 30 days in order to receive a replacement or a refund.
Pawscout Pros & Cons
Knowing the biggest strenghts and weaknesses of Pawscout can help you decide if it is the right pet tracker for your furry friend. Here is a quick overview of its pros and cons.
Pros
Small, lightweight, and waterproof tag
Relatively great communication range
Virtual Leash
Digital profile with medical records
Coverage map
Pet-related points of interest
Great battery life
Stylish custom nameplates
Highly affordable
No monthly fees
Cons
Unimpressive accuracy
No night light
Not resistant to impact
Usefulness depends on the number of Pawscout users in your area
Not available outside US and Canada
Bottom Line
Pawscout is a Bluetooth pet tracker that offers excellent battery life and a great communication range considering it relies on Bluetooth technology. It further provides a nice set of useful features you may not find in other pet trackers, such as pet-related points or interest. Although it has some troublesome flaws, like inconsistent accuracy, it is certainly one of the best Bluetooth pet trackers currently on the market. If you live in an area with a strong Pawscout community, this is a tracker you should definitely take into consideration.
And if you're looking for an all-around Pet Tracker, we recommend you check out our Fi Tracker Review.